Regarding generating quick responses or QR codes, the Beaconstac platform stands as a pioneer. Beaconstac, a comprehensive solution for marketers, offers QR code generation, management, and tracking features.
It serves as the torchbearer in bridging the gap between the physical and digital world using its QR code software. However, it's not the only player in the market. Therefore, if you seek Beaconstac alternatives, you're in the right place.
Let's explore Beaconstac alternatiExplore top 14 Beaconstac alternatives for QR code generation. Compare features, and pricing & make an informed decision for your QR code needs.ves with their top features together.
Beaconstac: A Brief Overview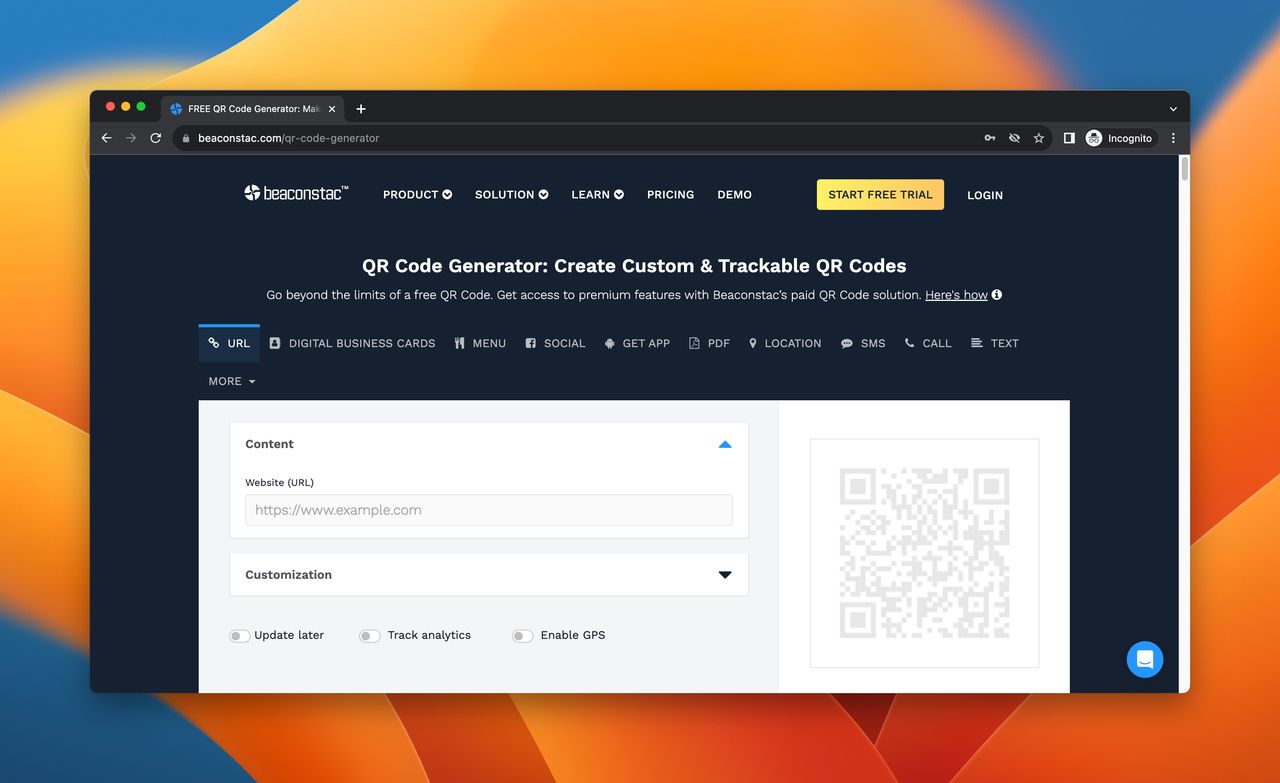 Beaconstac, established in 2012, has made a name for itself in the digital marketing field. This platform is especially popular among businesses big and small as it offers a QR code generation tool, which is fast, secure, and easy to use. With Beaconstac, marketers can create and manage dynamic QR codes, giving them valuable insights into campaign performance through effective tracking.
Used by renowned companies like Unilever, Amazon, and Vodafone, Beaconstac lets you create QR codes that lead users to web pages, dial a phone number, or download apps, among many other actions.
Besides, Beaconstac not only allows the creation of regular black and white QR codes, but it also enables the design of customized QR codes with logos, colors, and backgrounds that align with brand identity.
The Need for Beaconstac Alternatives
As powerful and robust as Beaconstac may be, there's always a need for alternatives in any industry. The need for Beaconstac alternatives arises due to several reasons:
Financial Constraints: While Beaconstac does offer a free trial, it might not fit into every business's budget, particularly small businesses and start-ups. Thus, businesses may look for alternatives that offer similar features but at a lower cost.
Specific Feature Requirements: Marketers and SEO experts often look for particular features to suit their unique business needs and strategies, which Beaconstac might not cater to.
Ease of Use: Although Beaconstac is straightforward, some users might prefer a platform with a more intuitive interface or simpler tools.
Customer Support: While Beaconstac provides reliable support, some users might prefer platforms that offer 24/7 live support or faster response time.
Considering these needs, this blog will uncover several top alternatives to Beaconstac for QR code generation. Whether you're seeking a more affordable solution, extraordinary features, or superior customer support, there's an alternative to suit everyone's needs. Stay tuned as we delve into these alternatives in depth.
Top 14 Beaconstac Alternatives
Let us dive right into the top Beaconstac alternatives that deserve your consideration.
1. QRCodeDynamic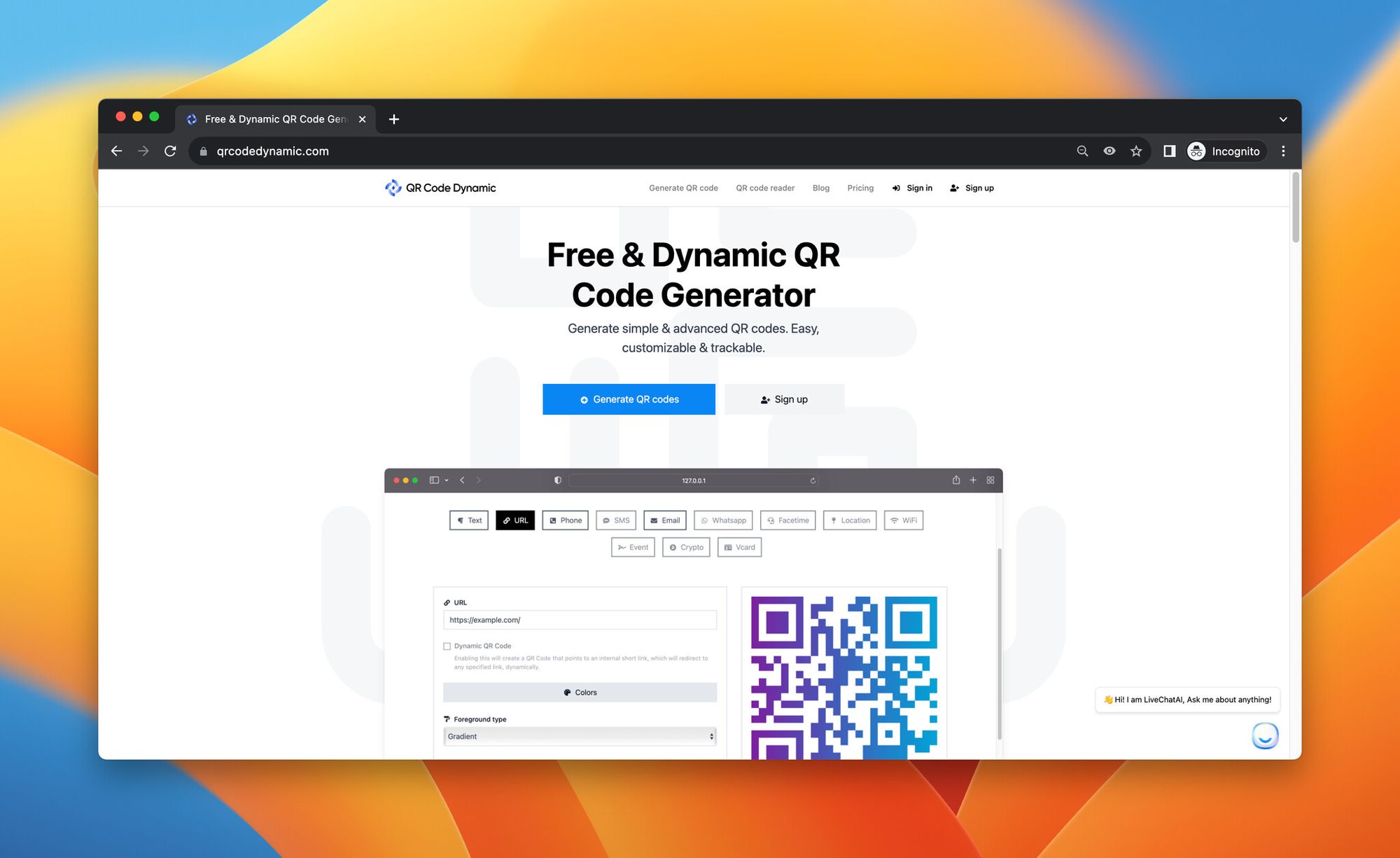 QRCodeDynamic is known for its custom-tailored QR codes for multiple uses. Interestingly, it offers a lifetime access purchase plan unlike most of the alternatives.
Highlights:
Tailoring QR codes with a range of colors, integrating logos, and fine-tuning size for a customized brand appearance.
Quickly generating dynamic QR codes and effortlessly updating linked content.
To generate a QR code on QRCodeDynamic, you can follow these steps:
Visit QRCodeDynamic's website.
Click on 'Generate QR Codes.'
Select what type of QR code you want to generate.
Input the necessary details.
Customize it & click "Create"
Finally, download the QR code.
QRCodeDynamic Pricing and Plans: QRCodeDynamic offers a free plan. However, prices for pro plan start at $29.
2. QR Code Generator Pro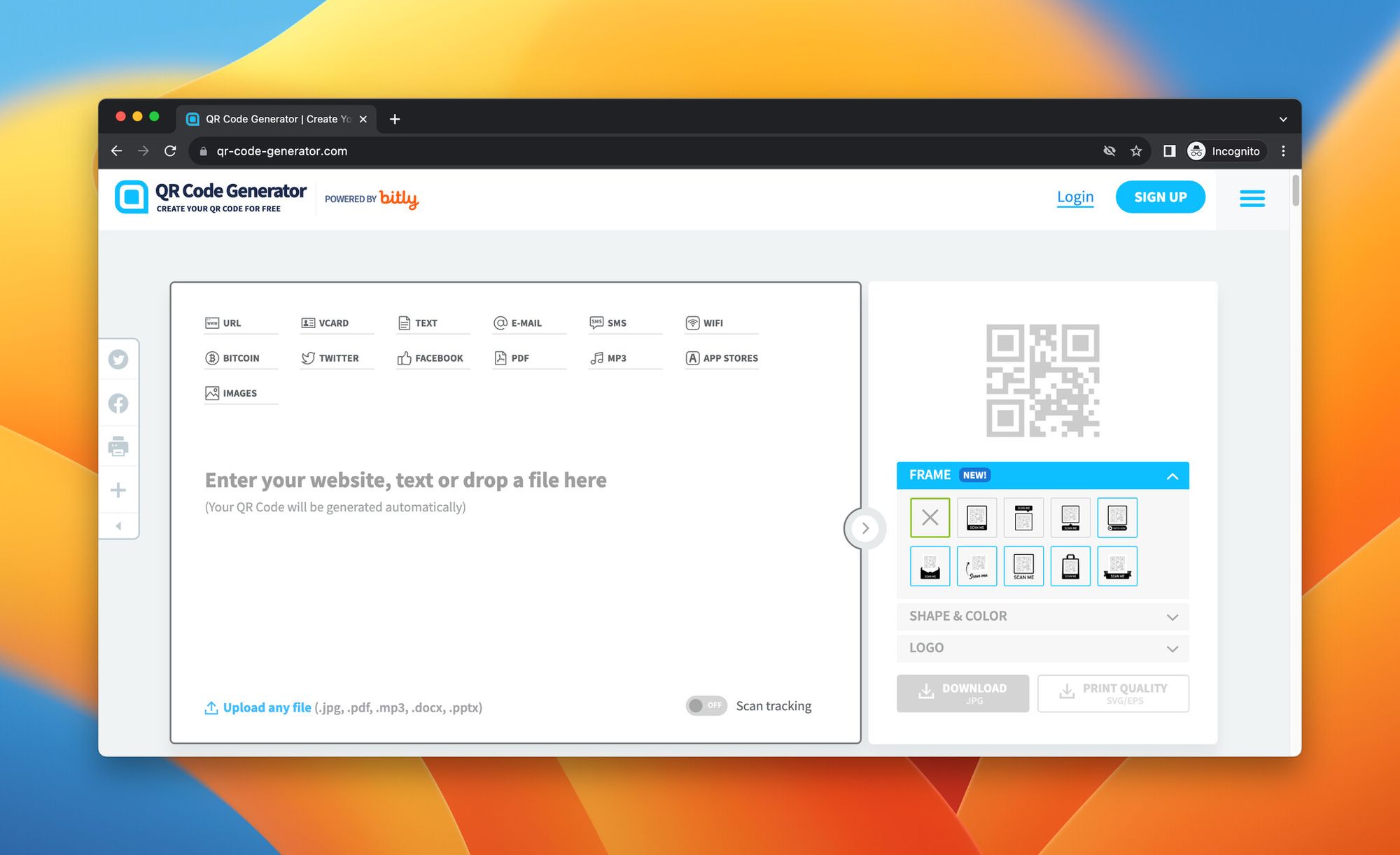 QR Code Generator Pro is a trusted alternative to Beaconstac. This platform allows you to create both dynamic and static QR codes. It aids in generating codes quickly and provides different types, like URL, text, email, WiFi, location, and event QR codes.
Highlights:
Extensive monitoring and analytics capabilities.
A variety of design choices for QR codes.

The usage of QR Code Generator Pro is seamless and straightforward. Here's how:
Navigate to the home page of QR Code Generator Pro.
Choose the type of your QR code. It could be a URL, text, email, or any available options.
Enter the required data and hit 'Generate.'
Customize your QR code using the available design tools.
Once you're satisfied with your design, click 'Download.'
QR Code Generator Pro Pricing and Plans: QR Code Generator Pro offers a free version with limited features. For more advanced features, it presents several pricing tiers. The premium plans start at $8,52 per month, with the option for custom plans for large-scale corporations.
3. Flowcode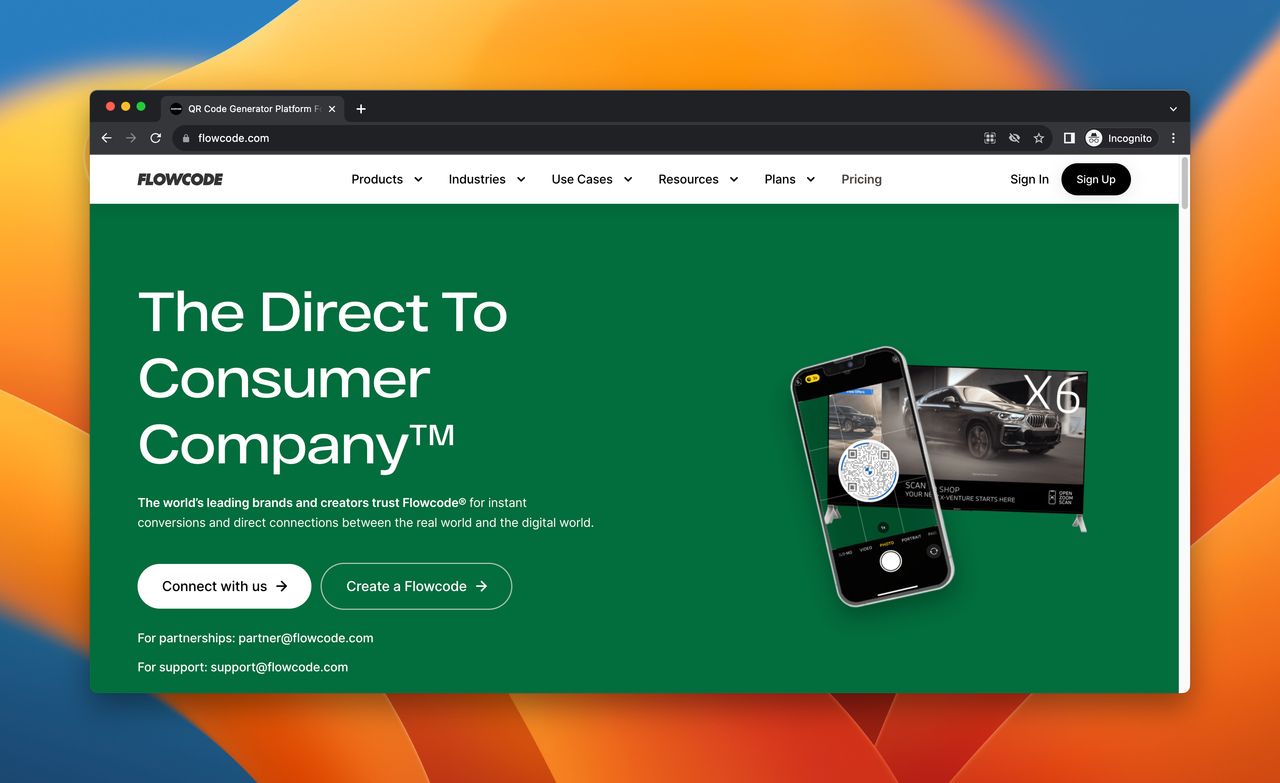 Flowcode is another fantastic Beaconstac alternative.
It focuses mainly on dynamic QR codes that enable marketers and SEO experts to track usage data and change the destination link anytime.
Highlights:
Speedy and effective.
Offers tracking and analytics.
User-friendly interface.
Flowcode has an easy-to-navigate interface. Let's look at how to create a QR code:
Visit Flowcode's home page.
Click on 'Create a Flowcode.'
Choose the type of information you want your code to carry.
Input the necessary information.
Click 'Design' to customize the code to your liking.
Upon completion, simply download your Flowcode.
Flowcode Pricing and Plans: Flowcode allows marketers to try it for free and create unlimited QR codes. The pro package costs $5 per month, providing added features like custom designs, analytics, and more.
4. Bitly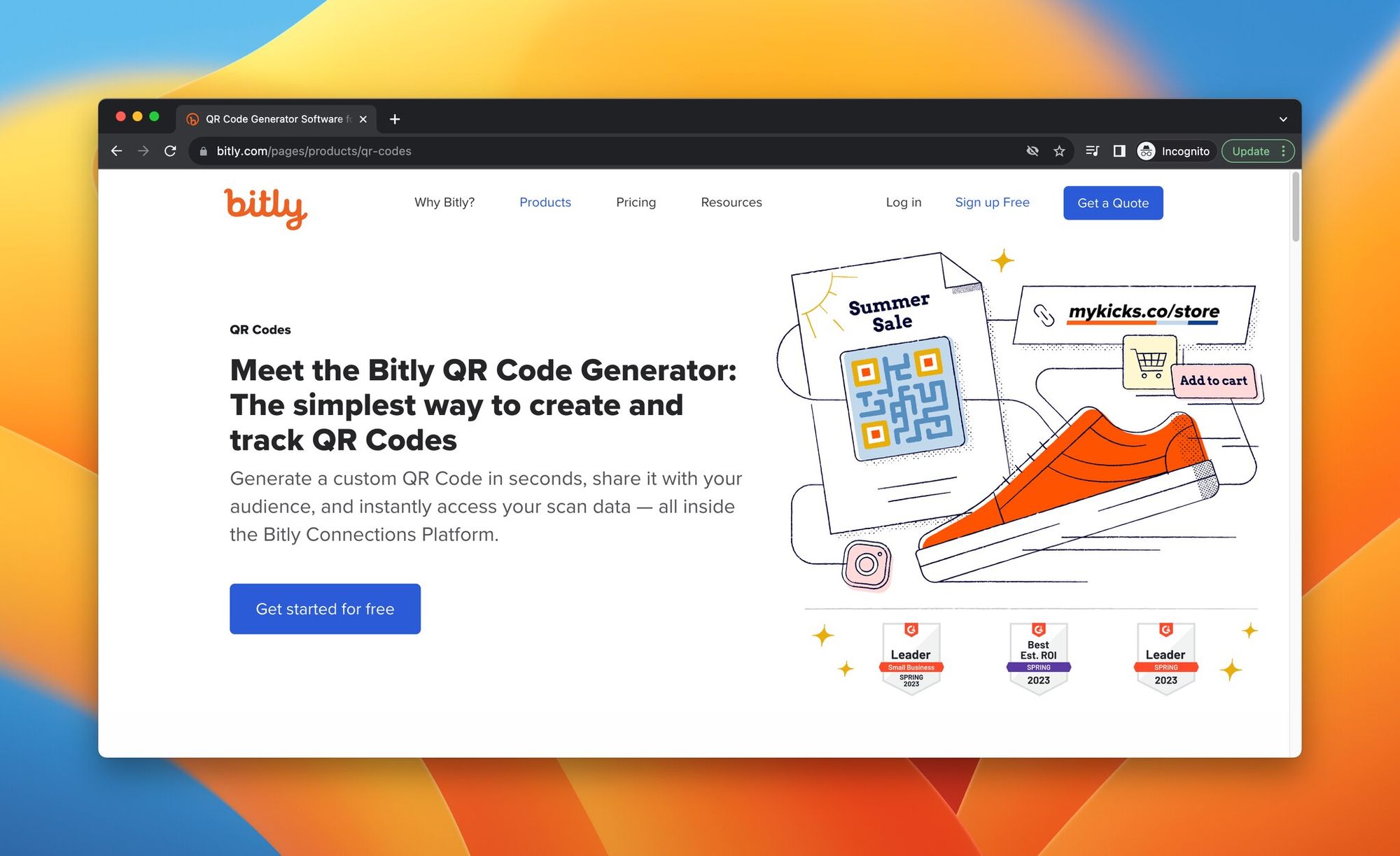 Bitly, originally a URL shortening service, has expanded into QR code generation, making it a competent Beaconstac alternative.
Highlights:
When combined with its live analytics feature, Bitly stands out as a robust option, especially for users seeking both services.
Every shortened URL created by Bitly comes with a Scan QR Code function, enabling users to access the linked content through scanning.
Using Bitly for QR code generation is pretty simple:
Log into your Bitly account.
Once logged in, click on 'Create' in the upper right-hand corner.
Choose 'QR Code.'
Insert the URL that your code will forward to.
Click 'Create' to generate your QR code.
Lastly, download your QR code.
Bitly Pricing and Plans: While Bitly offers a free version with limited features, its premium plans start at $8 per month and offer more features like branded and customizable QR codes.
5. QR.io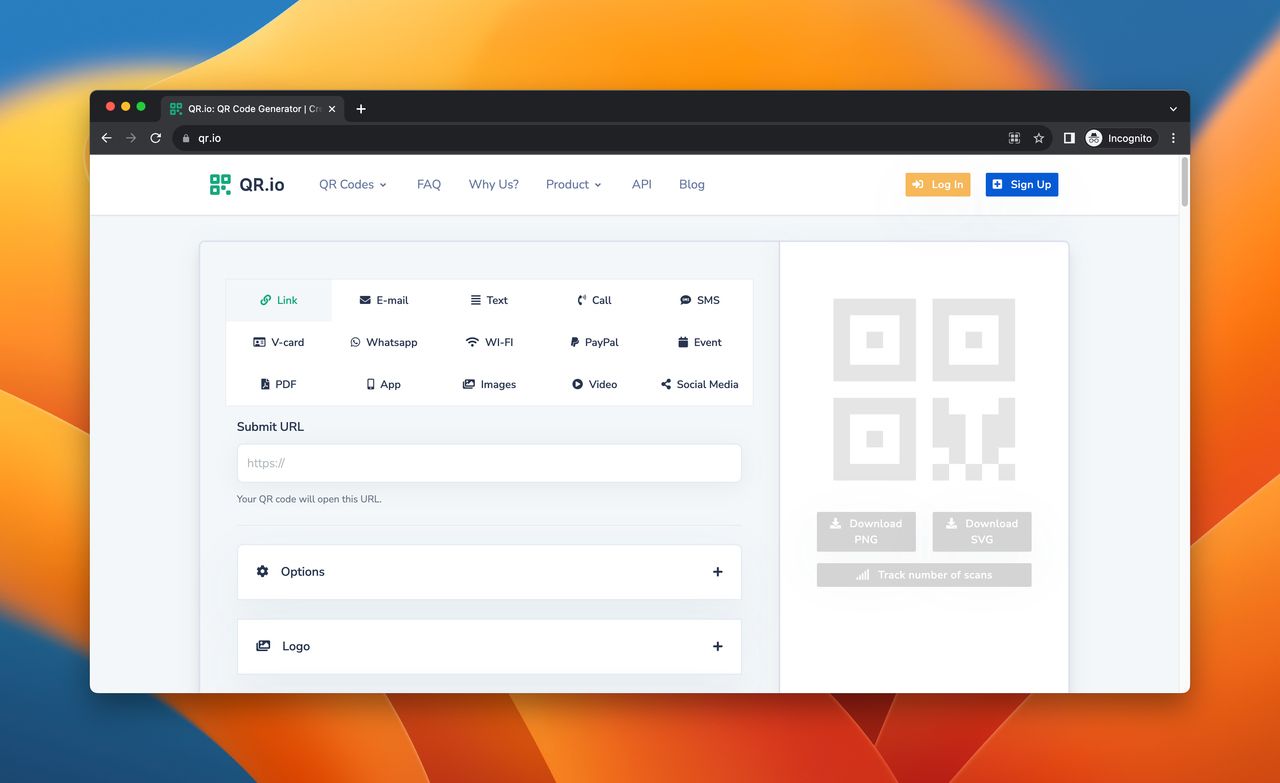 QR.io is an excellent alternative to Beaconstac, offering simple, easy-to-understand, and user-friendly QR code generation.
It supports plenty of types, including URL, text, email, phone, SMS, location, WiFi, event, bitcoin, and more.
Highlights:
Adaptable and versatile.
Provides options for customization and analytics.
Using QR.io to generate QR codes is as easy as 1-2-3:
Visit QR.io and select 'Create a QR Code' on their homepage.
Select the type of QR code that you want – it could be URL, Text, Email, Phone number, or other.
Input the required details based on the type of QR code that you have chosen.
After that, simply hit the 'Create QR' button.
On the new page, you will see your QR code; click 'Download' to get your code.
QR.io Pricing and Plans: QR.io offers a free plan for basic users looking to generate simple QR codes. Premium plans start at $35.
6. QRCode Monkey
One of the most popular Beaconstac alternatives is QRCode Monkey, known for its broad features and particularly for its high level of customization that artists and designers will surely love.
Highlights:
Sophisticated design capabilities.
QR codes in high resolution.
In order to generate a QR code using QRCode Monkey, follow these easy steps:
Head towards QRCode Monkey's official website.
Choose to enter either a URL or any other type of content, such as text or contact information, in the provided space.
Personalize your QR code using the customization setting panel—add a logo, set colors, establish patterns, and more.
After the customization, click the 'Create QR Code' button.
Finally, click the 'Download PNG' button to download your customized QR code.
QRCode Monkey Pricing and Plans: QRCode Monkey is generally free to use with unlimited QR code generation.
7. QR Stuff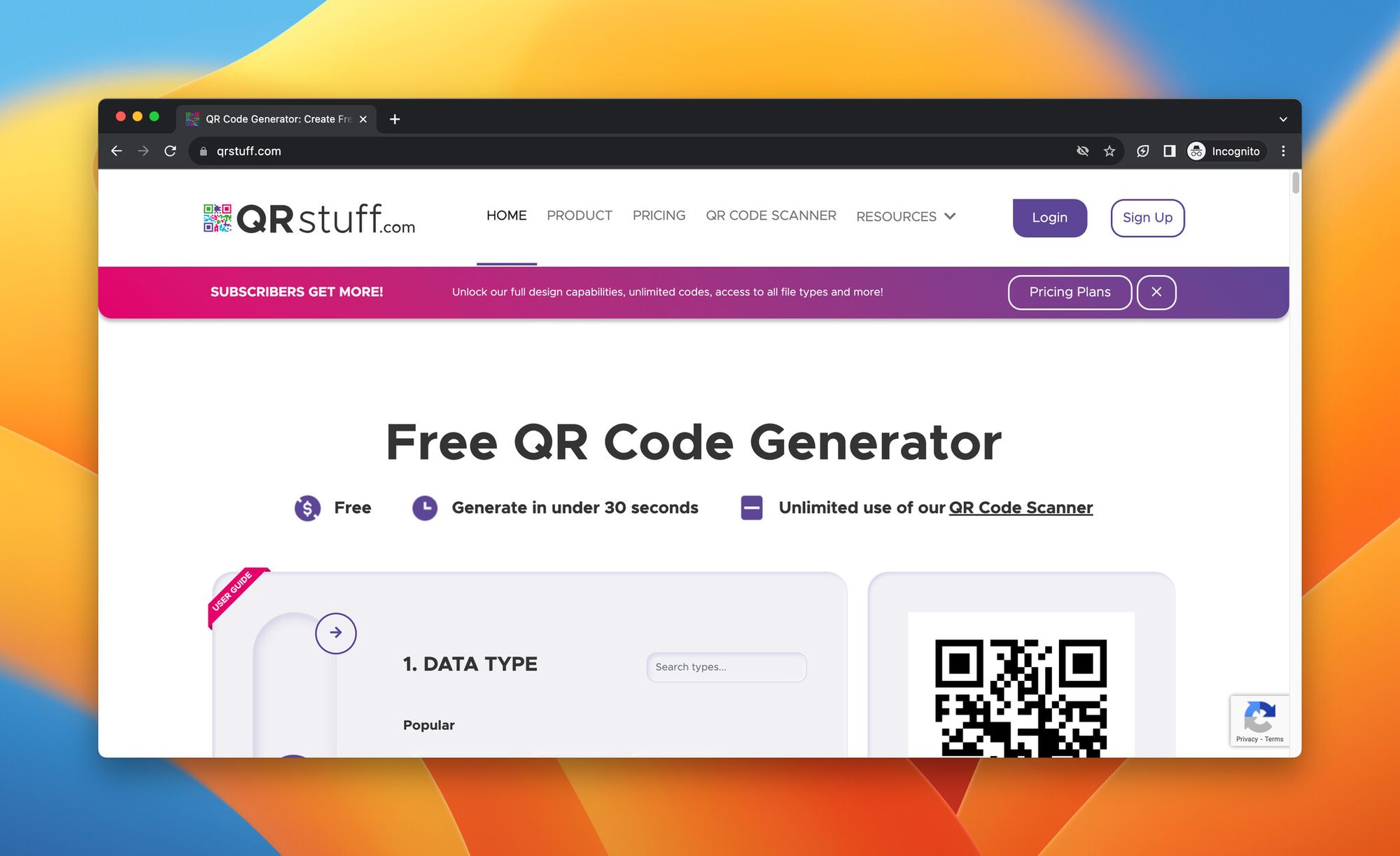 QR Stuff is yet another capable alternative to Beaconstac.
Its unique attribute is in the variety of data types that it supports, over 20, making it one of the most versatile platforms for QR code generation.
Highlights:
Produces QR codes of exceptional quality.
Offers a multitude of features and customization options.

Here's how to use QR Stuff:
Navigate to QR Stuff's home page.
In the top-left corner, choose your data type, such as website URL, Google Maps Location, or others.
In the next column, input the information associated with the chosen data type.
In the 3rd column, customize the QR Code with colors.
Then, 'Download QR Code.'
QR Stuff Pricing and Plans: While creating basic static QR codes is free on QR Stuff, creating dynamic QR codes requires a subscription. Subscriptions start at $12.95 per month.
8. The QR Code Generator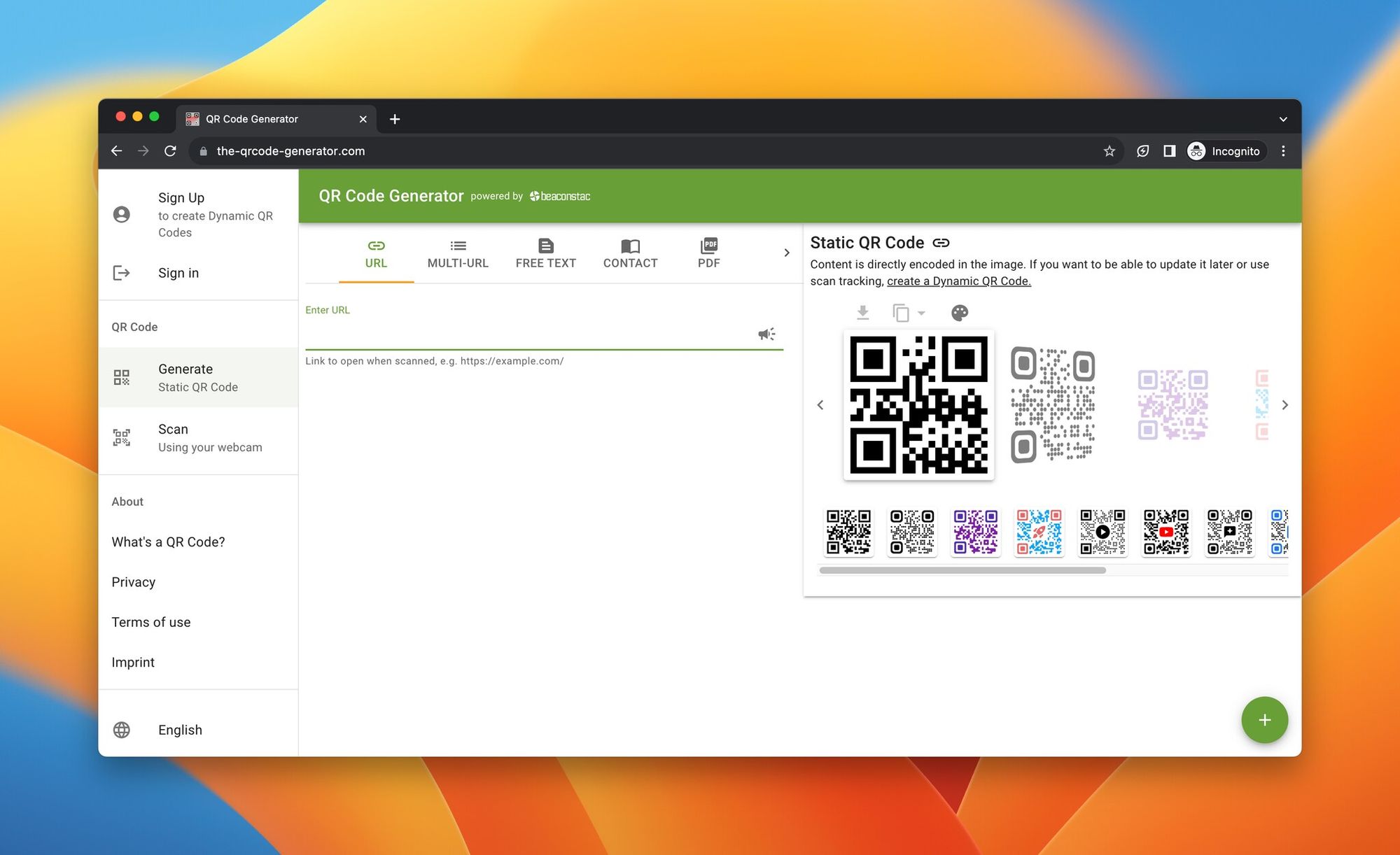 The QR Code Generator is another alternative for generating quick and simple QR codes. It supports various data types, including text, URL, email, phone, SMS, vCard, meCard, WiFi, geo-location, and others.
Highlights:
User-friendly.
Encompasses various types of QR codes.
Here are the steps to generate a QR code using The QR Code Generator:
Go to The QR Code Generator's website.
Choose your QR Code type from the options available.
Enter your data and click "Generate."
Download the generated QR Code.
The QR Code Generator Pricing and Plans: The QR Code Generator offers the creation of QR codes completely free of charge. However, for more advanced features like QR code tracking, a premium plan through their parent product QR Server is available, with pricing available on request.
9. GoQR.me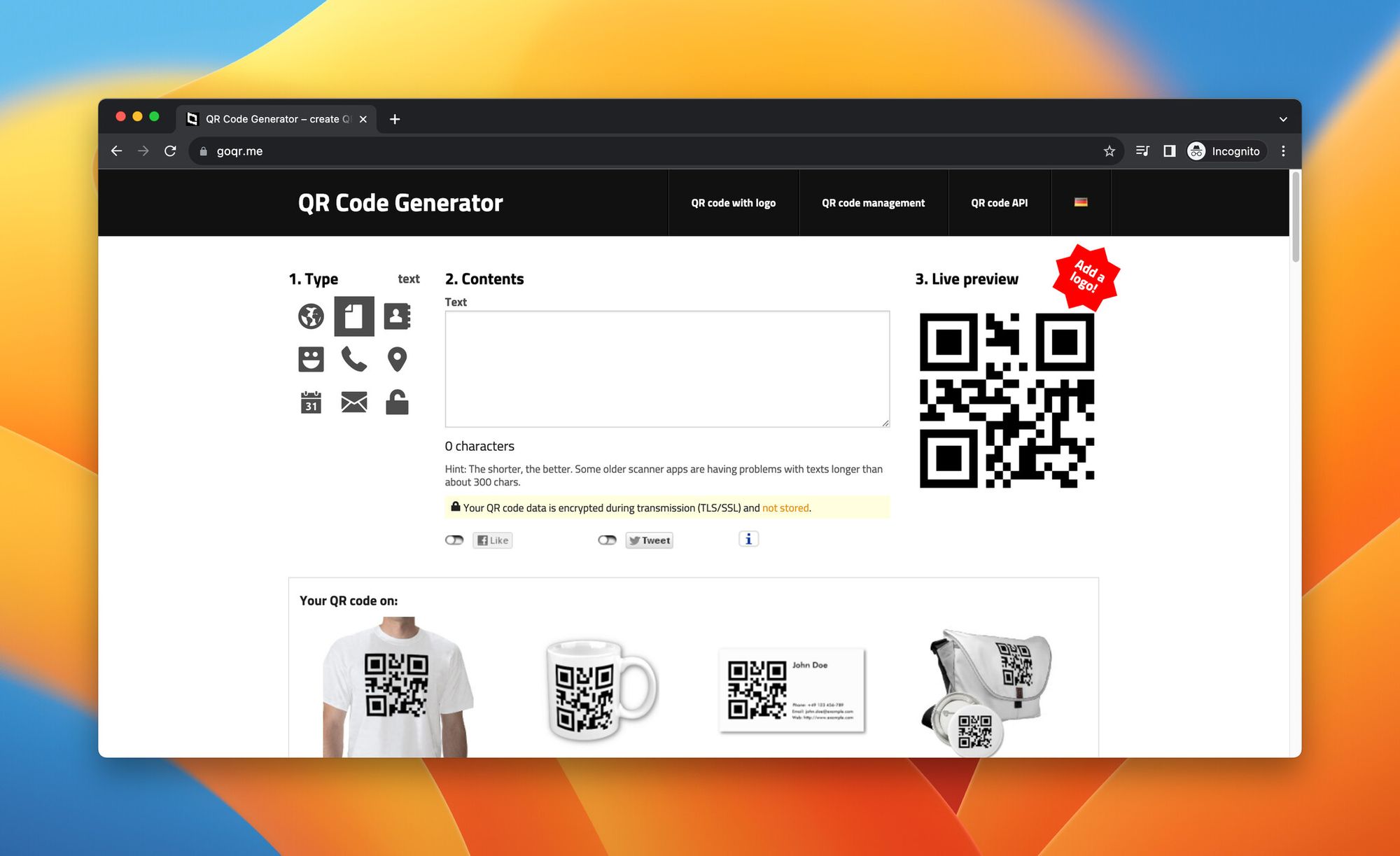 Another worthy Beaconstac alternative is GoQR.me. This QR code generator software allows for a high degree of customization, enabling marketers and SEO experts to create unique codes that align with their brand identity. The versatility of GoQR.me amidst other Beaconstac alternatives is definitely a notable attribute.
Highlights:
Renowned for its simplicity and efficiency
Designed to fulfill basic business needs
To generate a unique QR code with GoQR.me, follow these steps:
Visit GoQR.me's official website.
Specify the type of QR code you desire - text, URL, call, SMS, or email.
Input the desired corresponding data in the provided field.
Customize the design setting as you desire, then proceed to click 'Create QR Code.'
To get your QR Code, click 'Download' after successful creation.
It's that straightforward, and your QR Code is ready to be scanned!
GoQR.me Pricing and Plans: GoQR.me provides a free version offering basic features with unlimited QR code creation.
10. uQR.me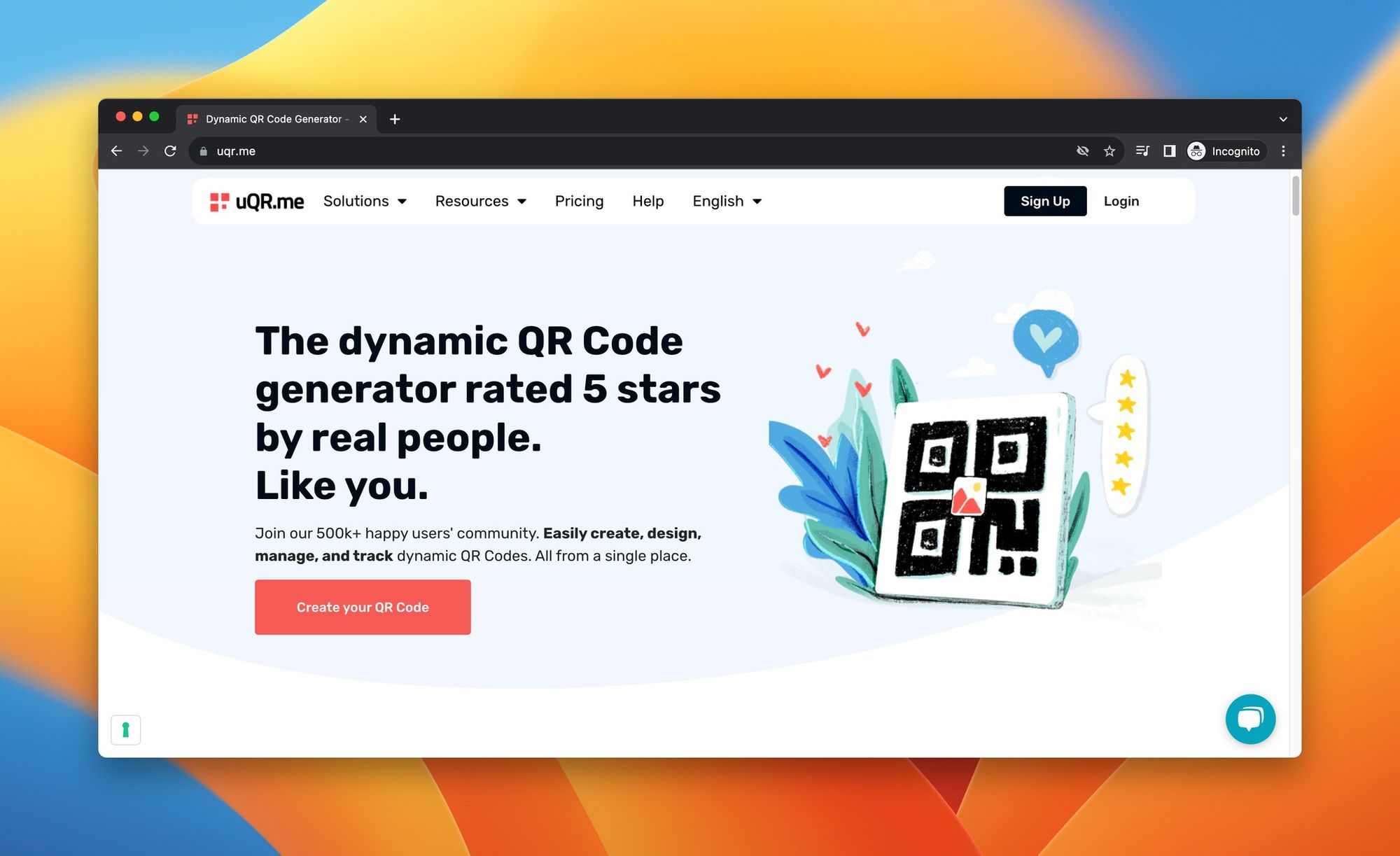 Next up is uQR.me, a strong contender among Beaconstac alternatives.
The platform aims to simplify QR code generation for users while offering robust tracking capabilities, making it attractive for marketers who love data.
Highlights:
Offers customizable design features.
Provides descriptive analytics for tracking code effectiveness.
Creating a QR code with uQR.me is a breeze. Just follow these steps:
Log into your uQR.me account.
Click on 'New QR' in the dashboard.
Specify the desired title and pick the type of QR code you want to generate.
Enter your data based on the type chosen.
Click 'Create.'
After creating the code, you can download it for use.
uQR.me Pricing and Plans: uQR.me's pricing structure is flexible, suiting different budgets and needs. There is a free version with basic features suitable for individuals. For businesses, however, there's a premium plan starting at $4.95/month.
11. QR Tiger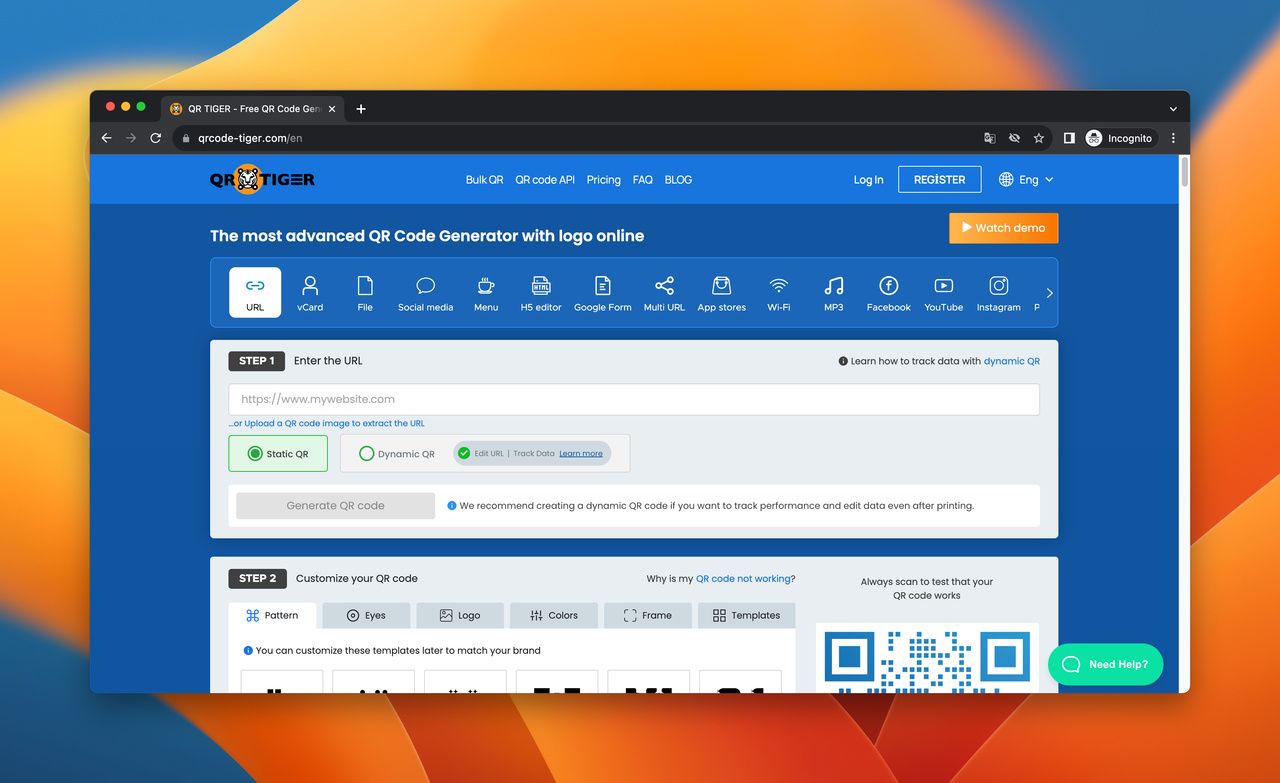 QR TIGER stands out in the Beaconstac alternatives pack for its robust customization options and user-friendly interface.
It's especially popular among businesses wanting to create QR codes that perfectly match their brand aesthetics.
Highlights:
Multi-URL functionality.
A wide array of design choices.
Here is a step-by-step guide to create a QR code using QR Tiger:
Visit the QR Tiger website.
Choose the QR code type from the options provided.
Input necessary data in the given field.
Further customize your QR code by choosing color patterns and adding a logo.
After finalizing your design, simply click 'Generate QR Code' to create the code.
After the QR code is generated, download it and save it on your device.
QR Tiger Pricing and Plans: QR Tiger offers a freemium model where you can create basic QR codes for free. They also have a more premium option that provides advanced features like multi-URL QR codes, dynamic QR codes, design customization with logos, and much more.
The premium packages start from $7/month, presenting a valuable stepping stone for businesses seeking to leverage QR code technology.
12. BL.INK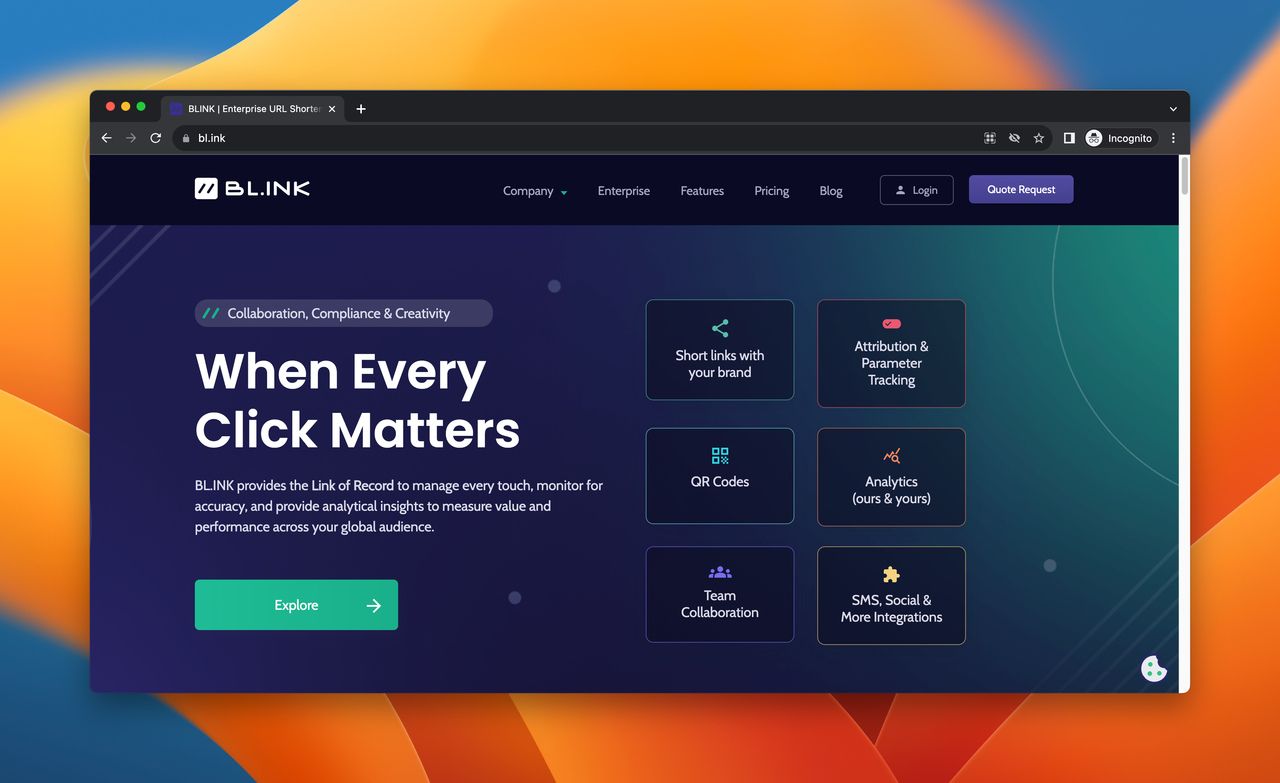 BL.INK is another impressive alternative to Beaconstac.
Recognized for its prowess in branding and simplifying URLs and codes, it is definitely a platform worth considering for seamless QR code generation.
Highlights:
Provides real-time access to data for monitoring purposes.
Functions as a QR code generator and a URL shortener.
Creating a QR code with BL.INK is a simple process. Here are the steps:
Log in to your BL.INK account.
From the dashboard, click on 'Create' and select 'QR Code.'
Enter a branded link or useful URL for the QR code.
Click "Create" to generate your QR code.
Download the QR code, and off you go!
BL.INK Pricing and Plans: BL.INK offers a free version with basic features. For more advanced capabilities, including robust analytics, customizable URLs, and integrations, it provides premium plans. The paid plans launched at $48/month allow businesses to tailor their experience and get the most value from their QR code campaigns.
13. ForQRCode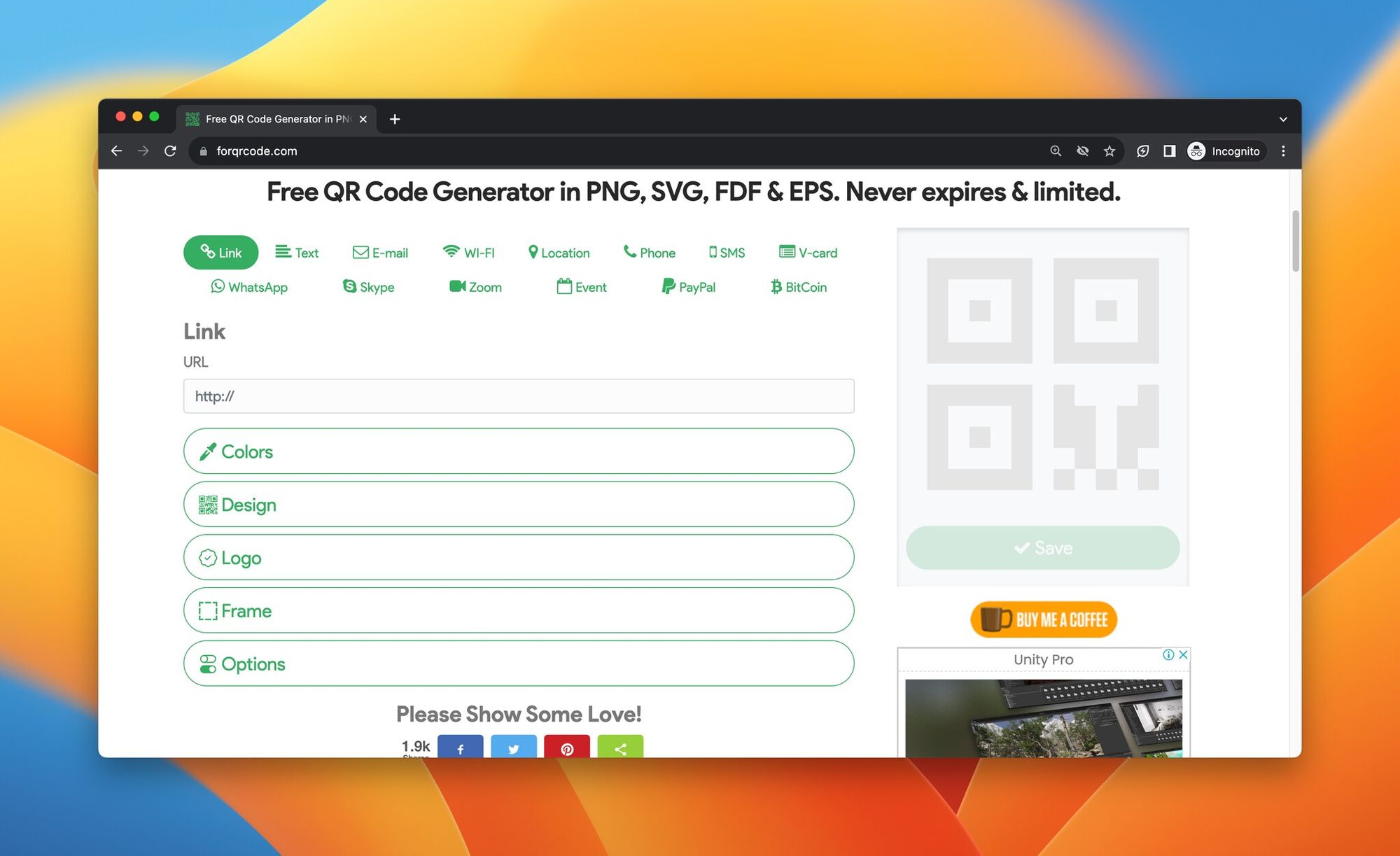 ForQRCode emerges as another worthy alternative to Beaconstac.
This platform primarily focuses on providing individuals and businesses with a free and user-friendly QR code-generating service. It offers a variety of QR codes, including URL, text, email, phone number, SMS, and V-card.
Highlights:
Offers fundamental customization choices.
Features a user-friendly and straightforward interface.
Creating a QR code using ForQRCode is just a few clicks away. Follow these steps:
Navigate to ForQRCode's website.
Select the type of QR code you want to create.
Input the necessary data for the selected QR code type.
You will see your QR code generated instantly.
Download your QR code by right-clicking on it and using it in your desired application.
ForQRCode Pricing and Plans: ForQRCode stands out among Beaconstac alternatives due to its completely free service. Yes, you heard it right, it's absolutely free! Despite providing a free service, ForQRCode doesn't compromise on the quality or efficiency of the QR codes, making it a great option for small businesses and individuals on a tight budget.
14. QR Code Generator by Unitag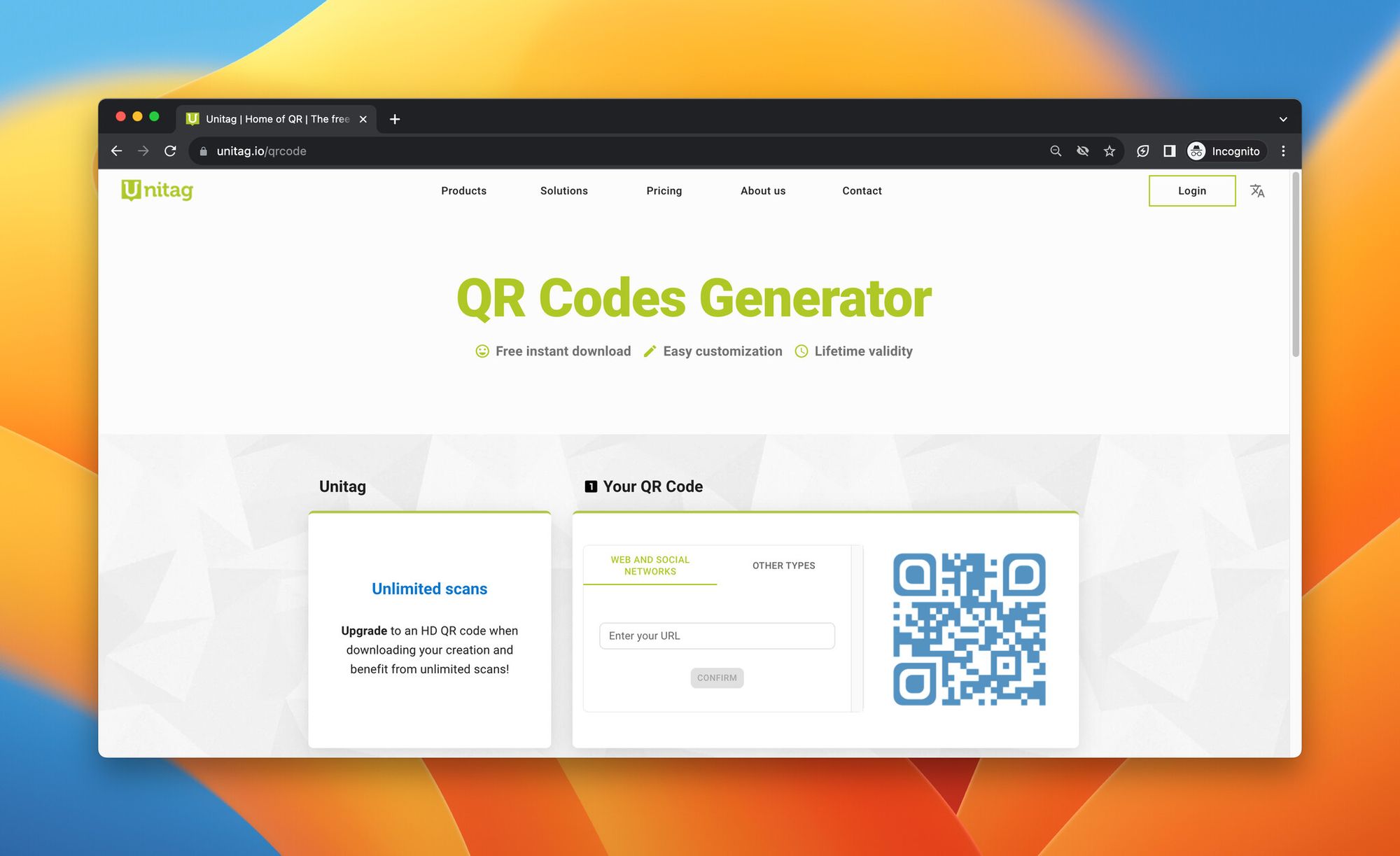 QR Code Generator by Unitag is a premium alternative to Beaconstac capable of creating highly customized and dynamic QR codes.
Its standout feature is the high level of customization, allowing marketers and SEO experts to design QR codes that perfectly align with their branding.
Highlights:
Effortless integration.
Valuable for organizations with multilingual and global operations.
Creating a QR code with QR Code Generator by Unitag is a quick and easy process:
Visit Unitag's QR Code Generator website.
Choose the type of QR code you want to create, such as URL, text, or contact.
Input the necessary details as per your chosen type.
Click 'Generate' to create the basic code.
You can then customize your QR code using Unitag's customization menu, including design, colors, and logo.
Once you are happy with the look, click on 'Save and Download' to download your customized QR code.
QR Code Generator by Unitag Pricing and Plans: QR Code Generator by Unitag offers a free basic package that allows you to generate generic QR codes. However, they offer a premium package if you're looking for advanced features such as high-quality downloads, analytics, and the ability to modify QR codes after they are created. The premium plan starts at $17.28/month and includes advanced customization options and dynamic QR code creation.
That wraps up our exploration of some of the top Beaconstac alternatives for QR code generation. As you've seen, there's a wealth of options available to suit any budget and business needs. Whether you need a platform with high customization options or a user-friendly and budget-friendly choice, there's an alternative to Beaconstac out there for you.
Now that you're equipped with detailed insights into these platforms, you can make an informed decision that best suits your business or individual needs. Remember, the best choice will largely depend on your specific requirements and your budget. Therefore, choose wisely and harness the power of QR codes to boost your marketing efforts.
Advanced Features of Beaconstac Alternatives & Detailed Comparison
Now that we've taken a deep dive into the Beaconstac alternatives, their using methods, pricing plans, and specific unique features, let's shift gears and discover the advanced features they offer.
These features can truly enhance your marketing campaigns and offer great value to your business, from secure QR code retargeting capabilities to comprehensive customer service and support. Let's begin!
Advanced QR Code Marketing Campaigns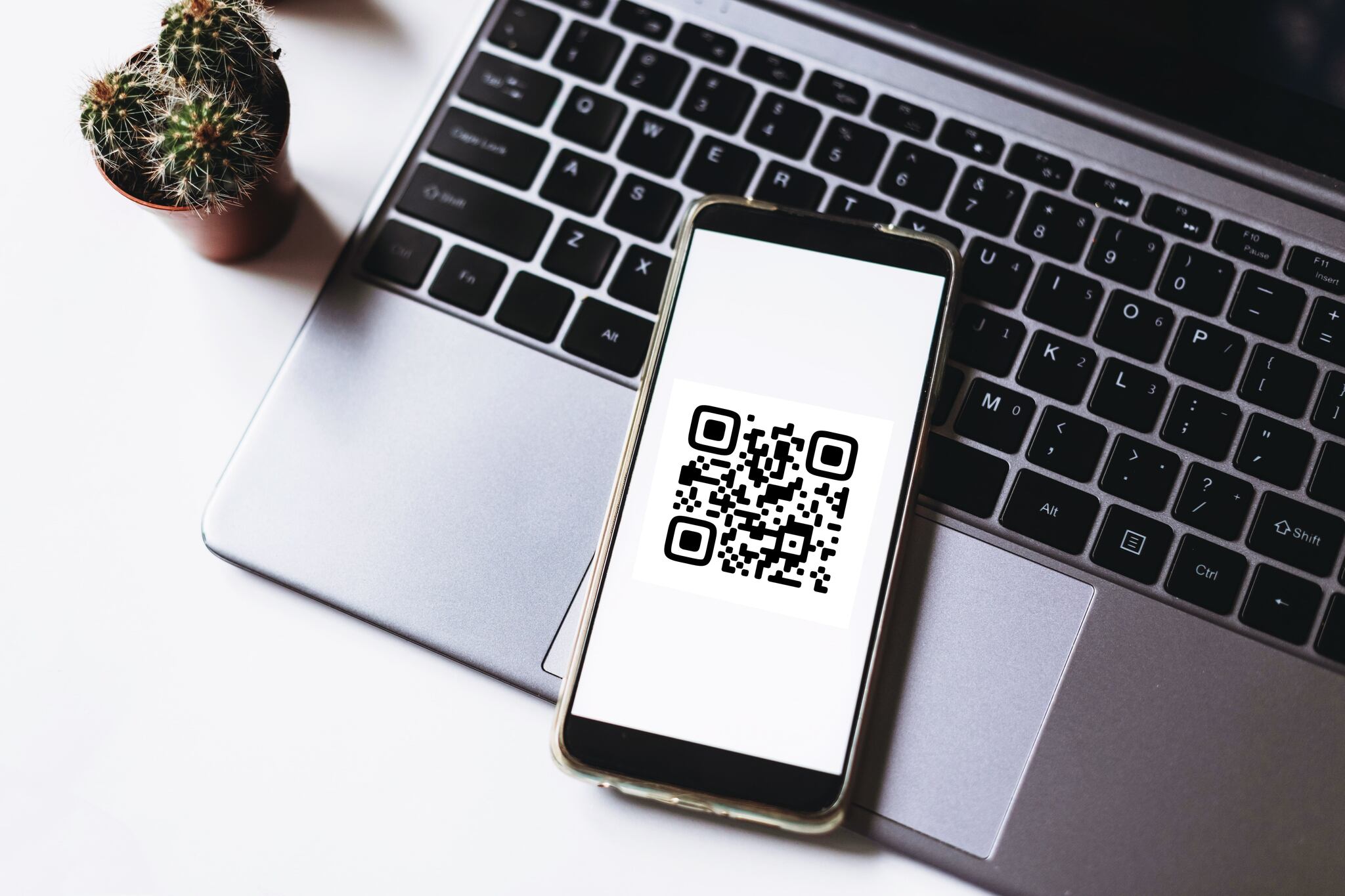 To begin with, Beaconstac alternatives such as QRCode Monkey, QRCodeDynamic, and QR Tiger offer advanced QR Code Marketing Campaign possibilities, bridging the physical-digital divide.
Here's how you can use these platforms for enhanced marketing campaigns.
QRCode Monkey offers options to generate QR codes for social media, v-cards, email, app stores, and much more, expanding your campaign scope to different platforms.
QRCodeDynamic stands out with its QR code tracking capabilities. This feature enables marketers to access real-time data on their campaigns, optimize them, and make data-backed decisions.
QR Tiger offers design customization, dynamic QR codes, and multi-URL QR code capabilities that take QR code marketing campaigns to a whole new level.
Overall, the advanced marketing campaign features offered by these Beaconstac alternatives provide an excellent way to transform your offline audience into a digital one with personalized touch points.
QR Code Data Security
Moving forward, data security is a serious concern for businesses of all sizes. This is why many Beaconstac alternatives have built-in features to ensure the secure generation and use of QR codes.
ForQRCode encrypts all data stored on the platform, ensuring no unauthorized access. QRCodeDynamic ensures customer privacy and data integrity. QR Tiger guarantees SSL-secured connections for all its QR code transactions, eliminating any risk of information thefts thereby securing your data.
Remember that in this digital age, data privacy is paramount, and these Beaconstac alternatives take extra steps to ensure that.
Retargeting Users Across Physical and Digital Worlds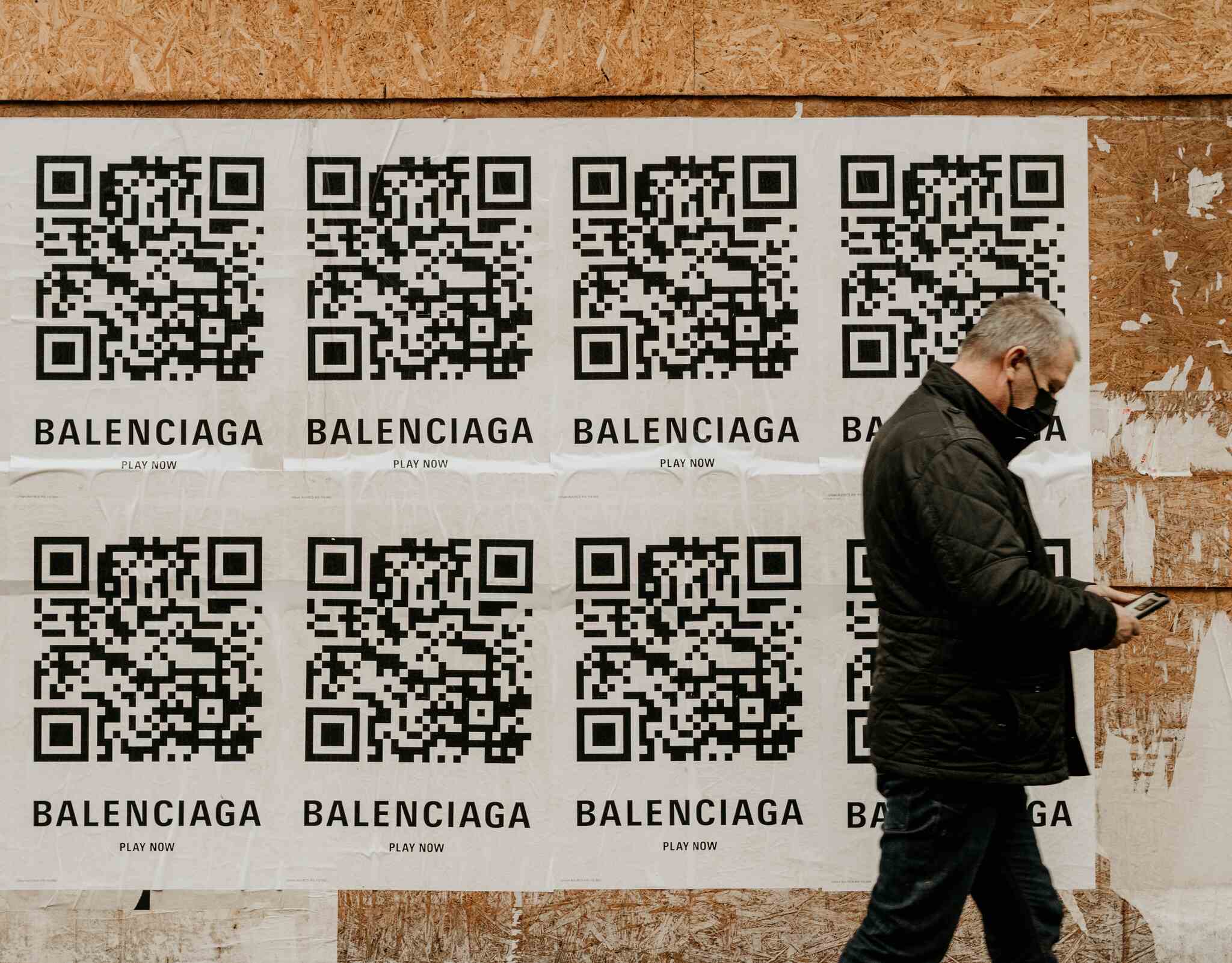 Some advanced QR code generator platforms can retarget users via the digital world after they have interacted with your physical QR codes. This gives businesses the advantage of connecting with their customers on multiple touchpoints.
Beaconstac, Scanova, and uQR.me offers sophisticated retargeting features. They enable you to target your QR code scanners on various ad platforms such as Google Ads, Facebook Ads, and even Twitter Ads!
By using these platforms, you can not only pull your offline audience into the digital world but also continue to engage them across various platforms.
White Label Solutions
Another smart feature offered by some Beaconstac alternatives is the ability to white-label their solutions. A white-label solution allows you to use their proven and trusted technology under your own brand name.
Bitly, BL.INK and QR.io offer white-label solutions that allow businesses to maintain control over their branding while utilizing the platforms' robust technology for QR code generation and analytics tracking.
Customer Service and Support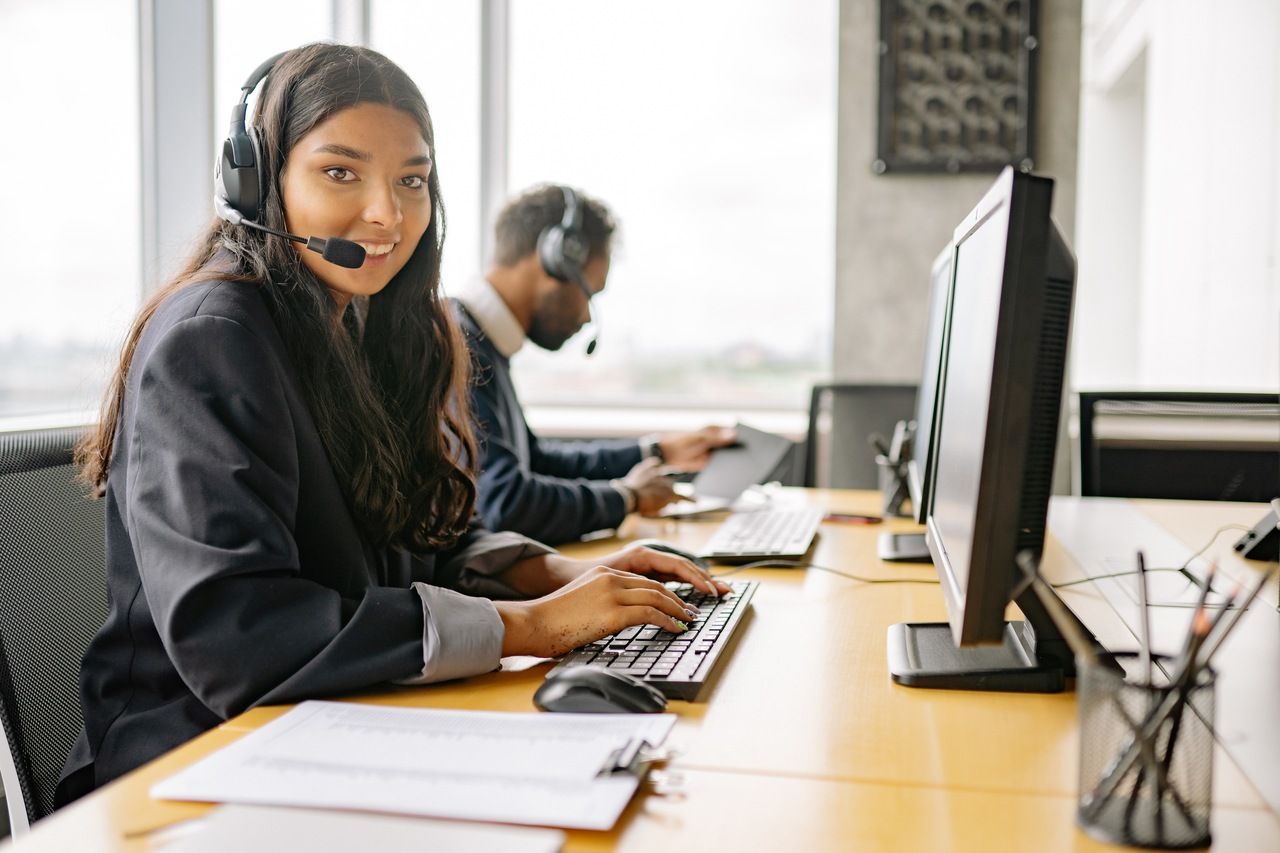 No matter how robust or user-friendly a platform is, there will come times when you need assistance or have queries. A great customer service team can be a game-changer in such instances.
QR Code Generator Pro, Flowcode, QRCodeDynamic and Bitly are highly praised for their responsive and supportive customer service, ensuring users get the best experience and instant help whenever they need it.
Integrations
Finally, let's talk about integrations. The ability to seamlessly integrate QR code technologies with other marketing tools can significantly enhance marketing efficiency and broaden campaign scope.
For instance, BL.INK integrating with popular social media management tools such as Hootsuite helps businesses streamline their workflow and enhance productivity.
uQR.me provides advanced integration with Google Analytics, making it easier for businesses to monitor QR Code campaigns in the environment they are most comfortable in.
Beaconstac, on the other hand, offers seamless integration with social media platforms, emails, and various marketing tools.
💡
In conclusion, advanced features like secure QR codes, retargeting, white labeling, customer support, and integrations can significantly enhance your business's use of QR codes. It makes the whole QR code campaign much more effective, understandable, and profitable with the right QR code generator platform choice. So go ahead and choose wisely, and use the QR code technology to its fullest to benefit the most!
Utilizing these advanced features can boost your marketing, ensuring that you stay relevant, efficient, and on top of the game in this fast-paced digital world. Innovation is key to growth, so keep exploring, learning, and growing in this digital marketing journey. Stay tuned for more insights on digital marketing tools. Keep up with trend updates effective strategies, and be the top marketer you're meant to be!
Conclusion
In this fascinating exploration of Beaconstac alternatives, we've delved deep into a world teeming with potential for the savvy marketer or business owner.
This comprehensive guide has not only defined and introduced numerous QR code generation platforms as alternatives to Beaconstac, but it has also explained how each of them can employ their different pricing models and even demonstrated them against each other.
We've traveled from familiar terrain to the innovative plateau of Beaconstac alternatives, showcasing a dynamic array of QR code generators from the simple to the complex, the free to the premium, and everything in between.
Through the journey, we've unfolded the unique features of each platform, explored their specific strengths, and revealed the potential they hold for businesses big and small.
Remember, QR codes are an integral connective element, linking our physical and digital worlds. By leveraging the right platform, businesses and marketers like you possess the power to create meaningful, interactive relationships with customers, foster brand loyalty, and eventually drive impressive growth.