Crypto QR code generator
Generate easy & customizable Crypto QR codes in minutes.
Make sure to test out your configured QR code before using it in production.
What is a Crypto QR Code?
A Crypto QR Code is a great solution that makes digital money transactions easier for cryptocurrency users.
Using the crypto QR code generator, you can turn your Bitcoin or Ethereum address into a QR code, which allows you to send or receive crypto payments.
Why Do You Need a Crypto QR Code?
Using a Crypto QR Code makes transactions faster and more convenient for cryptocurrency users.
Crypto payments can only be sent or received with a unique address. Every user has a personalized address that is composed of 34 characters. Think of it this way, it is much easier to use a Crypto QR code than to type out an address for every transaction.
You can simply scan the crypto QR code with your smartphone or third-party scanning apps to initiate a transaction. As a result, there is no way for human error to occur since you do not have to write or send long codes in a chat conversation.
Using a crypto QR code generator provides the fastest and most secure way to share an address when transferring cryptocurrency between two devices.
You can try to create an account on QR Code Dynamic, where you will have access to tons of features like:
13 different QR code types
5 pixels
5 saved QR codes
5 projects
5 custom domains
Apart from the features listed above, if you upgrade your plan to the PRO version , you can also enjoy the advanced features:
Unlimited projects
Unlimited saved QR codes
Unlimited pixels
Unlimited custom domains & additional domains
Password protection
Unlimited days statistics retention and many other awesome features!
How to Create a Crypto QR Code?
1. To create your crypto QR code, you must first choose your cryptocurrency in the "Coin" field. You can choose between the two options, either "Bitcoin" or "Ethereum".
2. Next, enter your crypto address in the "Address" box. Make sure it has all 34 characters.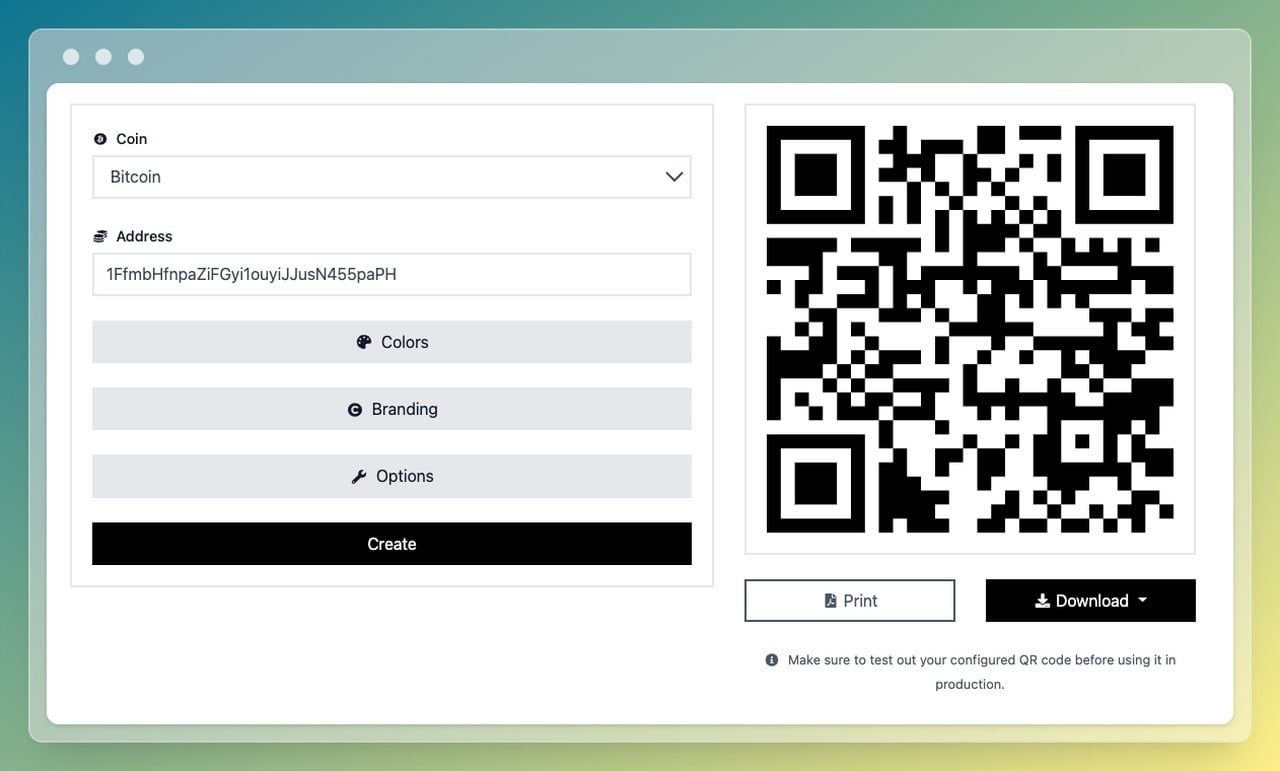 That's all there is to it; Just two simple steps, and you can make your crypto QR code, bringing your transactions into a new era of ease.
Lastly, before deploying your QR code in production, ensure it works as expected.
Get Full-Scale Customizations
Furthermore, if you want your crypto QR code to be more distinctive, you can customize its color, branding details, and size.
To choose an eye-catching color for your crypto QR code, go to the "Colors" section and select a shade that matches your style.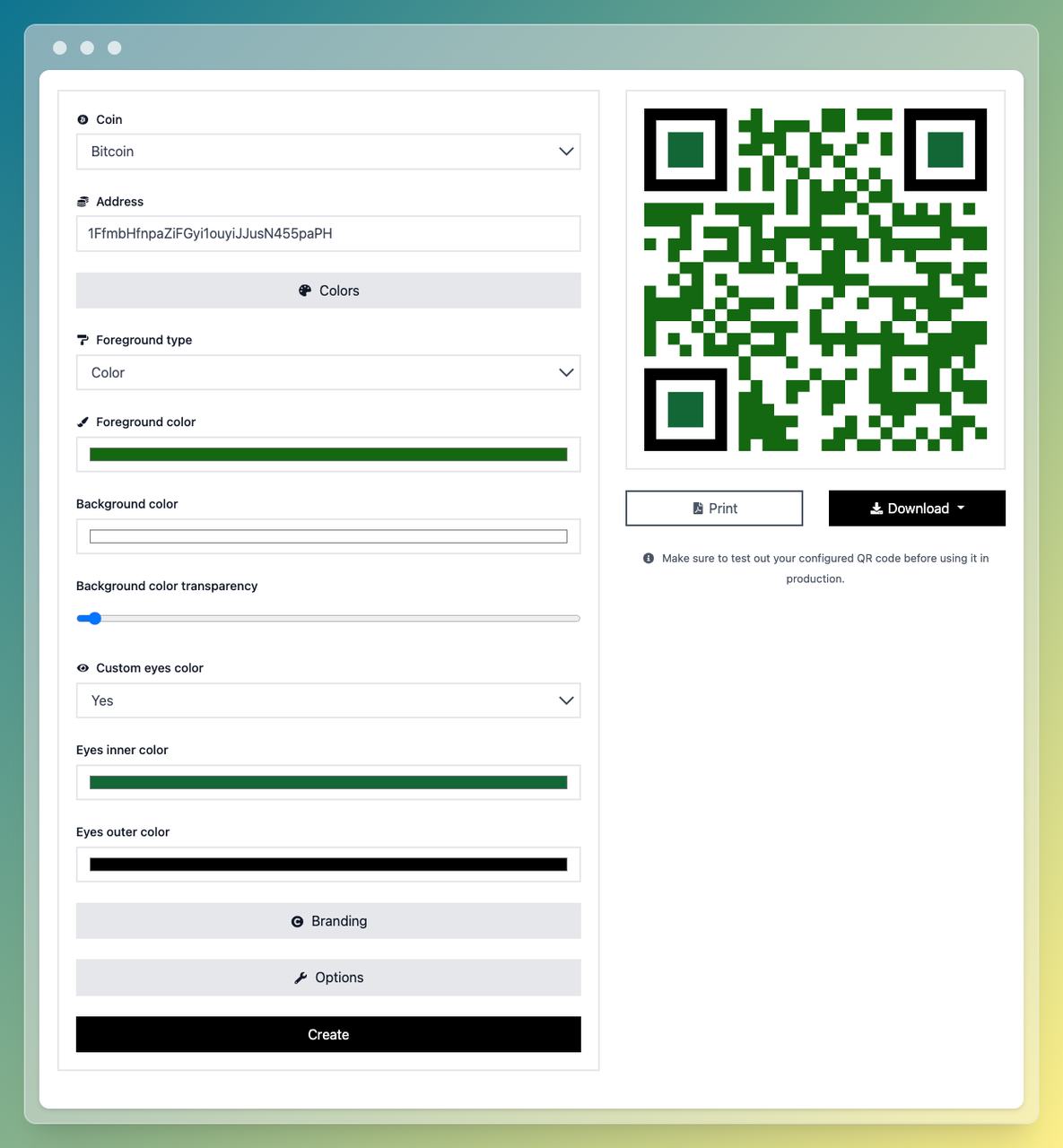 Next, go to the "Branding" tab and add your logo.
Try to upload a high-quality image and make sure that it matches the color scheme of your crypto QR code.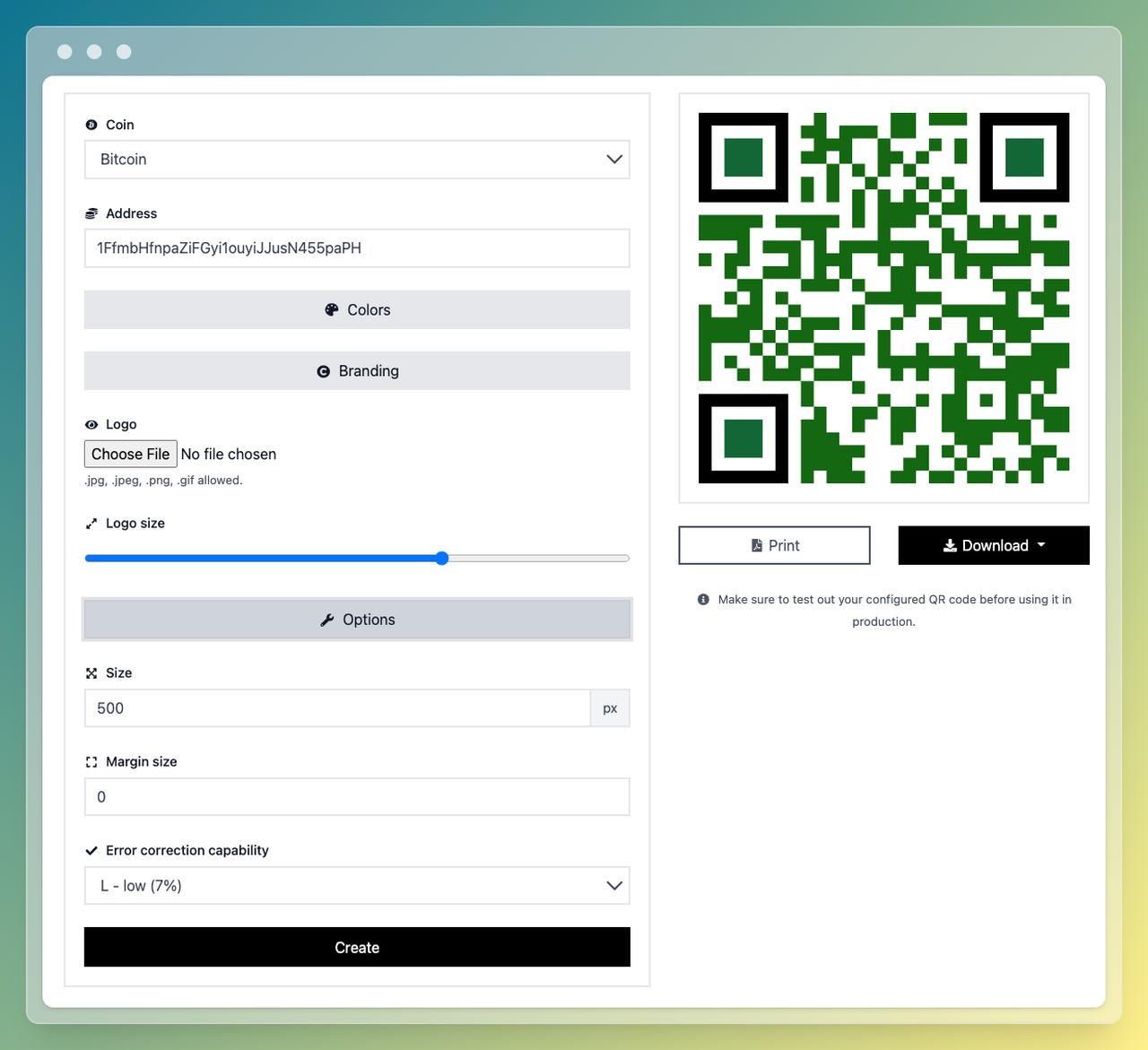 Furthermore, you can customize the size and margin size of your crypto QR code in the "Option" section.
There you have it, a great customized crypto QR code you can download or have it printed.
Who Can Use Crypto QR Codes?
Artists looking for a way to get donations can add a Bitcoin or Ethereum QR Code to their artwork to kickstart the fundraising process.
Additionally, business owners who own crypto vaults willing to trade in cryptocurrencies can benefit from crypto QR codes.
Even many ecommerce businesses can now accept cryptocurrencies such as Bitcoin and Ethereum as payment.
Using a crypto QR code to send or request payments among friends is also possible.
How Can You Make The Most Out of a Crypto QR Code?
Build attention-grabbing crypto QR codes and customize them considering your brand's colors and style.
Verify the Bitcoin address after generating the QR Code.
Add a threat intelligence service to your browser or wallet that alerts you to scammy sites.
Don't print your crypto QR code smaller than 2 x 2 cm.
Ensure that your crypto QR code is visible and easily scannable.
Try to use a darker color for the foreground and a lighter color for the background.