PayPal QR code generator
Generate easy & customizable PayPal QR codes in minutes.
Make sure to test out your configured QR code before using it in production.
What is a PayPal QR Code?
A PayPal QR code is a kind of barcode that is designed for direct PayPal payment links. It makes the checkout process much easier and gives your customers a touchless payment option.
By scanning a PayPal QR code, people can complete their checkout process fastly, which increases your sales and decreases the cart abandonment rate!
Why Do You Need a PayPal QR Code?
PayPal QR codes allow you to have a touch-free purchase option. Including this contactless option in your store lets your customers pay for their purchases using their PayPal account on any device they have.
Also, PayPal QR codes make the checkout process much easier and faster. It reduces the failures in credit card payments and allows customers to complete their purchases in under a minute.
You don't have to deal with cash and credit cards; all you have to do is to tell your customers to pay using PayPal with your QR code.
By setting a Donation link to your PayPal QR code, you can let your customers make donations as well. PayPal QR codes can be used differently according to various use cases.
Using a PayPal QR code generator for your business has many benefits. By creating a free account on QR Code Dynamic, you can get access to:
13 different QR code types
5 pixels
5 saved QR codes
5 projects
5 custom domains
Apart from the features, the Pro Plan includes:
Unlimited projects
Unlimited saved QR codes
Unlimited pixels
Unlimited custom domains & additional domains
Password protection
Unlimited days statistics retention and many other awesome features!
How To Create PayPal Direct Payment Links With QR Codes
Decide whether you want your visitors to use a PayPal QR code to add a product to the cart, make a purchase immediately, or donate.
There are different types of PayPal QR codes, so considering your use cases and business needs, you can choose one from "Buy Now," "Add to cart," and "Donation" types.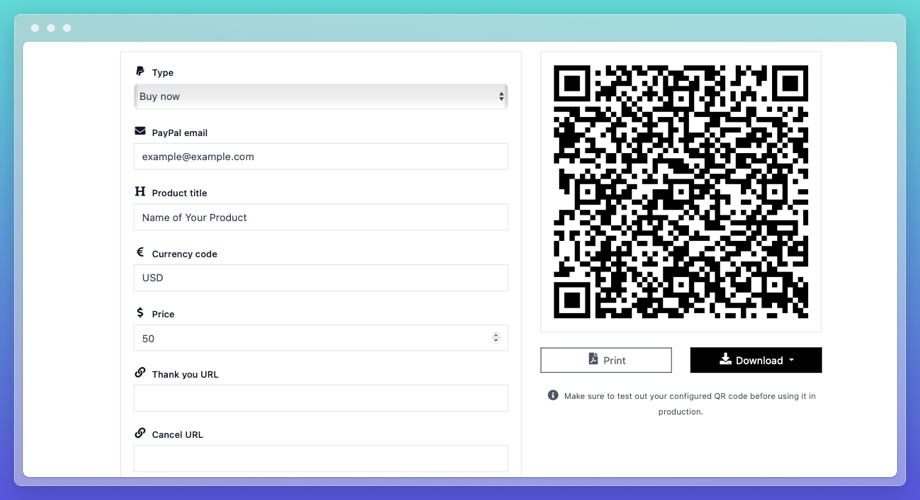 After that, enter your PayPal email, product title, currency code, and price details.
Then you can set a "Thank you URL" and "Cancel URL" to your PayPal QR code.
Personalize Your QR Code Easily
To make your QR code more eye-catching and aesthetically pleasing, you can customize its color, branding details, and size.
First, go to the "Colors" section in the QR code generator to personalize your code's colors.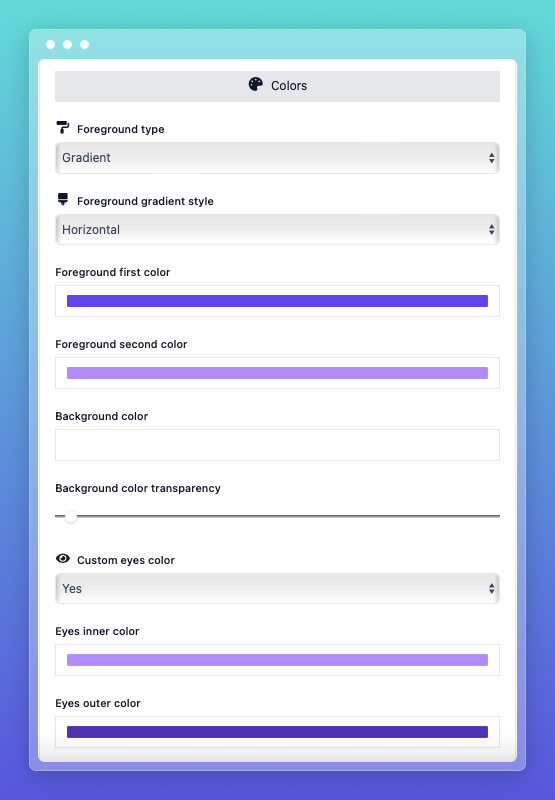 This part has many different color options, so you can play with it until you find the perfect match for your PayPal QR code!
Then, go to the "Branding" part and add your brand's logo. Try to include a clear image of your company's logo and make sure that it goes hand in hand with the colors of your PayPal QR code.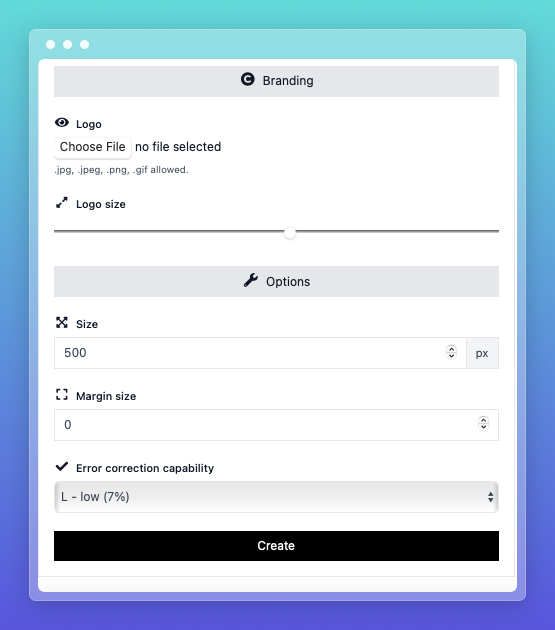 When you are done with adding your logo, go to the "Options" part and adjust your QR code's size and margin size.
Finally, choose your code's error correction capability and click on the "Create" button. Now your PayPal QR code is ready to go!
So easy, right?
You can either add your QR code to your website or print it out and use it in your store.
Who Can Use a PayPal QR Code?
PayPal QR codes can be used for many different cases. For example, you can use them to collect payments in your coffee shop or restaurant.
Apart from these, if you have a clothing store, you can include a PayPal QR code to make the payment process easier and contact-free.
Also, QR codes can be used in online stores to include a fast and easy payment option with PayPal.
Another option is for non-profit organizations which are collecting donations. By including a PayPal QR code in your organization's store or website, you can easily collect donations from your visitors.
How Can You Get the Most Out of Your PayPal QR Code?
You can level up your checkout process by using a QR code generator for PayPal. Here are a few tips to get the most out of your PayPal QR codes:
Build attention-grabbing PayPal QR codes and customize them considering your brand's colors and style.
Ensure that your PayPal QR code is visible and easily scannable. Adding contrast colors can make your codes easier to scan.
Add your brand's logo so that you can boost your brand's visibility.