Whatsapp QR code generator
Generate easy & customizable Whatsapp QR codes in minutes.
Make sure to test out your configured QR code before using it in production.
What is a WhatsApp QR Code?
A WhatsApp QR code is an easy way to start a chat on the app by simply scanning the code. Think like you are saving someone's phone number the old way; the WhatsApp QR code makes it much simpler now. It generates a link to contact the person instantly. As easy as it could be!
Why Use a WhatsApp QR Code?
Using a QR code for WhatsApp helps you avoid any unnecessary mistakes. For example, it's sometimes inevitable to miswrite a phone number, especially if you manually write international phone numbers.
A small mistake like miswriting the phone number may sometimes cause tremendous outcomes. But, thanks to the WhatsApp QR code, you'll not experience any problems with this issue.
It benefits your business immensely as WhatsApp QR Code may be used on print materials such as posters and flyers, as well as social media and email marketing platforms. This way, your potential customers can smoothly contact your business.
The Benefits of Creating a WhatsApp QR Code with QR Code Dynamic
With the fantastic customization options of QR Code Dynamic, the QR code generator tool, your customer interaction will increase in no time. You can fully customize your WhatsApp QR Code. Change colors, insert your logo, change the size and make it an eye-catching source of communication for you.
You can create a prefilled message for your WhatsApp QR code; let's say, "I want to create a popup for my e-commerce." Then, when someone scans your QR code, this message will be sent to you so that you can directly answer their question related to their inquiry without wasting any time.
You can always check the scan data to see how well your WhatsApp QR Code is doing. With QR Code Dynamic Pro Plan, you will have:
Additional domains
Included analytics
Password protection
Custom back-half URL
QR Reader
API access
As well as
Unlimited saved QR codes
Unlimited projects
Unlimited pixels
Unlimited custom domains
Unlimited days statistics retention
You can always try the Free Plan, which has excellent options to get to know the tool better at first:
3 QR code types
5 saved QR codes
5 projects
5 pixels
5 custom domains
180 days statistics retention
How to Create a WhatsApp QR Code?
Enter your phone number with your country's dialing code, then write your pre-filled message. Finally, click "Create" and it's done!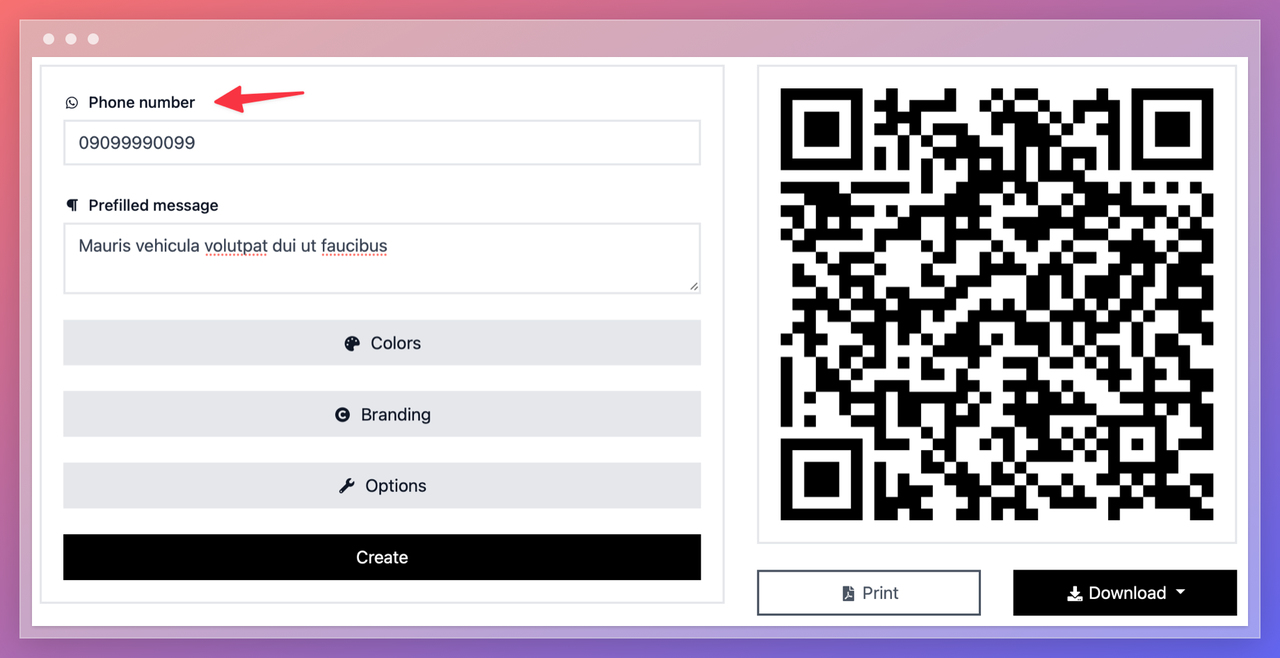 Your WhatsApp QR Code is ready to use. If you want more, go ahead and customize your WhatsApp QR Code with additional steps.
Optional Steps for a Custom WhatsApp QR Code
QR Code Dynamic provides great customization options to create a unique design.
The "Colors" section allows you to change the color of every part of your WhatsApp QR Code. Change the background and foreground color, and make it "Gradient" for the ultimate wow effect.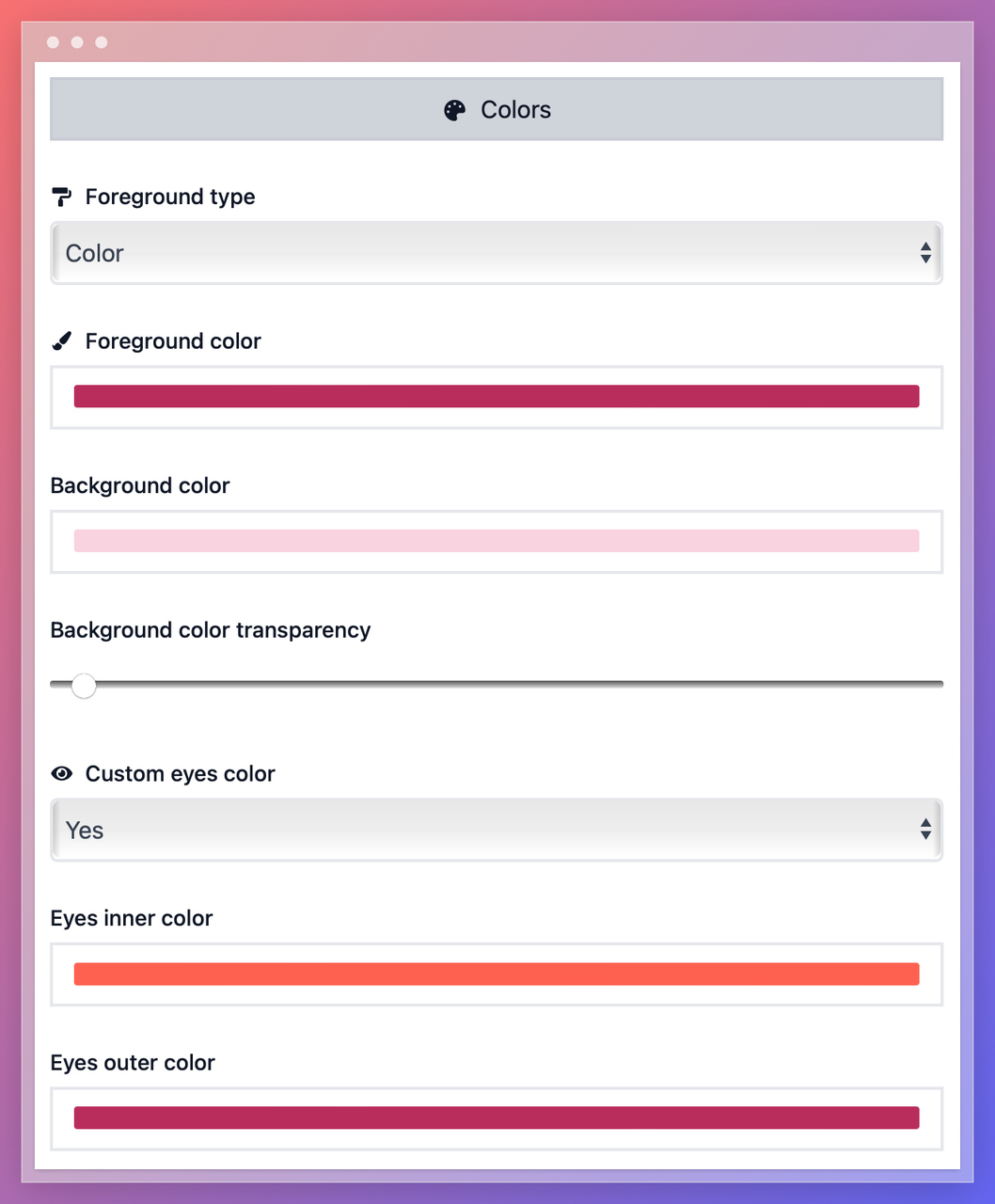 You'll also be able to change the eye color of your WhatsApp QR Code. In addition, you can adjust the colors according to your brand logo to match it.
In the "Branding" section, you can add your logo to create brand awareness.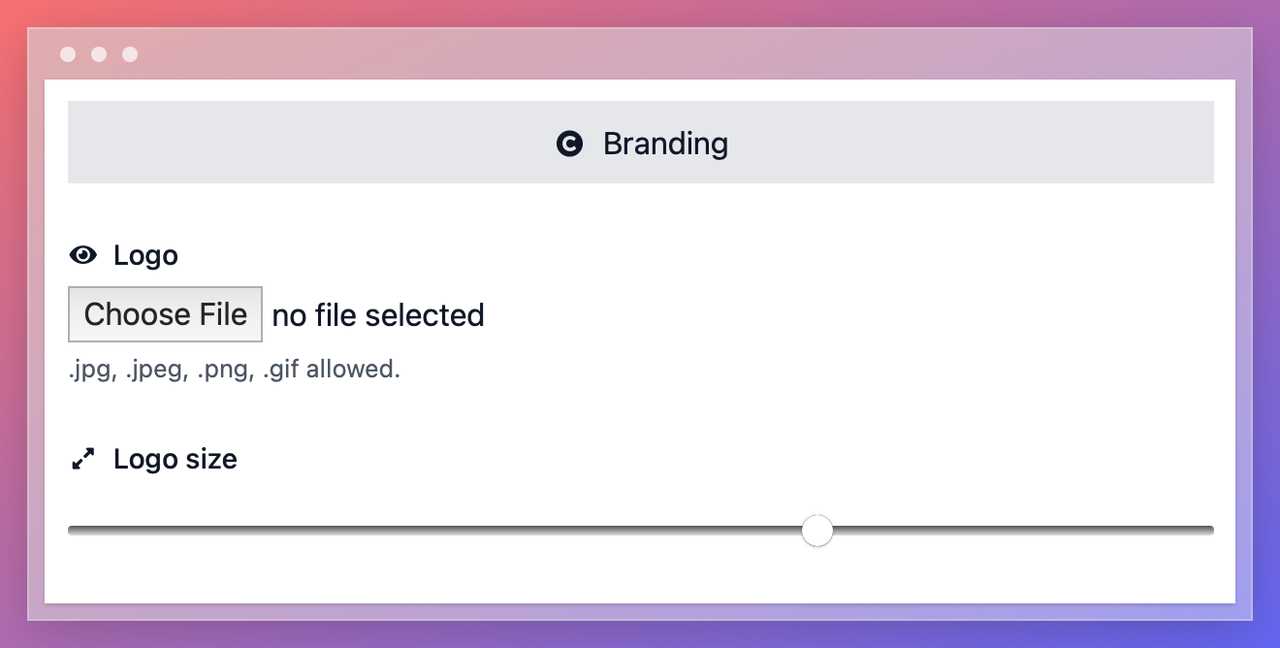 Navigate to "Options" where you can change the size, margin size, and error correction capability of your WhatsApp QR Code.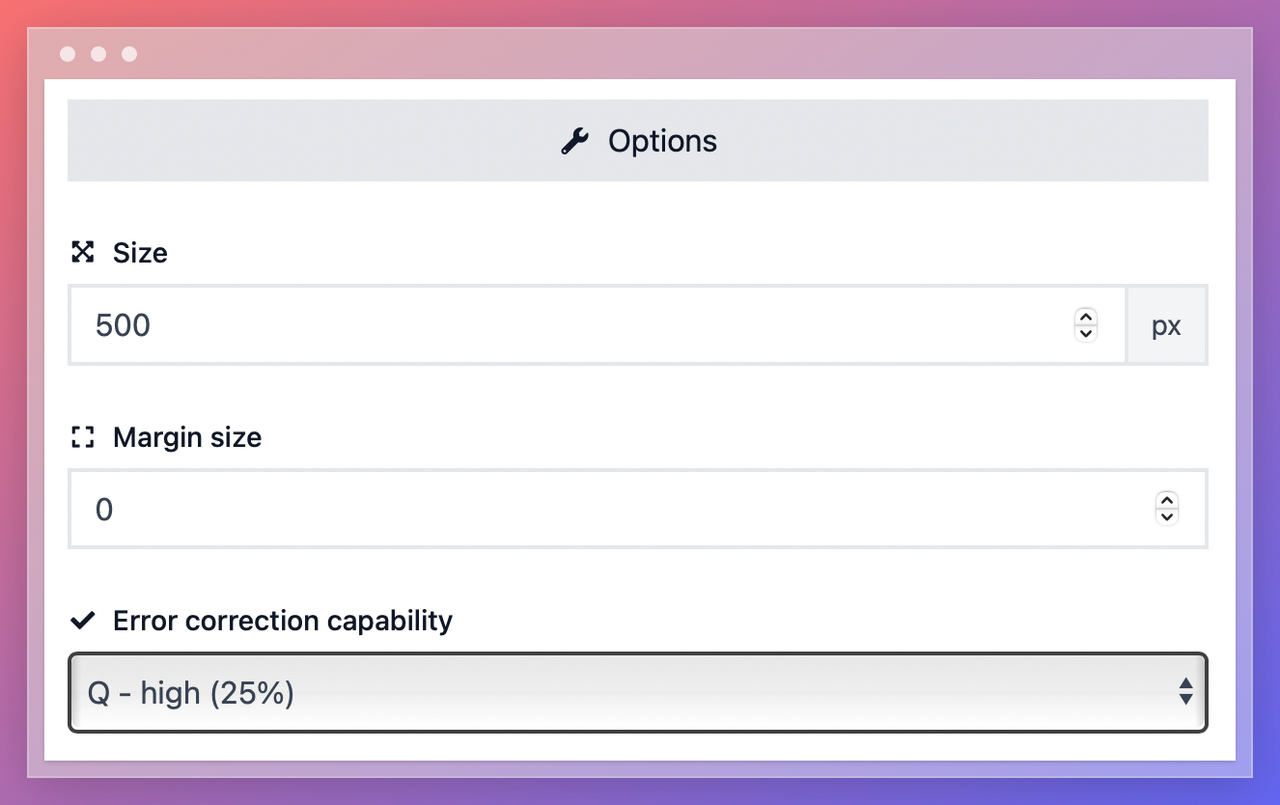 Test your code before clicking "Create" to ensure it works smoothly. Now it is up to you to print or download your code.
That's all it takes to make a WhatsApp QR Code in seconds using QR Code Dynamic!