URL QR code generator
Generate easy & customizable URL QR codes in minutes.
Make sure to test out your configured QR code before using it in production.
What is a URL QR Code?
A URL QR Code is a QR code that includes a URL which stands for 'Uniform Resource Locator', a website address, in other words, a webpage's location on the Internet.
Why Should You Use the URL QR Code Generator?
URLs are not generally so long, but brief. However, whether they are long or short, what if you would have a chance to put them in a simple QR code?
You will not waste your time or tire yourself out while doing a URL QR code with the QR Code Generator. There is only one step to save you from sharing your URL with much work, and you will be able to have fun if you choose to customize your QR code.
To use the URL QR Code Generator, you can choose the Guest plan, the Free plan, or the Pro plan.
At the beginning, you can experience QR Code Dynamic by having a free plan with limited options:
13 QR Code Types,
5 Saved QR Codes,
5 Projects,
5 Pixels,
5 Custom Domains.
If you want these features with unlimited options, then you need to upgrade your QR Code Dynamic plan.
How to Get a QR Code for the URL
Getting a QR code for a URL is easier than clicking on a page.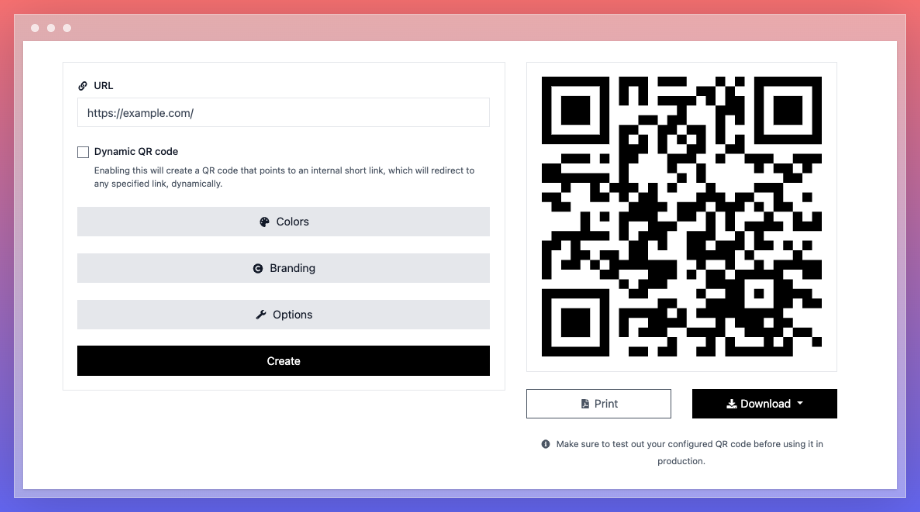 After copying the URL you will share, paste it on the blank under URL, and it's done!
The QR Code Dynamic builds your URL QR code by itself with your help of implementing the target URL. Moreover, you have an option to make dynamic your URL QR code. For this, just be sure the checkbox selected under the URL box after typing the URL.
How to Customize Your URL QR Code
Though your URL QR code is ready to go, you can still customize it by coloring and shaping it. You can either choose color or gradient for the foreground type.
The "Color" section as the foreground type has three titles to determine. These are foreground color, background color, and background transparency for your creativity and freedom in creating your unique URL QR code.
For a captivating QR code, you can custom eye color as well so that your QR code could gain more attention with inner and outer colors. After you choose "Gradient", you will have to make a choice between five foreground gradient styles.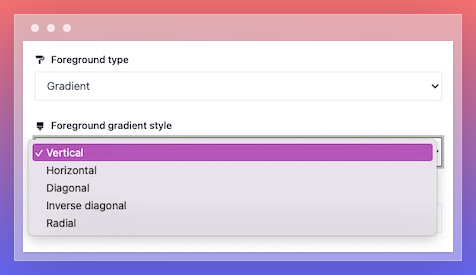 Vertical, horizontal, diagonal, inverse diagonal, and radial are the five options we present, and you can present an array of bright colors to your target by customizing as you like.
The more well-matched your foreground first color and the second color are, the better for your design. Also, a point to be careful about is that the background color and its transparency should not strain eyes on your customized URL QR code.
When you want to custom eye color, the inner and outer colors are important here as well to determine the borders of the QR code.
The next step is branding. If you have a brand related to the URL, you must add it by considering the proper size to increase the brand awareness and interaction.
The last step of customization of your URL QR code is options. Having an enormous QR code will be distracting as a little and barely visible QR code.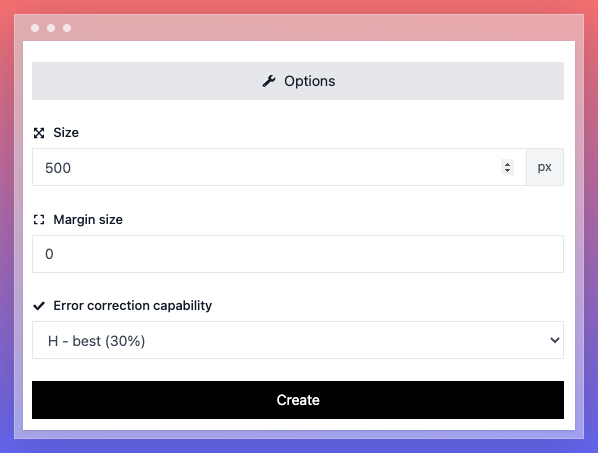 Therefore, you can choose the best error correction capability as recommended to reach the finest size.
How to Use a QR Code for the URL
Usage area of the URL QR code is high especially if you have a business to manage, or a personal website. Instead of trying to tell your URL, you can just show the URL QR code and let people scan to make things easier. Additionally, it will give you a different prestige of being practical to have a QR code, but not the URL itself.
The Advantages of Using a Dynamic URL QR Code
QR Code Dynamic offers you a dynamic URL code optionally.
If you want to create a dynamic URL QR code, you should choose to make it dynamic at the beginning of the creation by clicking the checkbox under the URL box. This way, you don't have to create a new QR code, but changing the URL for the same QR code will be enough.