In this blog post, we will let you know the best alternatives to QR.io. As we embark on this journey to find the most efficient QR Code generators, we invite you to learn, explore, and discover what suits your marketing needs most.
But first, we'll delve into what QR.io is and why you might need alternatives.
Then, we gathered 14 QR.io alternatives along with their top features so that you can get an overview & select the suitable one for you!
Let's begin!
Overview of QR.io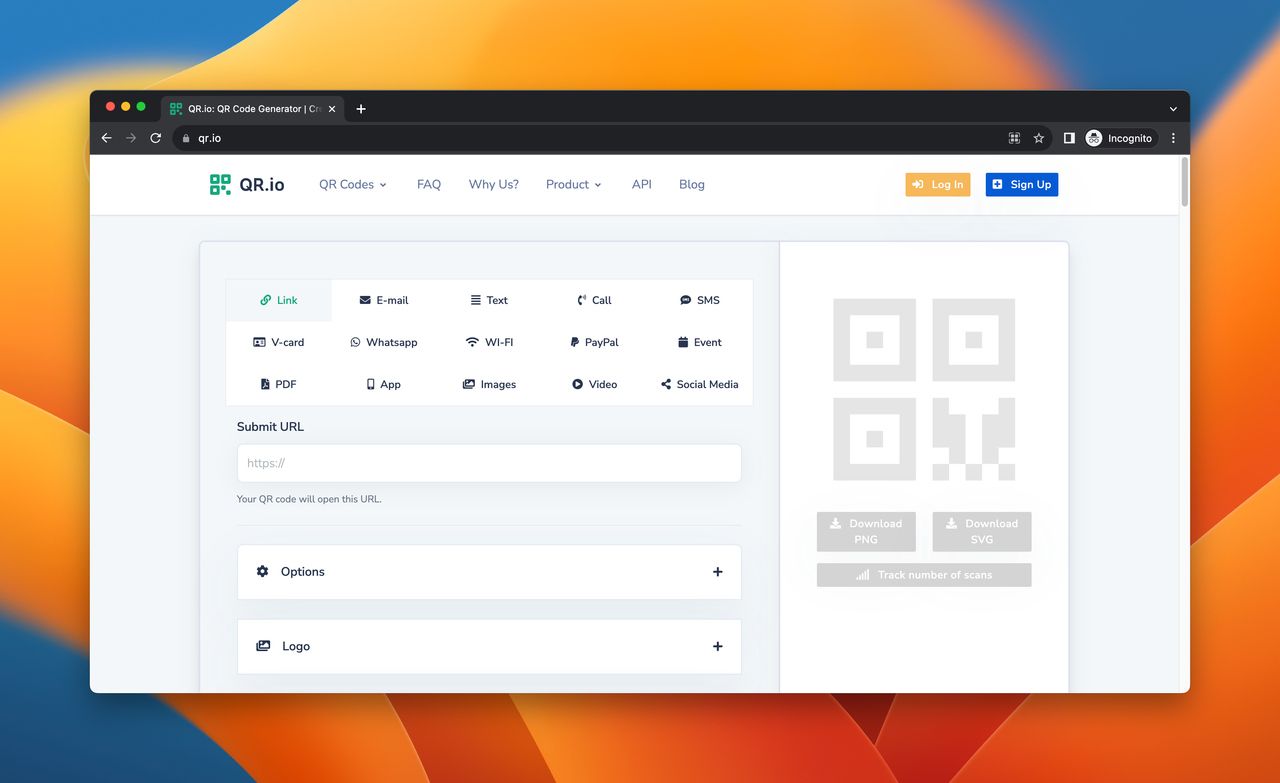 QR.io is a well-known platform trusted by marketers globally for their QR Code generation needs. It offers a seamless process of creating custom, highly responsive QR codes for various marketing purposes.
Some notable features include the flexibility to build unique codes for URLs, text, e-mail addresses, phone numbers, and even Wi-Fi networks.
Furthermore, it provides users with comprehensive tracking reports for their QR Code campaigns. These insights include real-time data on scan rates, locations, and device types.
The Necessity for QR.io Alternatives
As great as QR.io might be, we can't overlook the need for alternatives. The digital marketplace is always changing and ever-evolving, pushing businesses to be on the lookout for new ideas and methods to keep up with or outdo the competition.
📌
Plus, different companies have different needs. While some might be satisfied with the functionalities of QR.io, others might need more intricate options in their QR code generators.
Moreover, it might be about pricing. Many QR.io alternatives offer much more affordable pricing schemes, especially for small businesses and startups working within a tight budget. And let's not forget about the features. Some alternatives offer unique features that are not available in QR.io.
In a nutshell, as great as QR.io is, it's not a one-size-fits-all solution, and that's where QR.io alternatives come in. It's always healthy to consider some variety to find what fits one's needs perfectly.
Top Free QR.io Alternatives
If you're in search of QR.io alternatives that won't dig a hole in your pocket, then you're in the right place.
Free options can be excellent for startups or businesses operating on a tight budget. Many of these free alternatives offer sophisticated QR code solutions that are at par, if not superior, to some paid platforms.
Let's look at some of the best free alternatives to QR.io.
1. QRCodeDynamic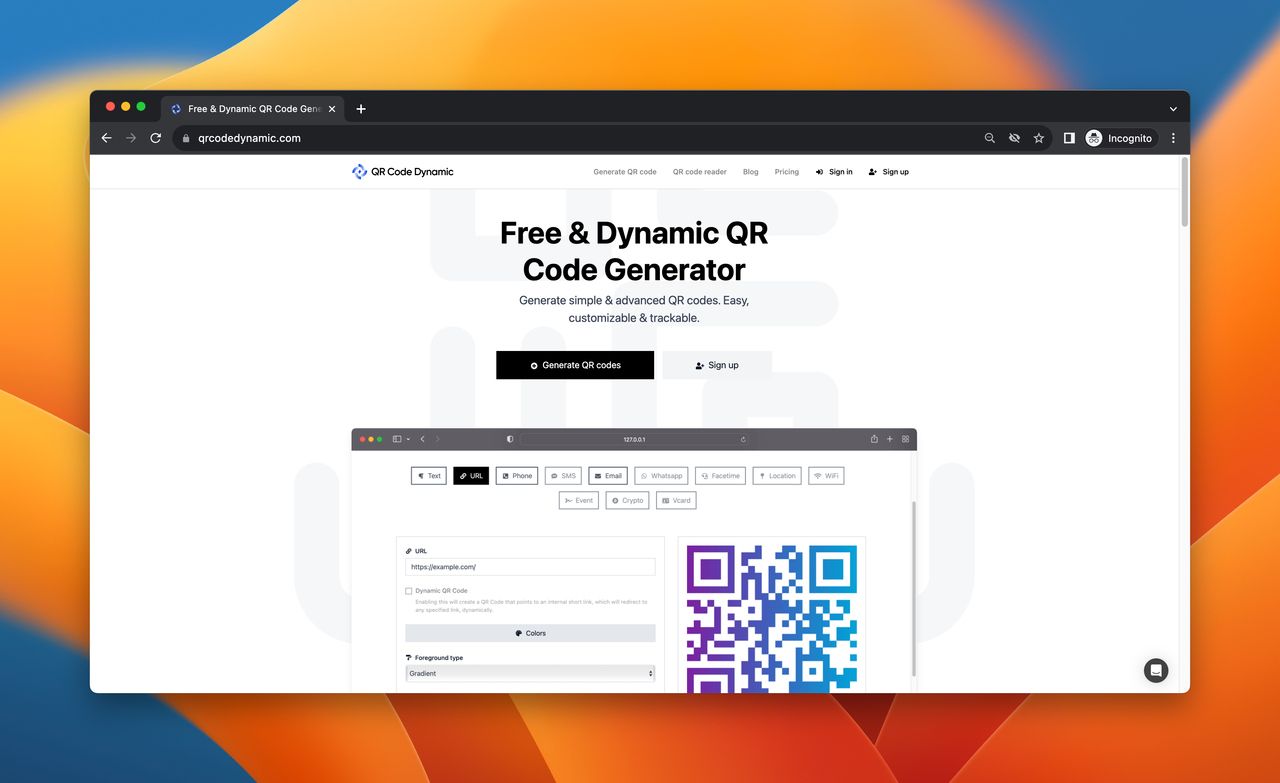 QR Code Dynamic is a tool that creates both static and dynamic QR codes with error-correction capability. Saving 3 QR codes is completely free; if you need more than 3 QR codes, you will need to upgrade your plan.
The platform boasts an intuitive user interface that enables you to create your QR codes easily and within short turnarounds.
You can also track your QR codes' performance to get useful insights and get access to API for different use cases.
Customized QR codes: On top of that, QR Code Dynamic provides its users with the ability to customize their codes and make branded QR codes with logos and various colors. You can also adjust QR codes' size and margin size to optimize for your needs.
13 Different QR Types: The tool offers a wide range of QR codes like text, URL, phone, SMS, email, Whatsapp, Facetime, location, wifi, event, Crypto, vCard and PayPal.
Targeting Options: Links of QR codes can be targeted according to country, device type, browser language, operating system, rotation & A/B testing.
2. Free QR Code Generator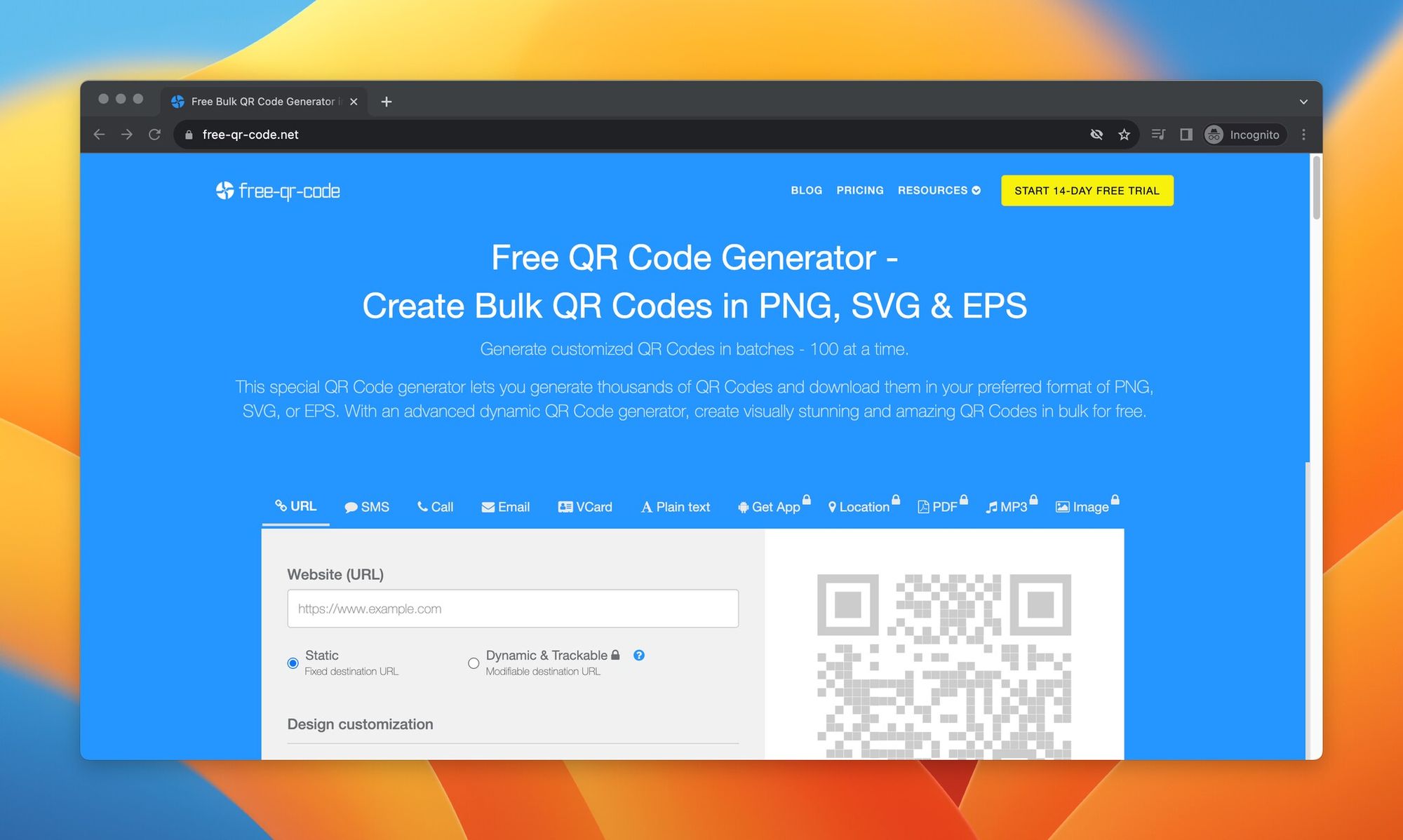 Free QR Code Generator lives up to its name by offering QR code creation services at zero cost. This tool does not brim with fancy features or advanced customization options but offers all the essentials of a QR code generator.
It creates standard QR codes for text, e-mail, SMS, location, and Wi-Fi without any fuss. Free QR Code Generator strives to provide an efficient, no-nonsense solution for businesses looking for a simple and straightforward tool.
Design Customization: Customization options include logo, color, eyes, data, frame, and template.
Logo Gallery: With the available logo gallery, you can use popular platforms' logos on your QR codes.
3. GoQR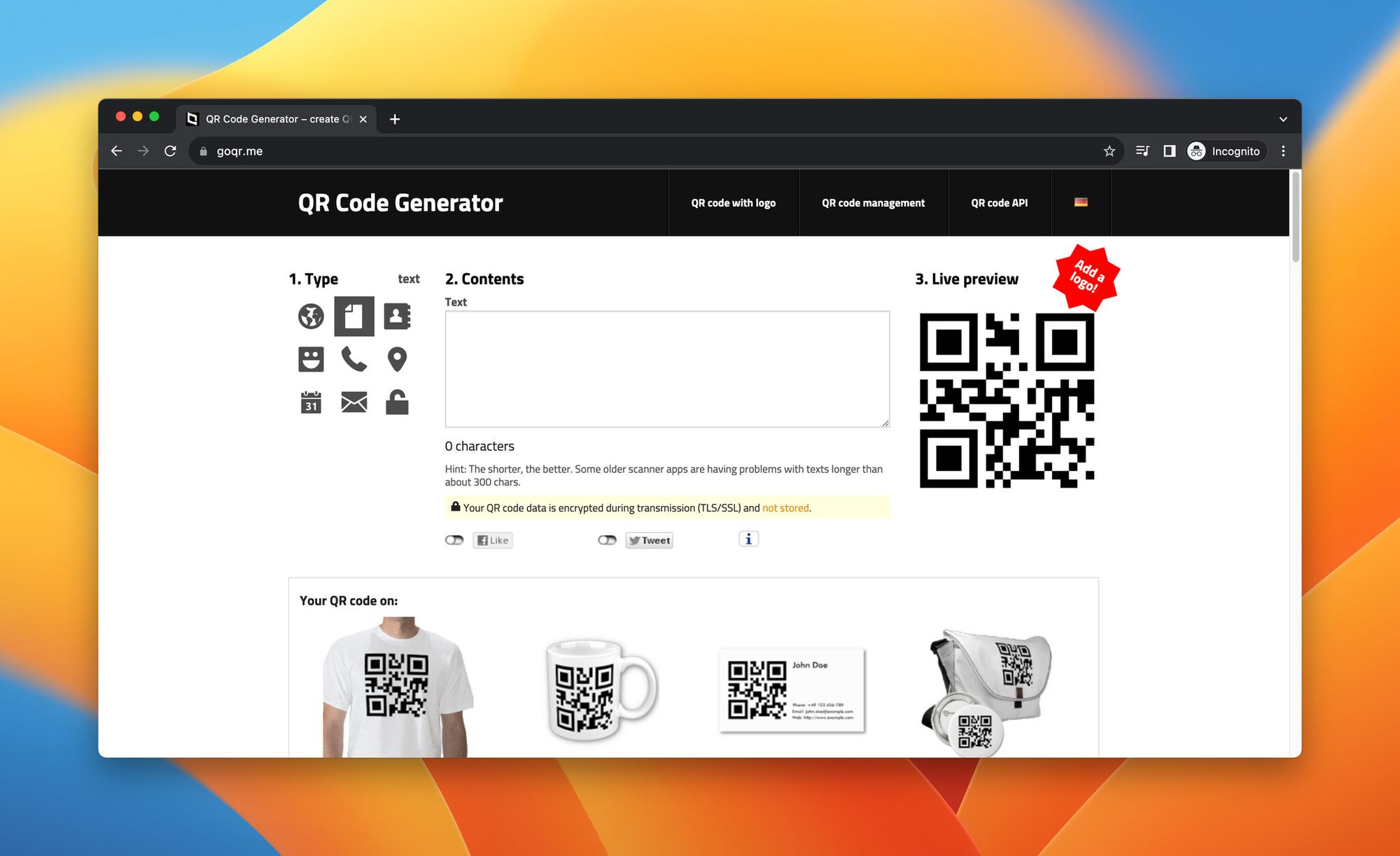 GoQR stands out as a free QR code generator thanks to its wide range of customization options and features.
What makes GoQR a favorite among marketing professionals and businesses is its advanced customization features–you can modify your QR code's color scheme, embed logos or images, and select different sizes.
Different QR Code Types: With GoQR, you can generate QR codes for text, URL, contact (vCard), phone number, SMS, e-mail, and even detailed locations on Google Maps.
No Watermark: They do not add their watermark, meaning your QR codes remain unbranded and clean.
4. QR TIGER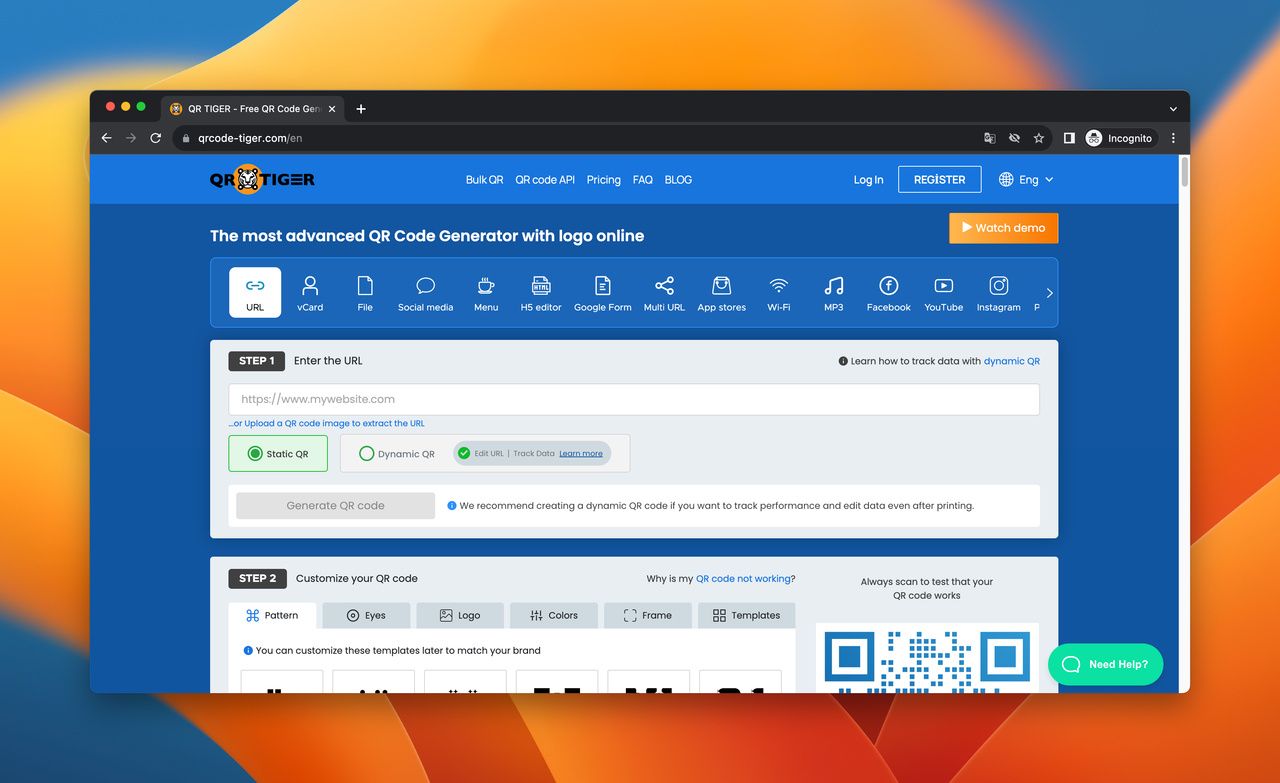 QR TIGER offers an impressive range of QR solutions. It boasts a multi-URL QR code that is capable of defining up to 10 different URLs based on the timing, language, or location of the scan. This assists in targeted advertising. On the creative side, QRTIGER allows customization of the QR codes by changing colors and patterns and adding logos.
Multilingual QR Codes: QRTIGER can generate multilingual QR codes. This means the content to which the QR code points can be displayed in different languages based on the reader's location, a boon for global campaigns.
Multi URL QR Codes: This unique feature allows for defining several URLs within a single QR code. Depending on the time, location of the scan, or language, a single QR code can lead the users to different destinations making targeted advertising a breeze.
Customized QR Codes: The platform also allows you to put a personal spin on your QR codes. This is possible due to the wide variety of customization options for colors, patterns adding, logos, and more.
5. QRcodeChimp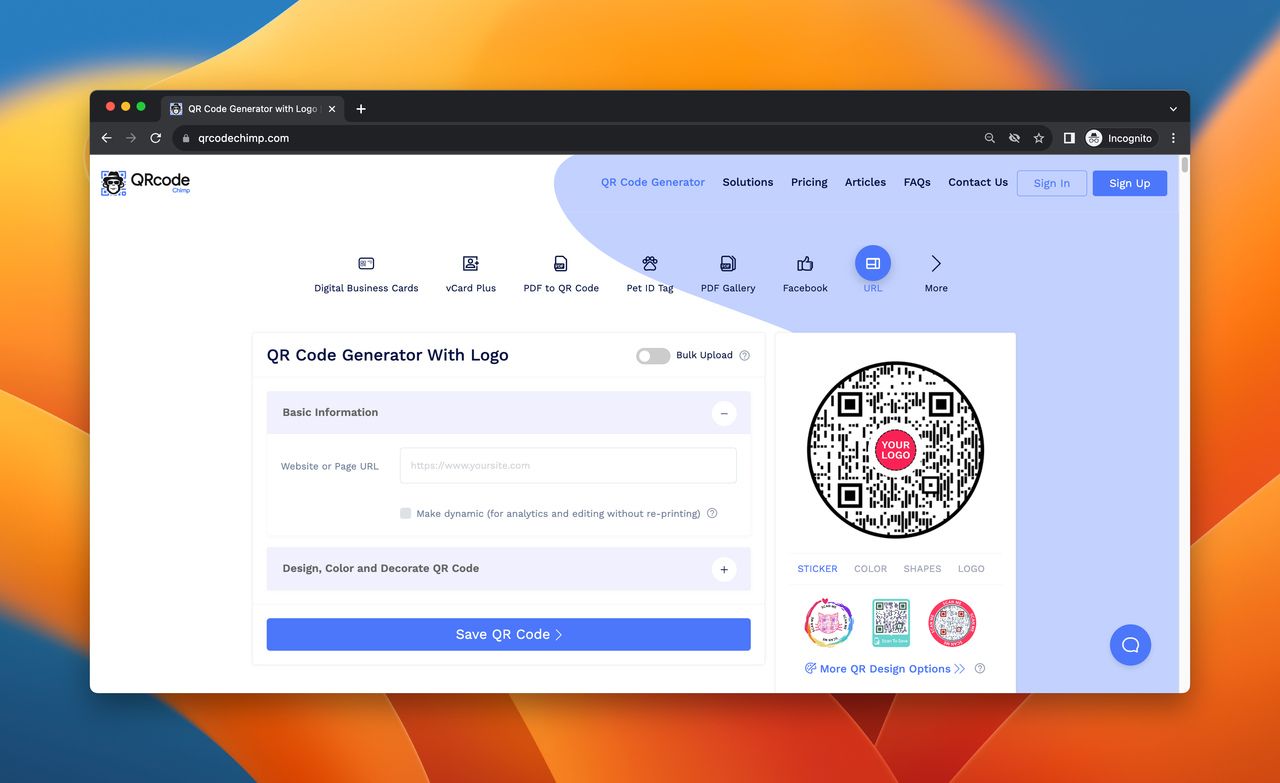 Another competitor to QR.io in this market is QRcodeChimp. An underrated yet efficient tool in the QR code generation field, QRcodeChimp brings on board a host of features and customization capabilities.
Real-time Tracking: The platform makes analytics easy, enabling real-time tracking of your QR code scans.
Customization Capabilities: It allows users to create QR codes brimming with creativity that can mirror the uniqueness of their brand.
Different QR Code Solutions: QR code solutions include digital business cards, vCard, pet ID tags, Facebook, and URL.
6. CodeeQR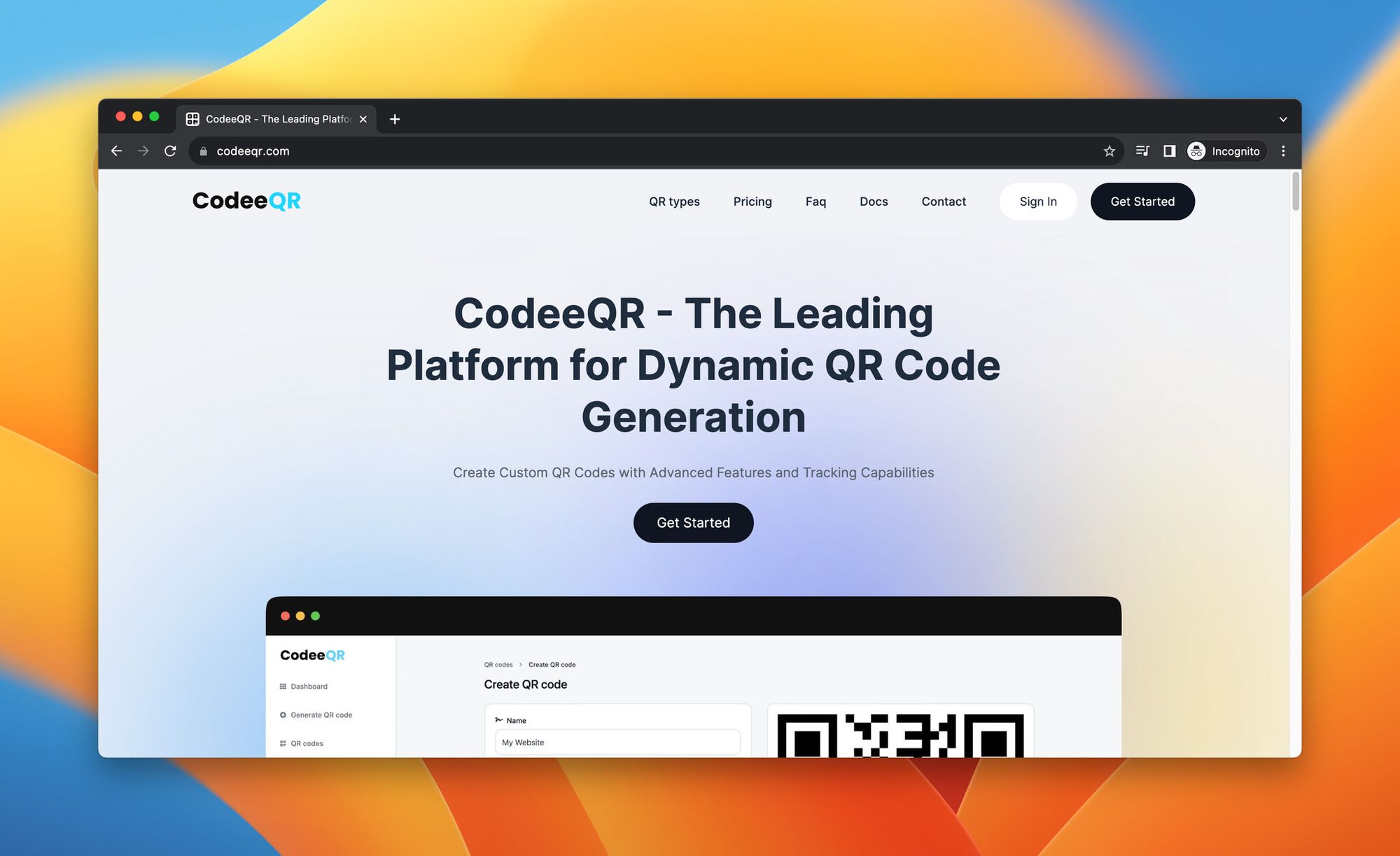 CodeeQR is another free alternative to QR.io. This platform distinguishes itself by creating QR codes with a built-in error correction capacity, ensuring your codes are still readable even if damaged or partially missing.
Various QR Code Types: Whether you need to create QR codes for text, website, phone number, SMS, e-mail, Wi-Fi, Bitcoin, Facebook, Twitter, and LinkedIn profiles, CodeeQR can oblige.
QR Templates: 13 built-in QR code templates are available.
7. Hovercode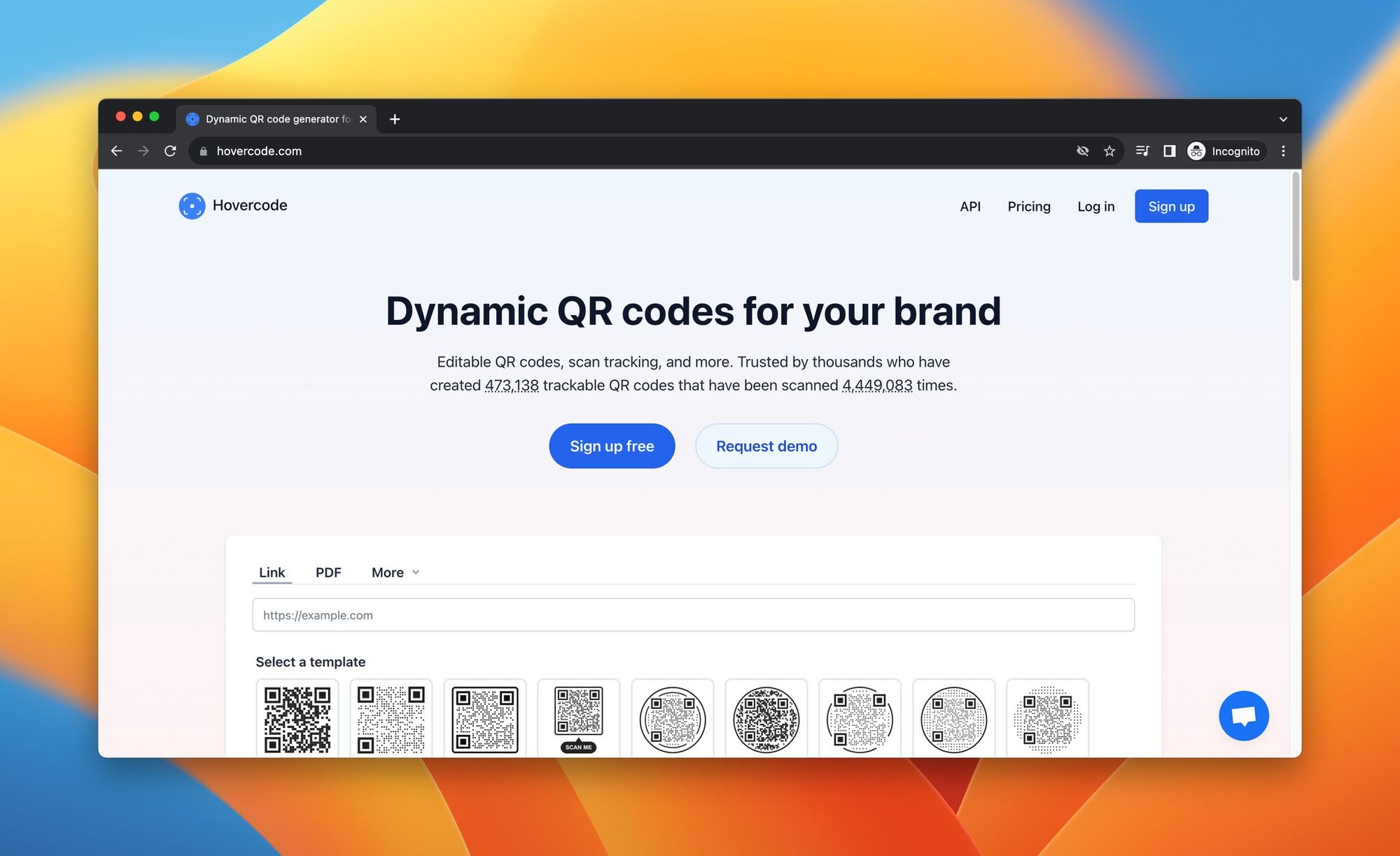 Last but definitely not least, under our spotlight is Hovercode. Touted as an advanced QR code solution, offering various features to its users.
Analytics Solution: Hovercode also offers rich scan analytics, integration with various platforms, and top-tier customer service.
QR Templates: Includes 9 QR code templates you can choose from.
QR Types: QR code types of Hovercode include link, PDF, vCard, app stores, email, message, call, and wifi.
Top Paid QR.io Alternatives
Finding the right QR code generator could be a tough logistical challenge.
Each comes with its perks and drawbacks, and it might take a few trials to find the perfect fit for your business needs. However, the process stands to be much easier when you know what your options are.
From our extensive market research on QR.io alternatives, we've also listed the top paid QR.io alternatives. Let's delve into each of these platforms and see what they offer.
8. Beaconstac's QR Codes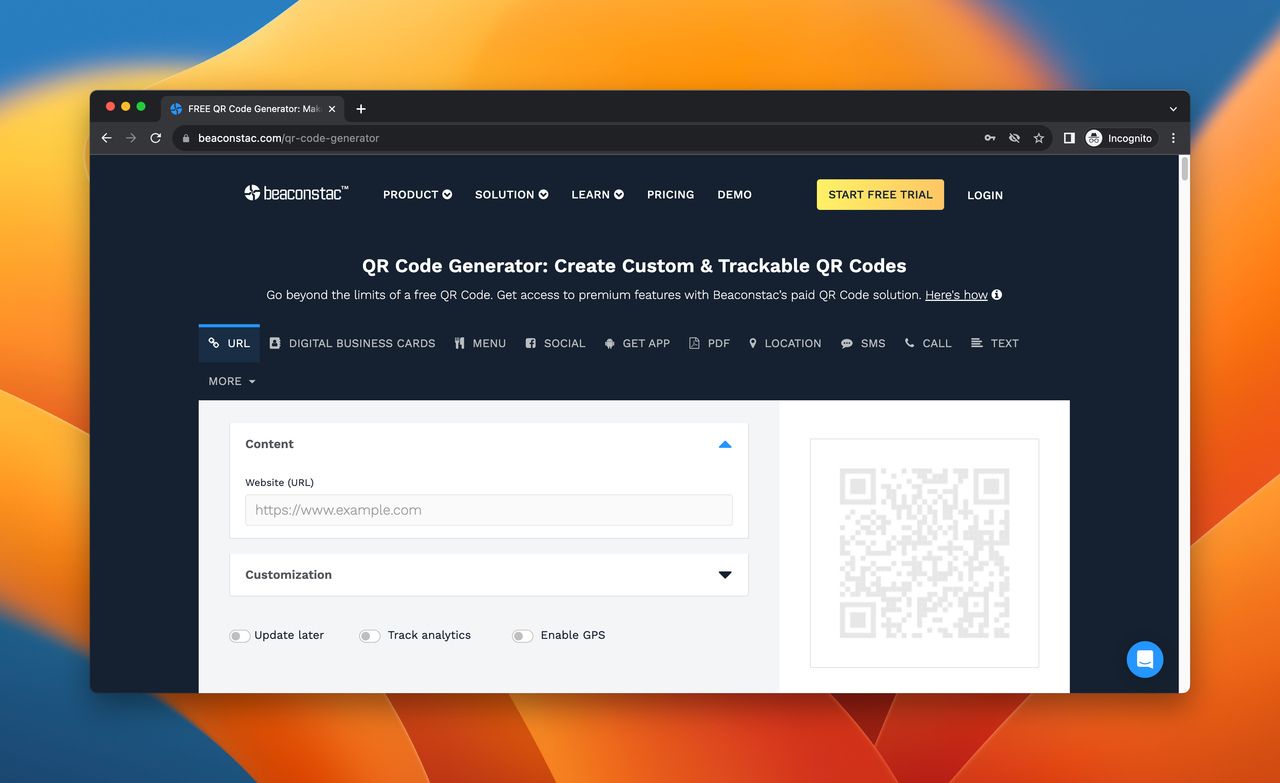 Beaconstac's QR codes are among the competitors that come to mind when discussing QR.io alternatives.
QR Types: It presents a suite of QR solutions with multiple types like URL, e-mail, text, location, and Wi-Fi QR codes.
Customization Options: It enables the customization of codes with logos and frames and offers a detailed QR code analytics platform.
Bulk QR Code Generation: A massive benefit of this platform is its ability to allow creating, managing, and tracking QR codes in bulk, a feature quite useful for large-scale campaigns.
9. QR Code Generator Pro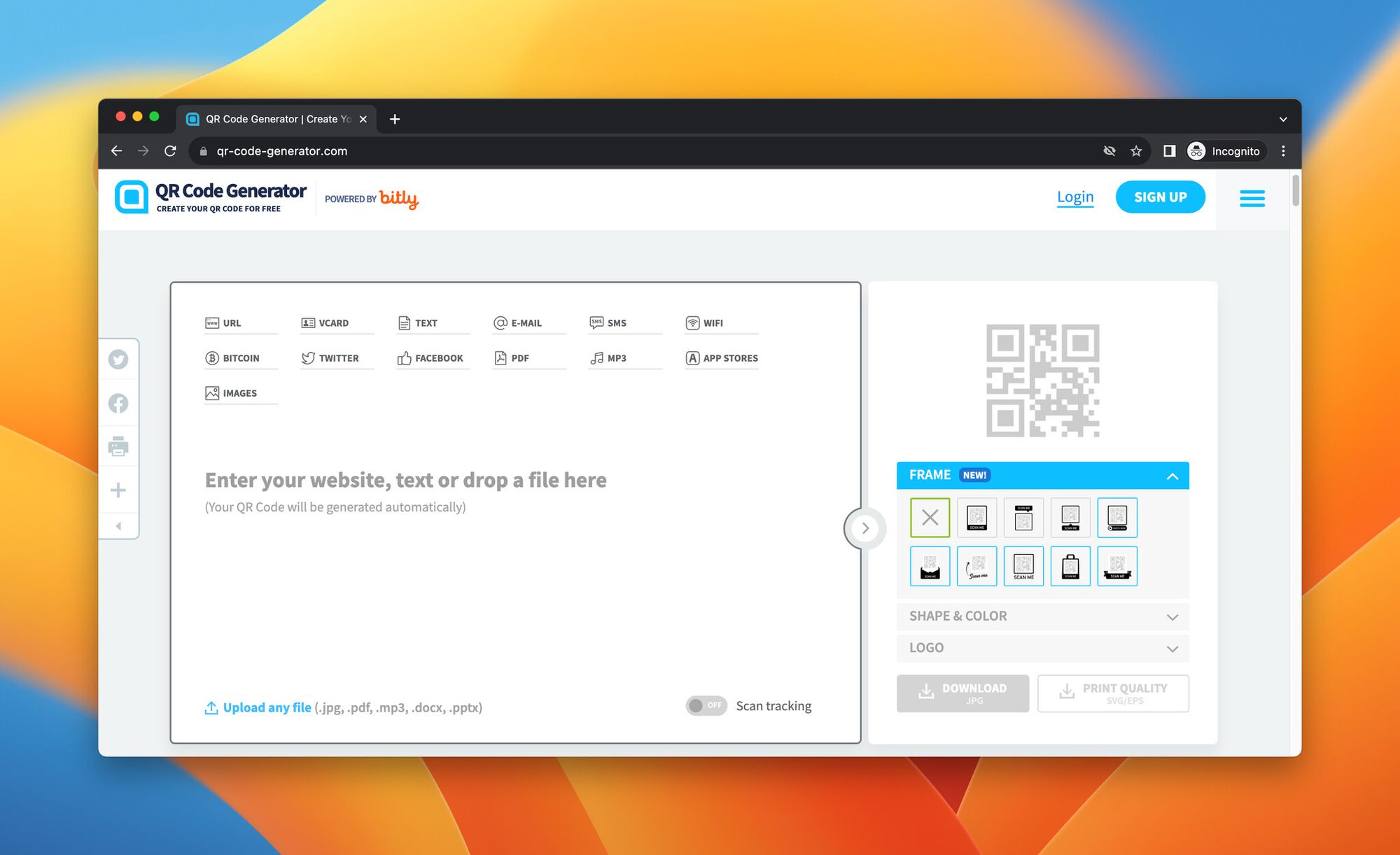 QR Code Generator Pro is another QR.io alternative that is worth considering. The platform allows the generation of QR codes for a plethora of data types.  Its user-friendly interface and easy-to-customize features make it quite popular among marketers.
Customizable Templates: The generator has various templates available. Hence, customizing QR codes to align with our brand has never been easier.
Secure QR Codes: The platform generates secure QR codes that automatically undergo security checks.
Metrics and Analytic Tools: QR Code Generator Pro integrates well with Google Analytics. This enables robust tracking and analytics to better understand your customer engagement via QR codes.
10. MetriQR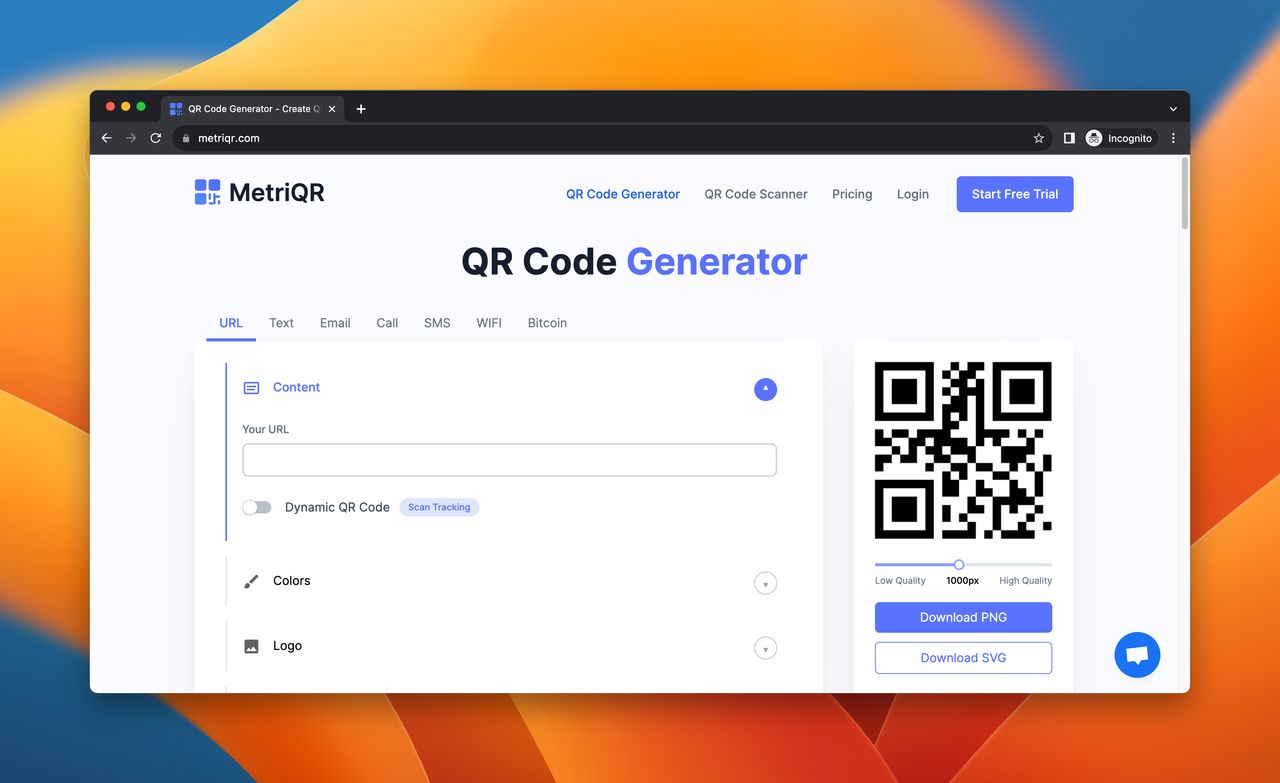 Next up, shining in the spotlight is MetriQR. This platform earns its competitor status by emphasizing the convenience and efficiency of QR code generation.
It strips down the process of creating QR codes to its core simplicity, ensuring that companies who have a need for quick and reliable QR codes have a go-to.
QR Types: QR types of MetriQR include URL, text, email, call, SMS, wifi, and Bitcoin.
Different QR shapes: It includes different body, outer eye, and inner eye shapes.
Color Customization: You can customize the foreground, background, and outer eye colors of your QR code.
11. Autonix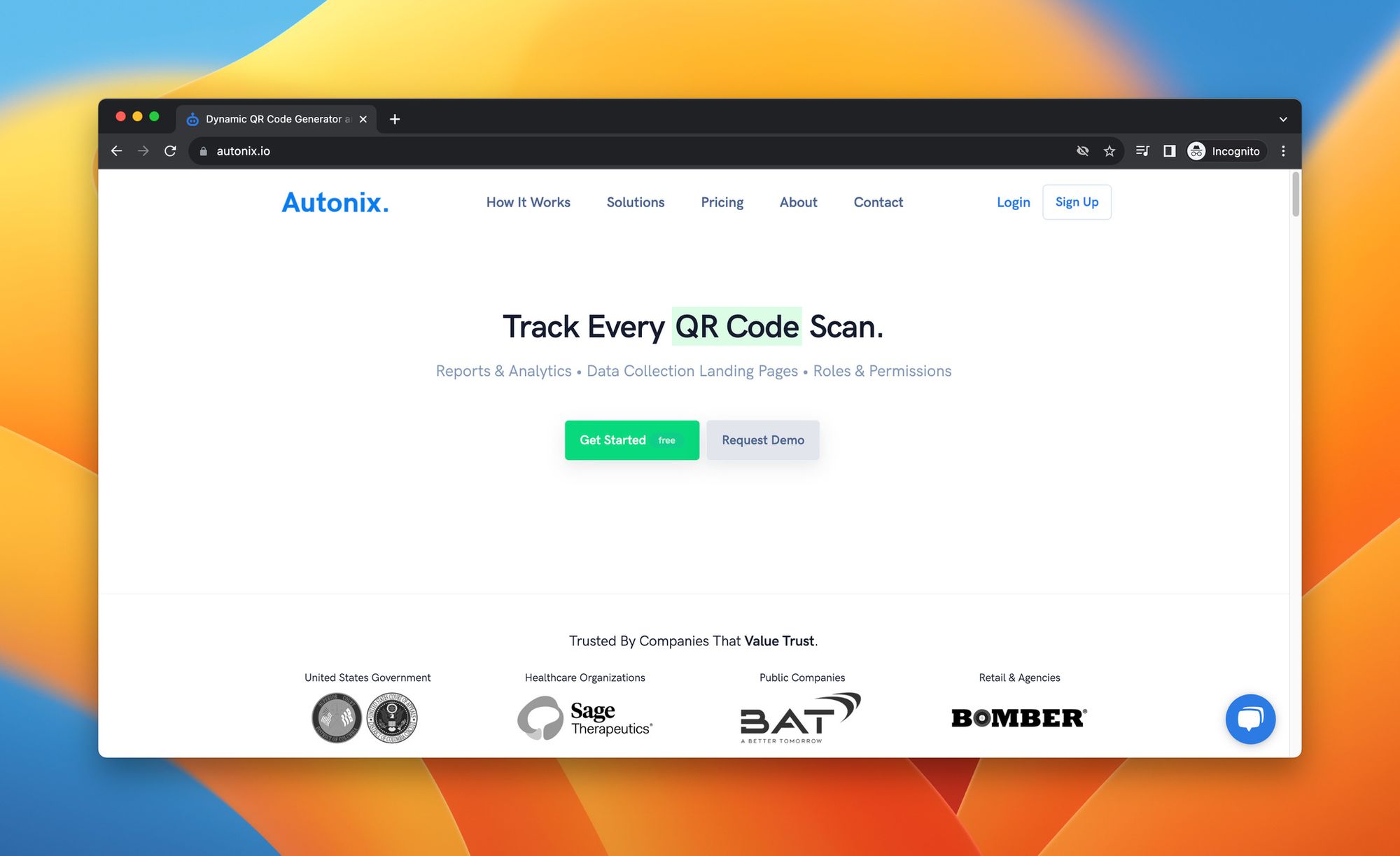 Autonix offers a unique blend of QR code solutions. It prides itself on being one of the fastest platforms to generate QR codes, with a streamlined creation process to ensure the highest regard for efficiency.
API: The ease of their API makes it a favorite for those who want to integrate QR code creation into their systems.
High-Speed QR Generation: Autonix lives up to its claim of being one of the fastest QR generators. No matter the type or payload of the QR code, the platform ensures it's generated in mint condition and in record time.
Custom Design Tools: It offers designing tools that allow users to customize the look and feel of their QR codes, adding brand logos, colors, and shapes.
12. uQR.me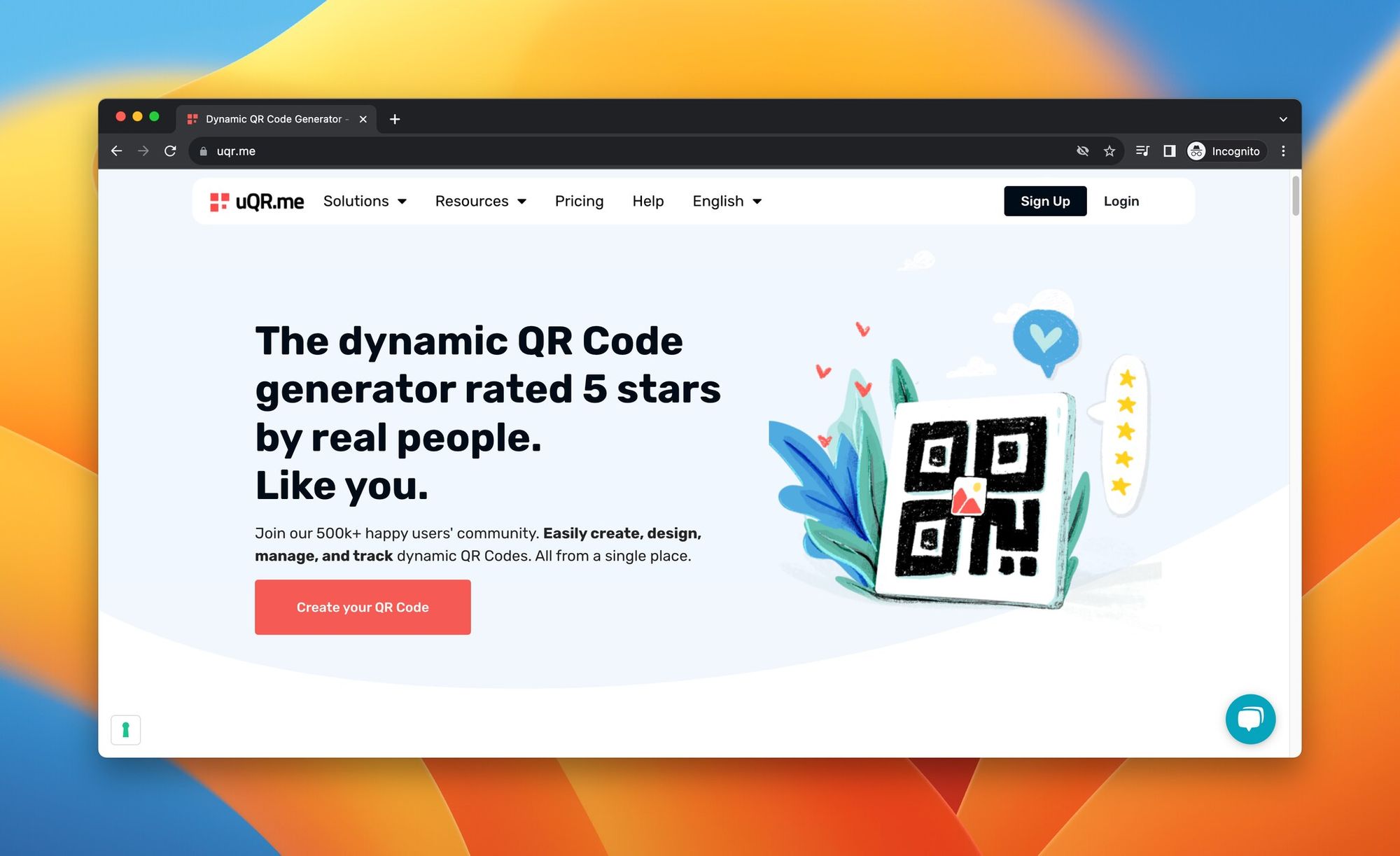 uQR.me takes QR inspiration to another level. This platform offers rotating QR codes, which means one QR code can lead to different destinations at different times.
Customization Capabilities: It gives customizable design capabilities.
Analytics: Descriptive analytics to help track the effectiveness of the codes.
QR Types: QR types include website, QR menu, COVID form, mobile page, vCard, social links, and lead generation.
13. QuickCode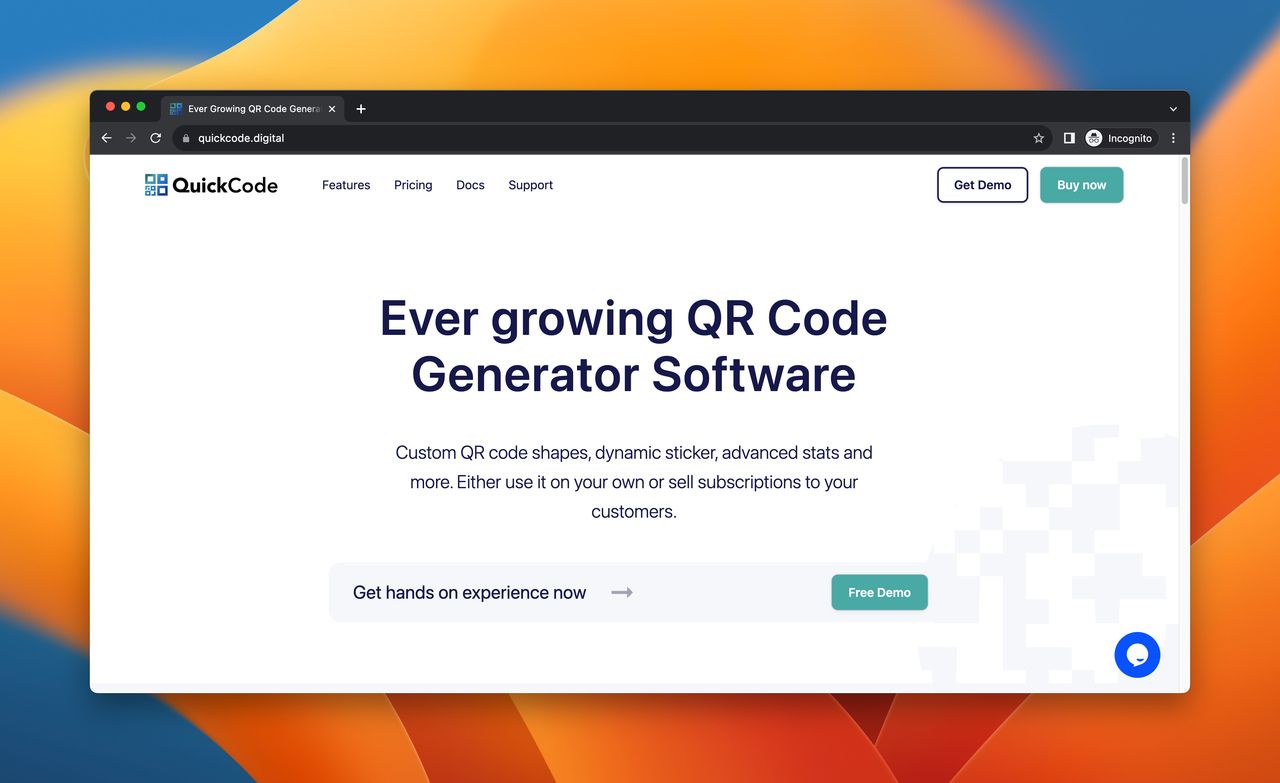 QuickCode excels in providing dynamic and static QR codes with ample customization options, thus allowing businesses to maintain their brand aesthetic in their QR codes.
QuickCode's QR Code Generator offers features the platform truly goes beyond the basic functionalities. Check them out below:
Diverse QR Codes: QuickCode can produce a range of static and dynamic codes. This implies adaptability for various data types and the ability to change content even after printing.
Custom Code Design: With their customization options, you can make sure that your QR codes keep in line with your brand aesthetic. Customization can be done on colors and shapes and can include logos.
14. Oreokit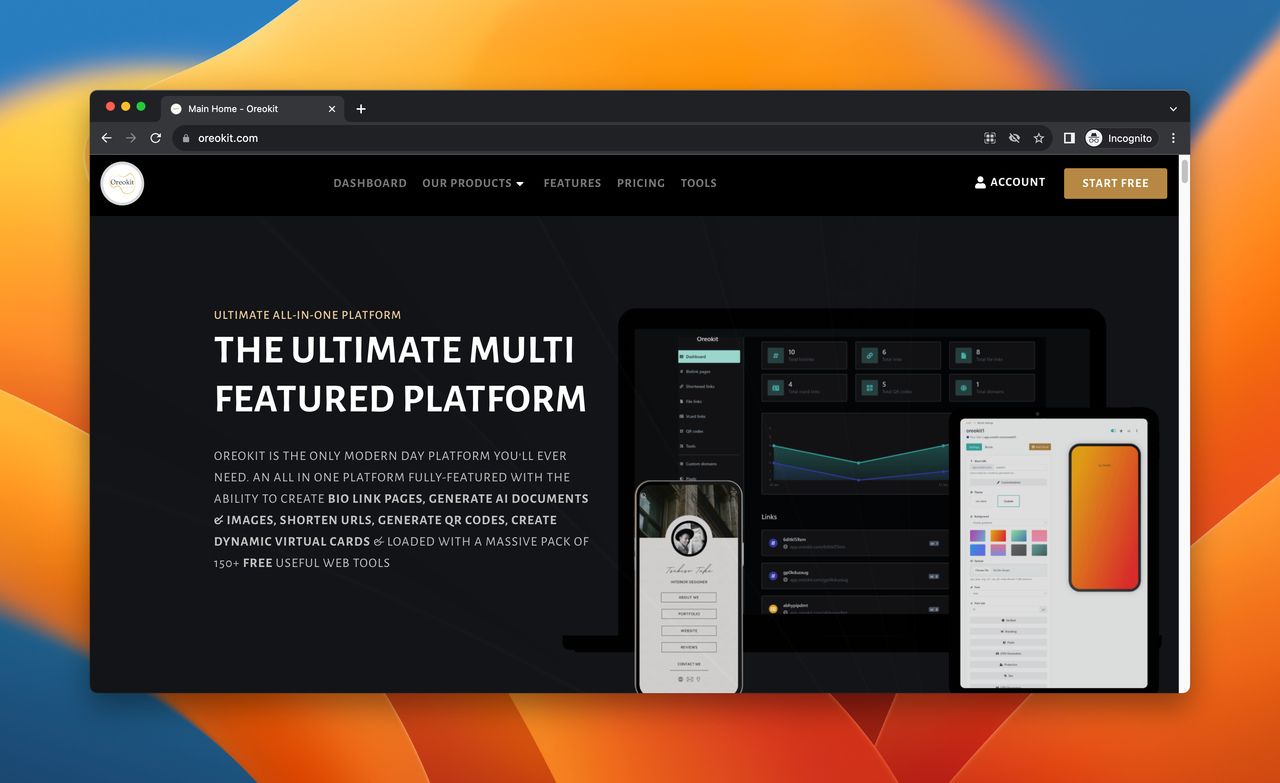 Oreokit is another QR.io competitor you need to be aware of. With a pool of features designed to deliver customization, tracking, and more, Oreokit assures a pleasant user experience.
Customization: Oreokit presents a range of creative tools allowing you to design your QR code just as you want. Unique designs, customized with your brand colors, patterns, and logos – you can do it all with Oreokit.
QR Code Types: QR code types Oreokit offers are vCard, Whatsapp, email, SMS, phone, wifi, location, text & more.
---
Phew, that's a long list!
Remember, choosing the right platform depends on the specific needs of your business.
Some platforms may exceed others in certain aspects, but they might miss other factors you value. So, pick a few that piqued your interest and dive deep into what makes them tick. Their strengths and shortcomings will shape your decision right.
As we analyze each competitor, it's crucial to remember the ultimate objective is to determine the best platform that serves your marketing needs aptly. While some competitors might be more feature-rich, others could offer excellent user experiences for dynamic QR codes or better prices.
Understanding your specific requirements and the functionalities offered by these competitors to QR.io should aid you in finding the perfect tool.
Conclusion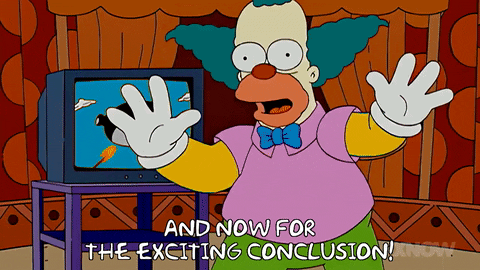 As our exploration to find the best QR.io alternatives finally culminates, it's time to tie the loose threads together and provide a comprehensive summary of what we've unearthed.
Remember, our motivation on this journey, driven by 'QR.io Alternatives,' 'Qr io alternatives free,' 'free QR code generator,' and 'QR.io competitors,' was aimed to present an in-depth understanding of the QR code generator market.
With various choices available and different needs to cater to, let's begin to summarize the alternatives we have discussed and look at what public opinion says about QR.io.
Summary of QR.io Alternatives
Our quest for effective 'QR.io Alternatives' led us to discover many platforms showcasing various features, offerings, and pricing options.
From our detailed examination of QR.io's primary competitors like QRCodeDynamic, QR Code Generator Pro, Autonix, QRCode Studio, we uncovered a broad scope of the QR code generation market.
There was a clear, demonstrable range of features that these platforms provide, from multi-URL QR codes, bulk QR generation, and API access to custom design tools.
📌
Budget-friendly options were not to be overlooked too. We delved into free QR.io alternatives, highlighting their unique services and offerings. One common thread among all the alternatives we've looked at is their adaptability and versatility in creating QR codes tailored to various marketing needs.
Regardless of your choice, it's clear; plenty of feature-rich, budget-friendly, and multi-purpose QR.io alternatives are worth considering.
In conclusion, the realm of QR code generators is vast and diverse. While QR.io has its place, the need for QR.io alternatives cannot be denied due to different needs varying from budget constraints to advanced features.
The various QR.io alternatives we've explored bring to light the versatile offerings in the market.
Whether you're drawn towards customizable QR code designs, dynamic QR codes, secure payment options, developer-friendly tools, or contactless QR menus that encapsulate the current need of the hour, the QR generator universe has something for everyone.