QR code generators are remarkable tools designed to create QR (Quick Response) codes for various uses. You must be wondering why they are so important in this digital age. Well, blame it on their convenience and versatility!
However, you need an efficient QR Code Generator to use them effectively. And here's where QR Code Chimp, a well-known QR code generator, comes into play. But because everyone understands that having alternatives is crucial, we'll focus on QR Code Chimp alternatives in this post.
We gathered the best QR Code Chimp alternatives, along with their key features, so that you can find the best one for you!
Let's explore them!
Importance and Utility of QR Code Generators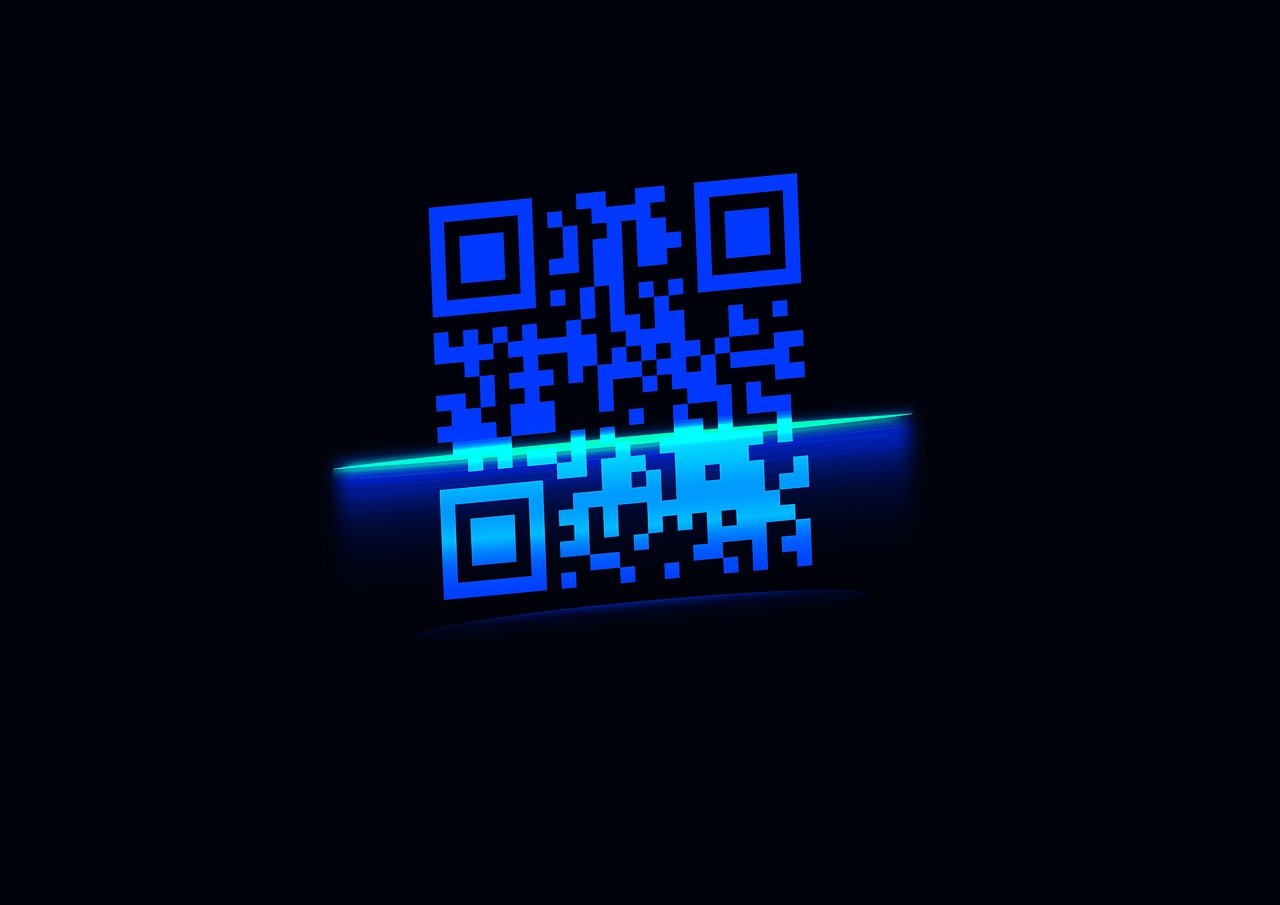 The importance of QR codes in this tech-dominant world can't be overstated. They offer fast, user-friendly, and contactless data sharing, making them indispensable in our socially distanced times. Here's why they're important:
Efficiency: QR codes quickly direct your customers or users to your website or other digital platforms, eliminating the need for them to manually type in URLs.
Space Savers: QR codes pack tons of data into a small space. They are canisters holding vast amounts of information, including data for event details, how-to guides, WiFi credentials, and contact information.
Versatility: QR codes defy the one-size-fits-all design. You can use them for anything from marketing campaigns to instructive references while being easy to implement and use.
Tracking Conversions: For marketers, QR codes provide rich analytics, making it easy to track impressions, conversions, and engagements.
Affordability: Probably one of the best incentives - QR code generators are often free or reasonably priced!
In summary, the utility of QR code generators is vast. They have become universal tools for marketers, store owners, educators, SEO experts, and even individuals.
And as QR Code Chimp continues to lead the race, countless QR code generator alternatives have cropped up to offer equally compelling services.
Detailed Discussion on QR Code Chimp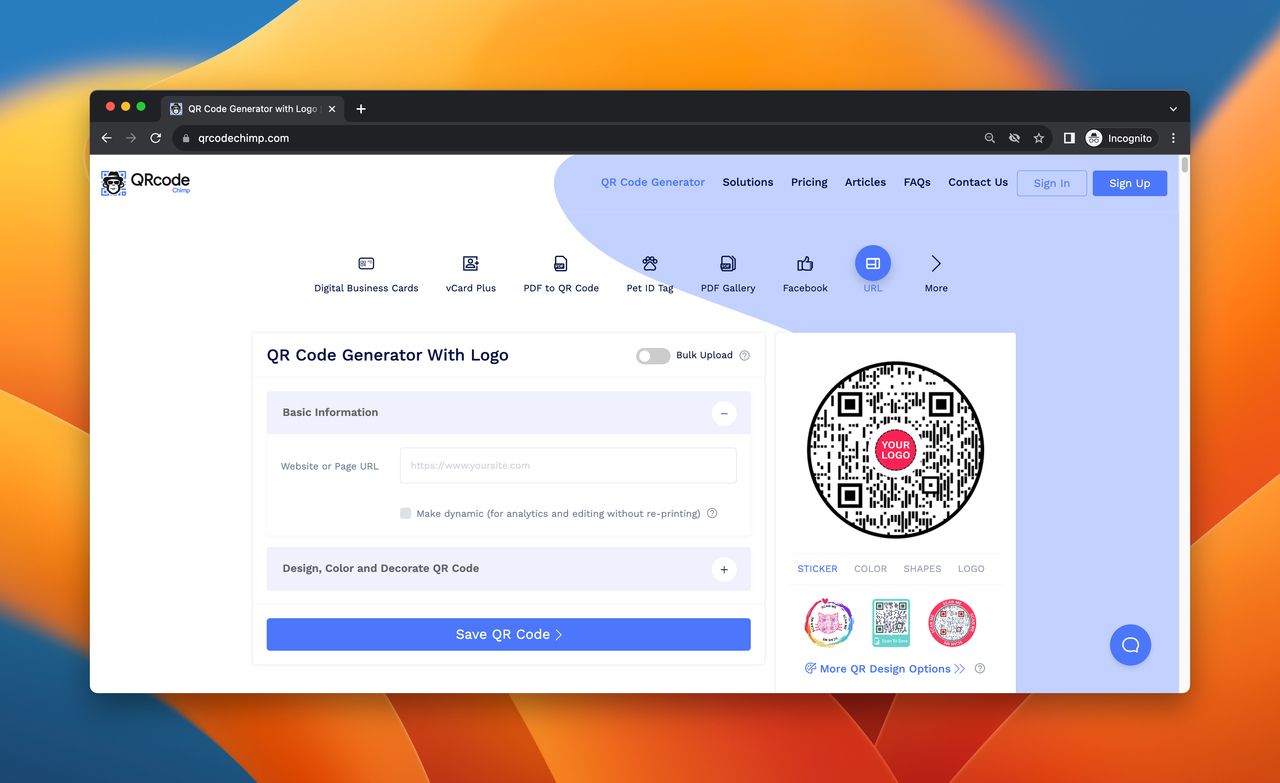 QR Code Chimp has majored in its business-centric approach, catering to professionals who need a reliable, robust, and versatile QR code generator. Beyond basic QR codes, it equips you with tracking and analytics— a feature that's a hit among marketers.
QR Code Chimp is renowned for its high-quality QR codes. It's not your standard black-and-white, URL-filled QR code generator; it's way more.
The platform offers extensive customization options, from colors and shapes to logos, providing users with a unique, personalized touch. Moreover, QR Code Chimp supports various content types, including text, URL, email, SMS, location, WiFi, VCard, Facebook, and YouTube.
A shining star in QR Code Chimp's offerings is its design-centric approach. Instead of focusing solely on function, QR Code Chimp has added a dash of creativity to the mix.
It offers countless visually appealing designs that not only capture the user's eye but also fit well into marketing campaigns. By merging coding with creativity, the tool has been able to make a mark in the QR code generator space.
Another favorable aspect of QR Code Chimp is its support for high-resolution and vector graphic output. With resolution and file size not being a constraint, you're free to print your customized QR code on any desired media or size. Be it for a business card, a flyer, or a billboard – you've got it covered.
Although QR Code Chimp does offer such commendable services, exploring its alternatives can open doors to a variety of other enticing features and options.
Don't simply settle for what you know; step outside your comfort zone, and you might find something that better fits your requirements.
Top 15 QR Code Chimp Alternatives & Competitors
Having explored the importance of QR codes and the key benefits of QR code generators, it's time to dive headfirst into our main topic, QR Code Chimp Alternatives.
Using the right QR code generator can put you ahead in the intensely competitive digital marketing world. Thus, listed below are the top 15 alternatives to QR Code Chimp.
Each of them holds certain unique features that suit different requirements and goals.
1. QRCodeDynamic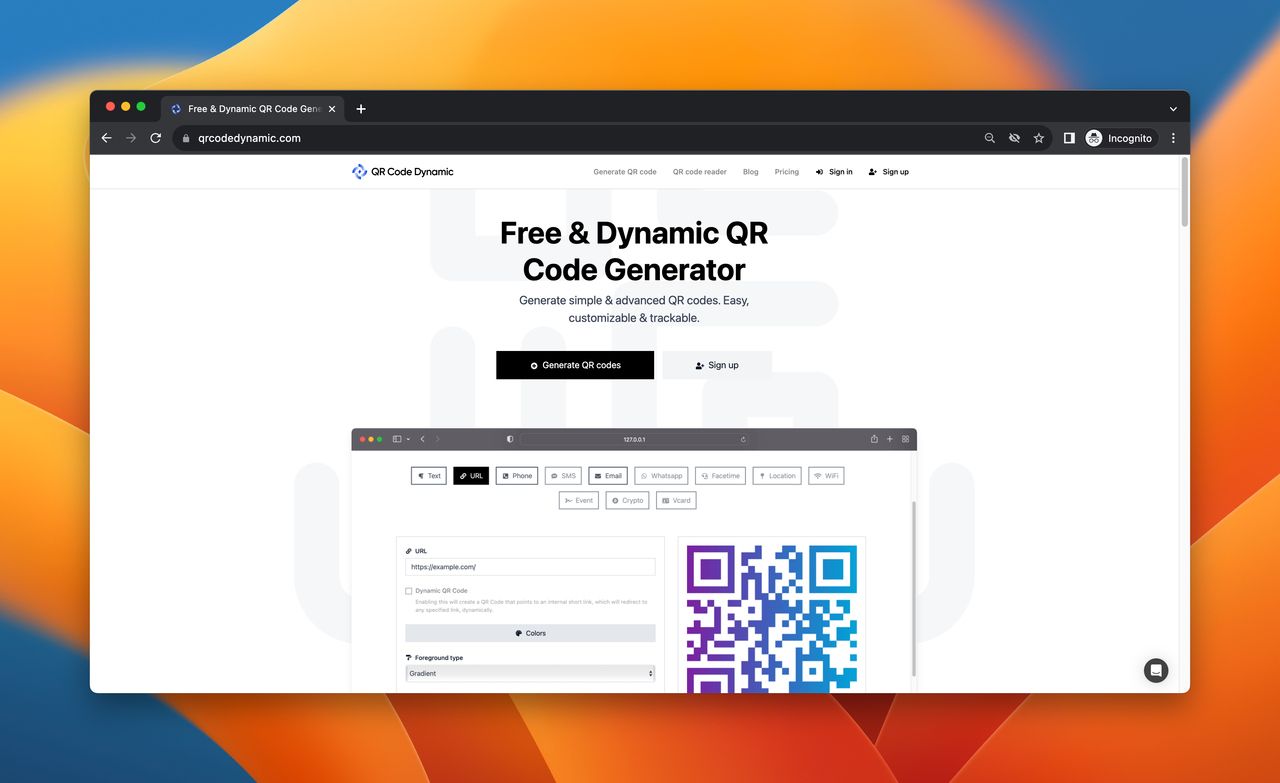 QRCodeDynamic is a feature-rich QR code generator that offers simple and advanced QR code creation with user-friendly features.
Notably, QRCodeDynamic stands out for its highly customizable QR codes, allowing users to personalize them with colors and logos. The Projects feature simplifies resource organization for efficient QR code management.
The tool allows you to create both static and dynamic QR codes. Static QR codes hold fixed data, while dynamic QR codes offer flexibility by enabling users to change the destination URL in real time.
Moreover, dynamic QR codes provide advanced scan statistics, scheduling, expiration limits, A/B rotation, password protection, and re-targeting options based on country, device, and language.
Additionally, QRCodeDynamic facilitates custom domains for QR codes, enabling businesses to reflect their brand name on them.
It covers a wide range of QR code types, including simple text, URLs, and phone calls, as well as more specialized functionalities like Vcard, PayPal, and Crypto.
2. QR.io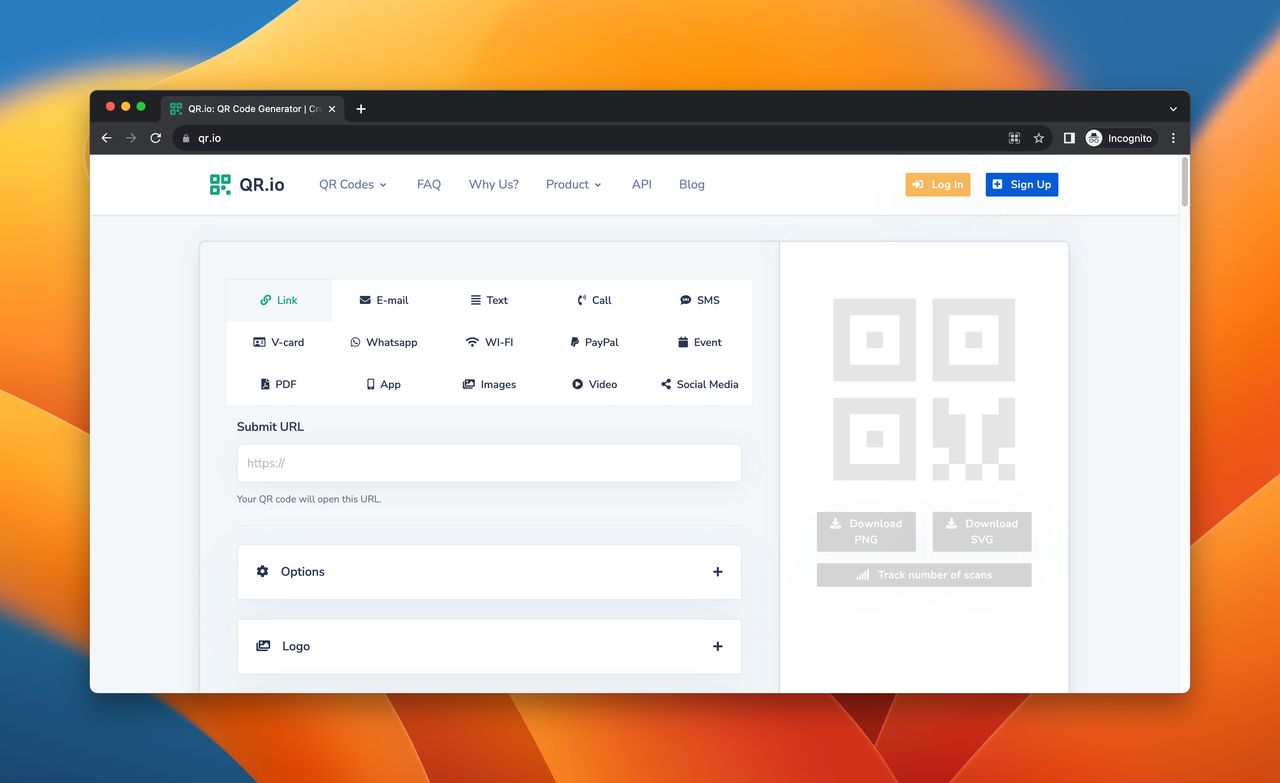 The second place on our list of QR Code Chimp alternatives is QR.io. Offering a straightforward interface, this generator lets you easily create and customize QR codes.
It exudes charm with its advanced tracking features - you get insights into the total number of scans, device types used, and geographical locations the scans are made. Moreover, QR.io allows exporting these insights in CSV or PDF, making data analysis that much simpler.
This alternative performs best when simplicity is key. QR.io enables you to generate QR codes across many categories, such as vCards, emails, locations, and even your own constructed text. It excels at its easy sharing functionality, letting you share your generated QR code across various platforms with a simple click.
3. Bitly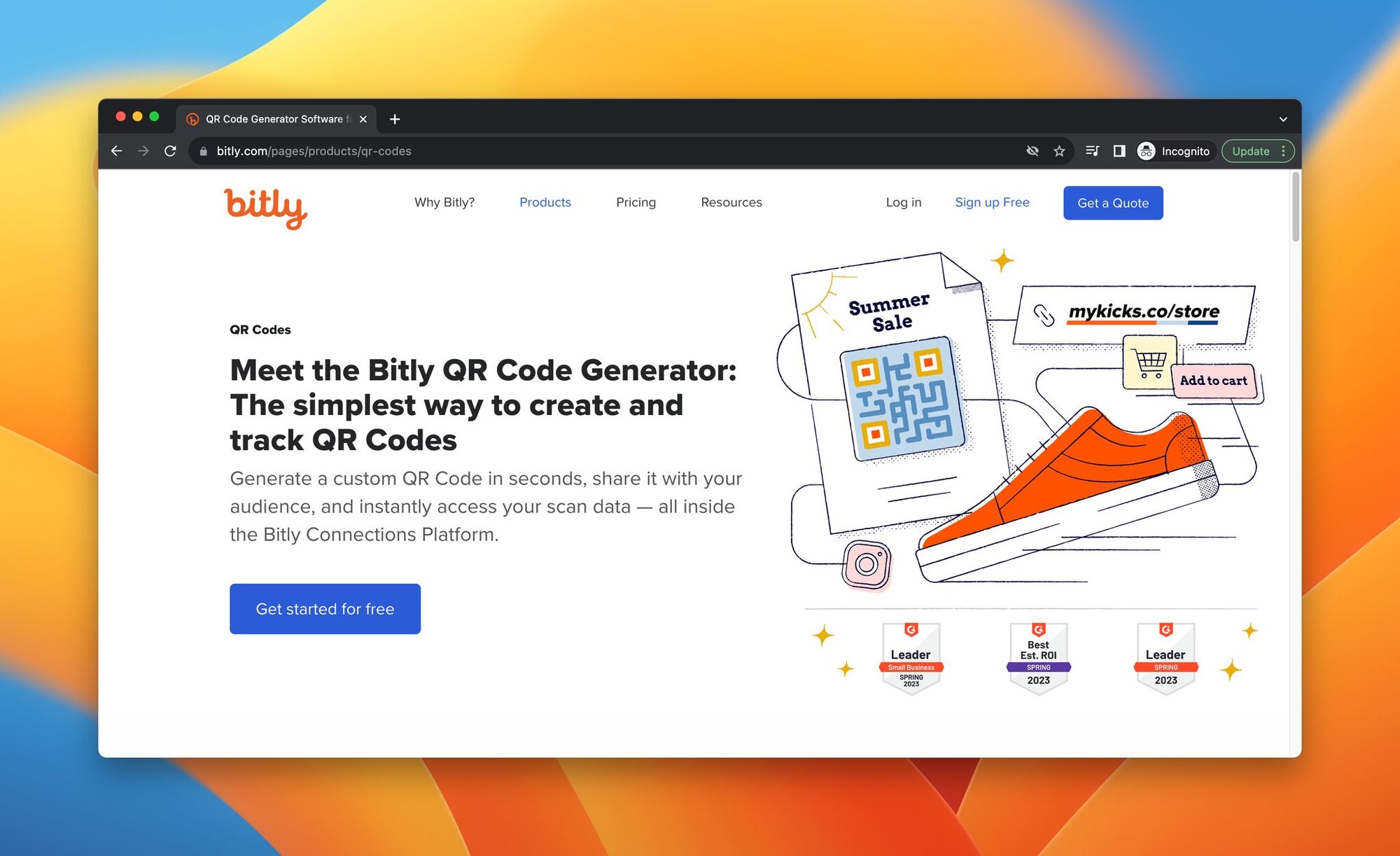 If speed and simplicity drive your choice, Bitly can be your best bet. Besides shortening URLs, Bitly doubles as a QR code generator, presenting you with an array of design options for your codes.
Furthermore, with Bitly, you can track your QR code performance with its robust analytical reports. So, prepare to discover how, when, and where your QR codes are applied!
Aside from its top-notch URL-shortening ability, Bitly holds its ground as a QR code generator. Out of all QR Code Chimp alternatives, it impresses with its analytics feature. When it comes to gauging QR code performance and generating comprehensive analytical reports, there is hardly a match to Bitly.
4. Beaconstac QR Codes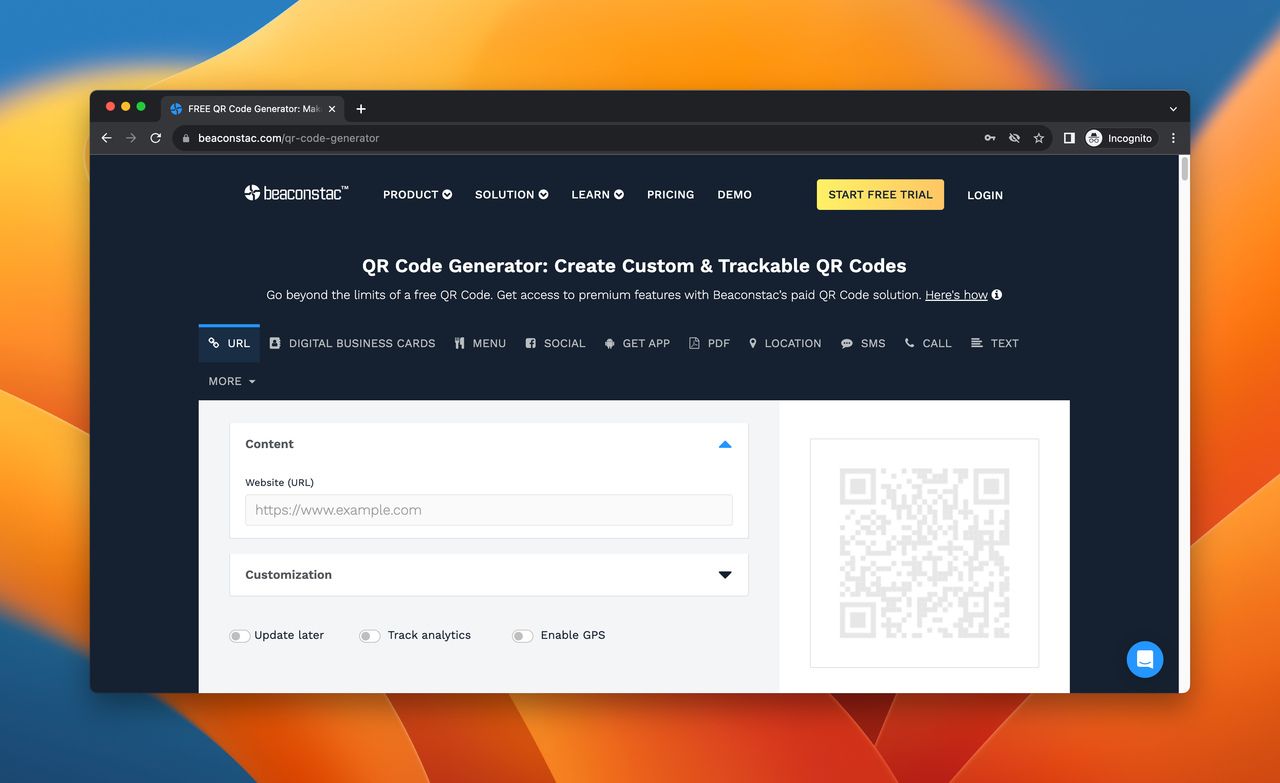 Next up, Beaconstac QR Codes is a dynamic QR code generator. One of its standout offerings is its promise of scanning compatibility even in poor lighting conditions.
So, you can go ahead and place your QR codes in low-lit spots, something other generators may balk at! Beaconstac also excels in real-time tracking – a wholesome deal, isn't it?
Beaconstac brings to the fore a user-centric approach. Its dynamic QR codes (codes that can update the content without changing the code) and long-term scanning ability set it apart from other QR Code Chimp alternatives.
This tool also offers various QR code types along with customization capabilities, helping you to create unique QR codes.
5. BL.INK
For those who want more precision in their QR code generators, BL.INK offers a feature-rich platform.
This redirect solution provider lets you not only create customizable QR codes but also tie them to intelligent URLs for better tracking and reporting. Talk about merging creativity with practicability! This puts BL.INK high up the ladder of QR Code Chimp alternatives.
What makes BL.INK worth your time? It creates shortcuts that redirect to your long URLs, makes it easy to track clicks, and offers detailed analytics. Furthermore, BL.INK recognizes the importance of customization, allowing users to create branded and compelling QR codes.
6. QR TIGER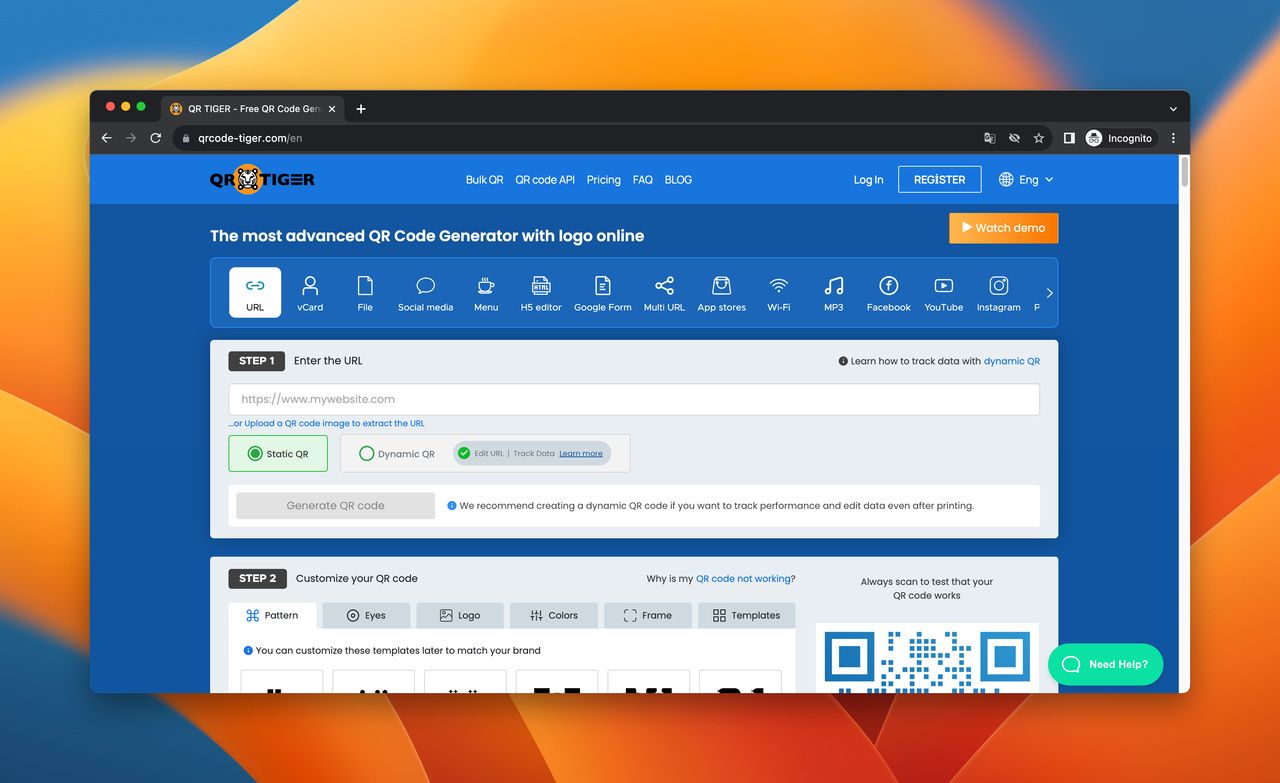 Fiercely competitive, QR TIGER deserves a roar of applause. Ideal for anyone needing a high-performing free QR code generator, QR TIGER offers multitudes of personalization options.
Ranging from coins and diamonds to hearts and teddies, their unique QR code frames certainly catch the eye!
QR TIGER is yet another reputable QR code generator that focuses on delivering highly customized and functionally dynamic QR codes. QR TIGER is for those who wish to experiment with a huge array of frames, colors, eyes, and other design features.
However, distinguishing it from QR Code Chimp is QR TIGER's feature of dynamic QR codes that allow the encoded URL or data to be changed without needing to reprint the QR code – a true timesaver!
7. Flowcode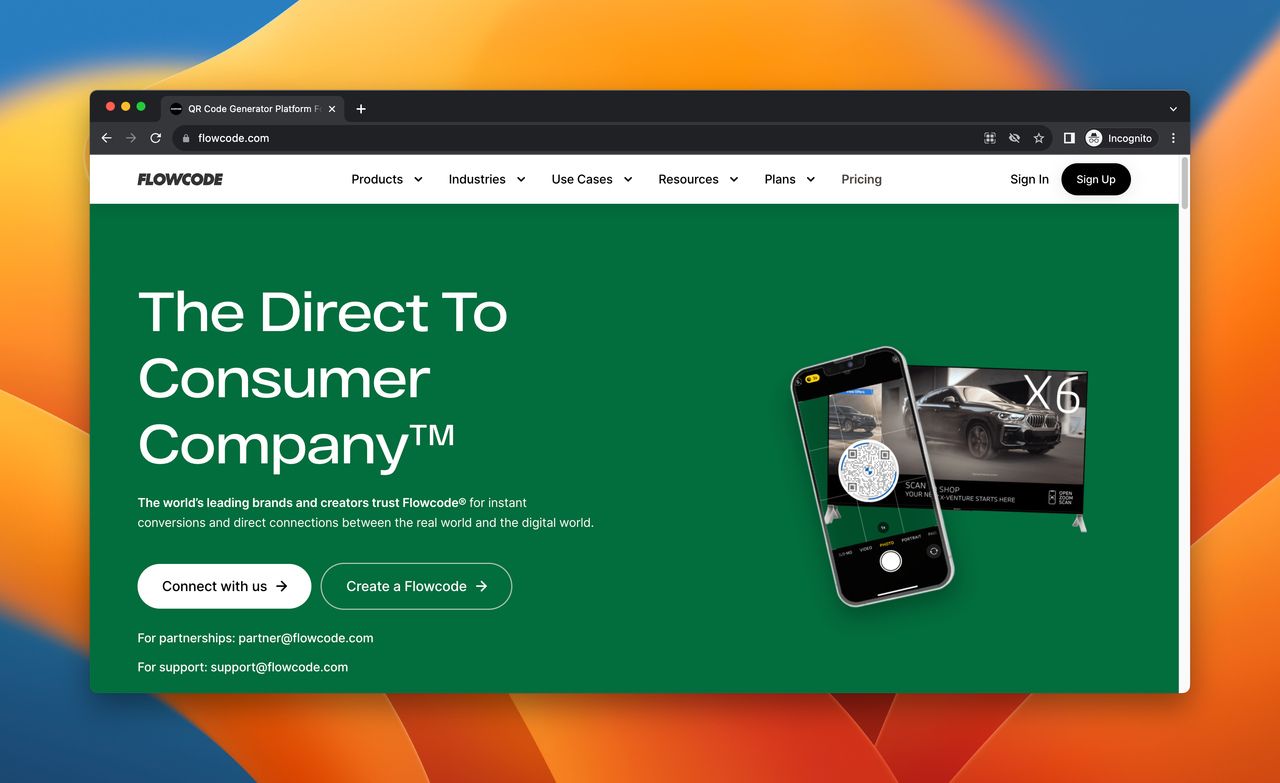 Enter Flowcode, a QR code generator that comes loaded with features.
What's special about Flowcode?
It concentrates on creating visually appealing QR codes using custom designers, logos, and colors that catch the user's eye immediately. They take personalization to a whole new level, making your QR codes exceptional conversation pieces.
With Flowcode, you generate high-tech QR codes and ensure they are aesthetically engaging, thereby increasing scan rates.
8. uQR.me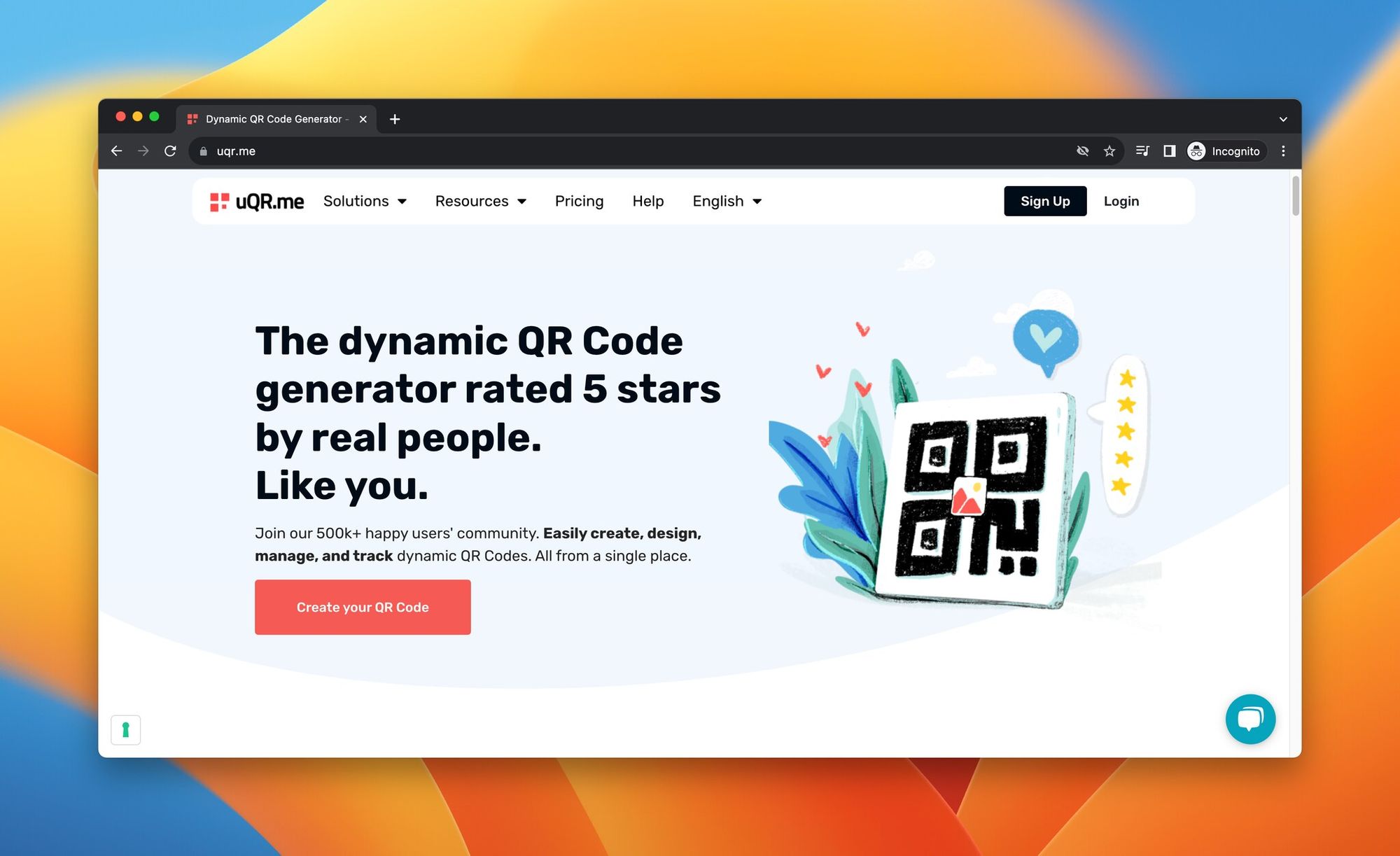 A heavy hitter in the QR code generator ring is uQR.me.
It is neater, cleaner, and to the point. uQR.me sets itself apart with its detailed analytics, SMS, and email marketing integration services, and multi-user management options – ideal for businesses with multiple marketing managers or teams.
It offers extensive customization capabilities, enabling users to design QR codes according to their preferences. It also provides descriptive analytics to monitor code effectiveness. The platform supports various QR types, such as website links, QR menus, COVID forms, mobile pages, vCards, social links, and lead generation codes.
9. QR Stuff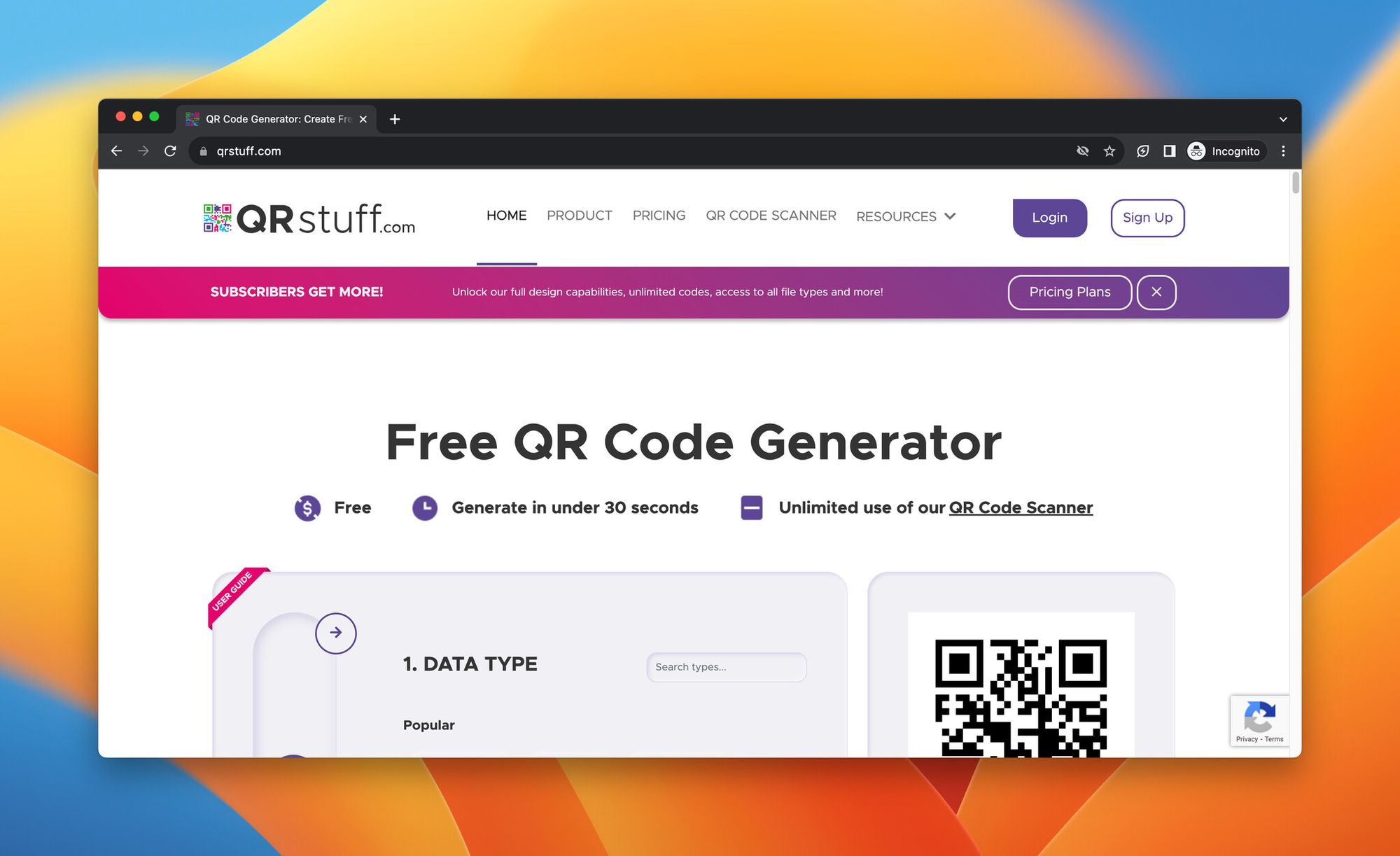 As powerful as it sounds, QR Stuff is a full-featured QR code generator platform offering a variety of data types, colors, and output formats.
QR Stuff stands out for its remarkable versatility, offering more than 20 types of QR codes. These include unique options like PayPal payments, Bitcoin, and iTunes links.
Operating on a freemium model, QR Stuff provides functional efficiency even in its free version. For advanced features such as high-resolution downloads, Analytics, Editable QR codes, Backups, and batch processing, users have the option to upgrade to a paid subscription.
Apart from providing standard features, it stands out due to its paid services, which include batch QR code generation, QR codes with embedded images, marketing outputs, QR code resizing, and professional QR code analytics.
10. QRCode Monkey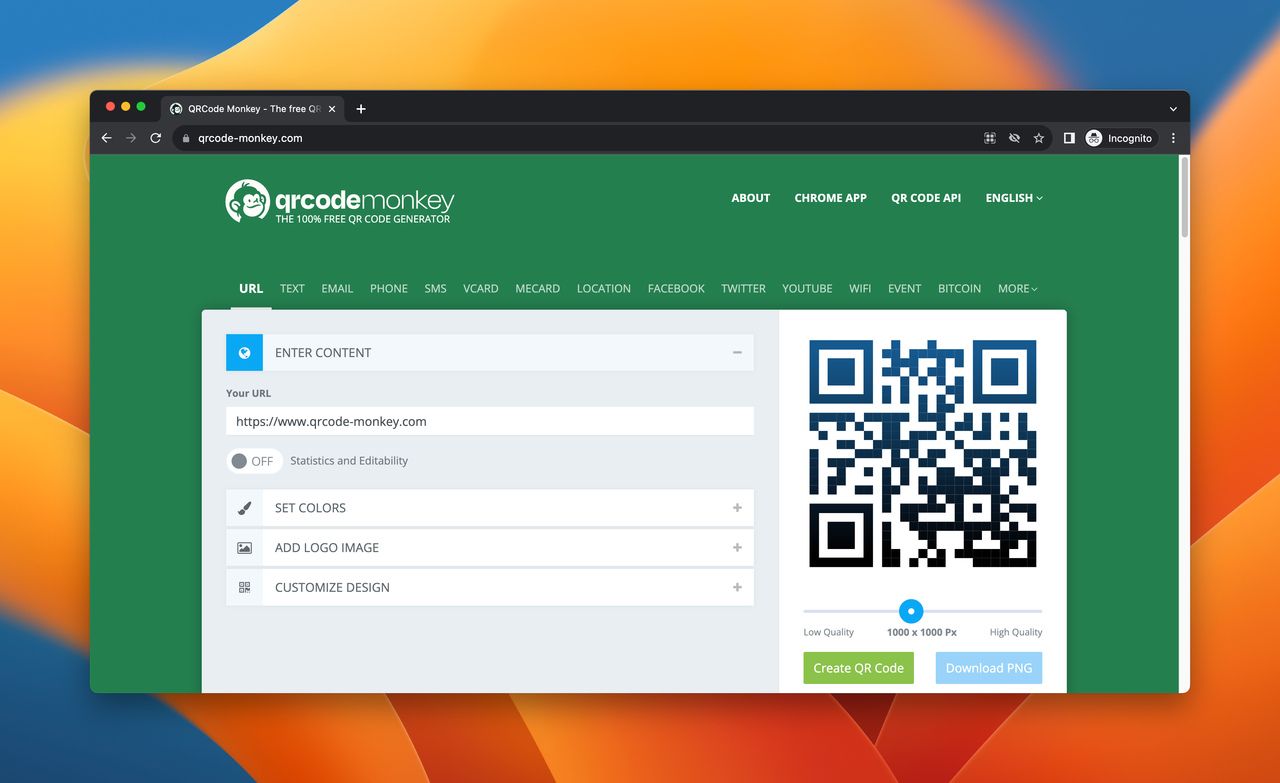 QRCode Monkey is a hit among small businesses or individuals who prioritize customization over all else. They've strived to make QR codes not just functional but also eye-catching.
It offers unique sets of characteristics and functionalities.
QR Code Monkey, an impressive QR Code Chimp alternative, exceeds expectations with its feature-rich offerings and customizable design options. Alongside code generation, users can personalize QR codes with logos, colors, and unique edge designs.
The platform follows a freemium model, offering both free and paid versions. Reviewers laud QR Code Monkey for its user-friendly interface, emphasizing the platform's standout customization feature and personalized experience.
11. QR Code Generator by Unitag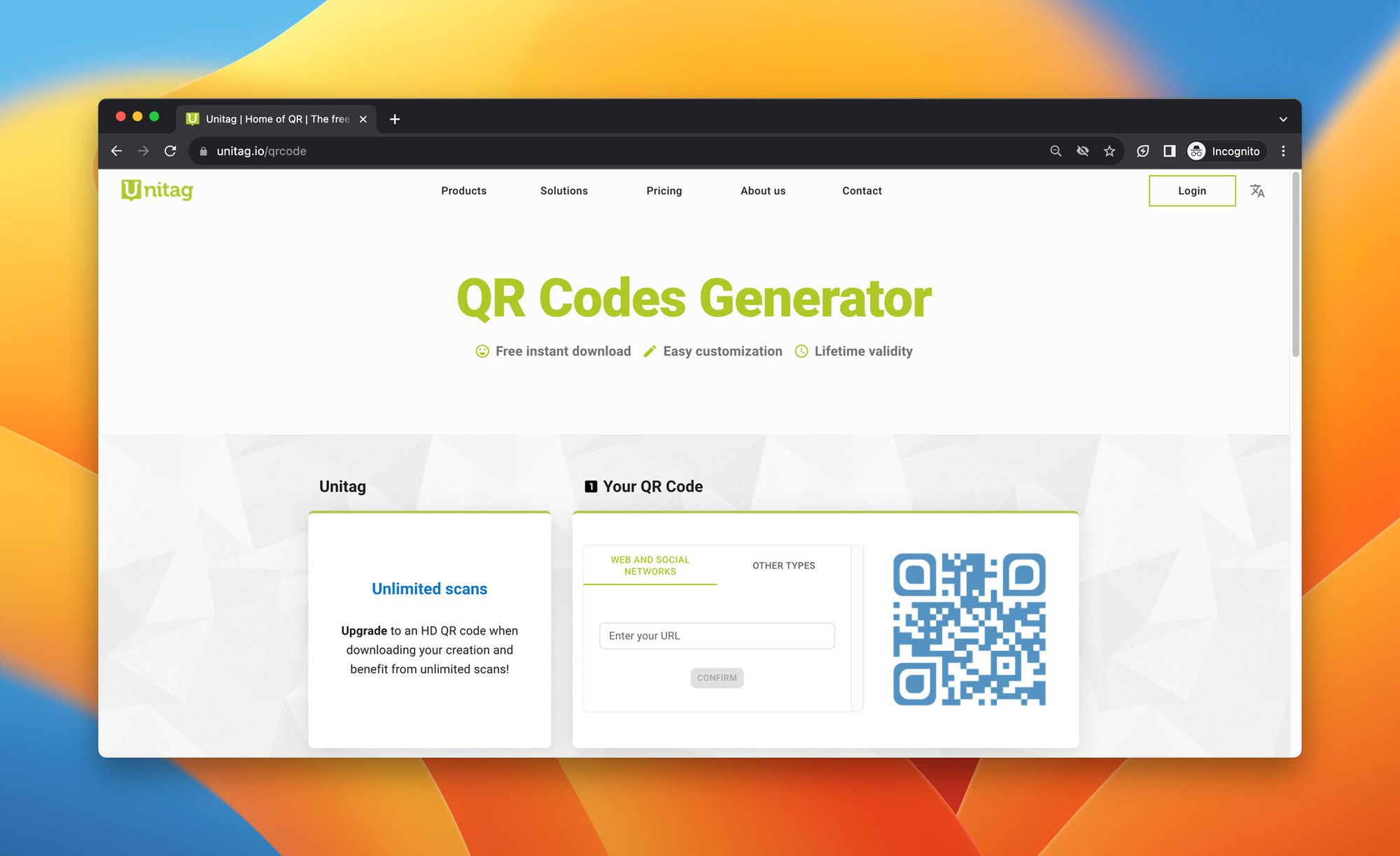 Simplicity at its best is what Unitag QR promises. The platform offers a basic and straightforward interface, eliminating unnecessary complexities. Moreover, Unitag QR provides users with customization options for their QR codes, using colors, logos, and graphics.
Unitag's QR Code Generator seamlessly integrates and caters to the needs of multilingual and international organizations.
Also, you can select among various QR code templates to create your unique QR codes.
12. ForQRCode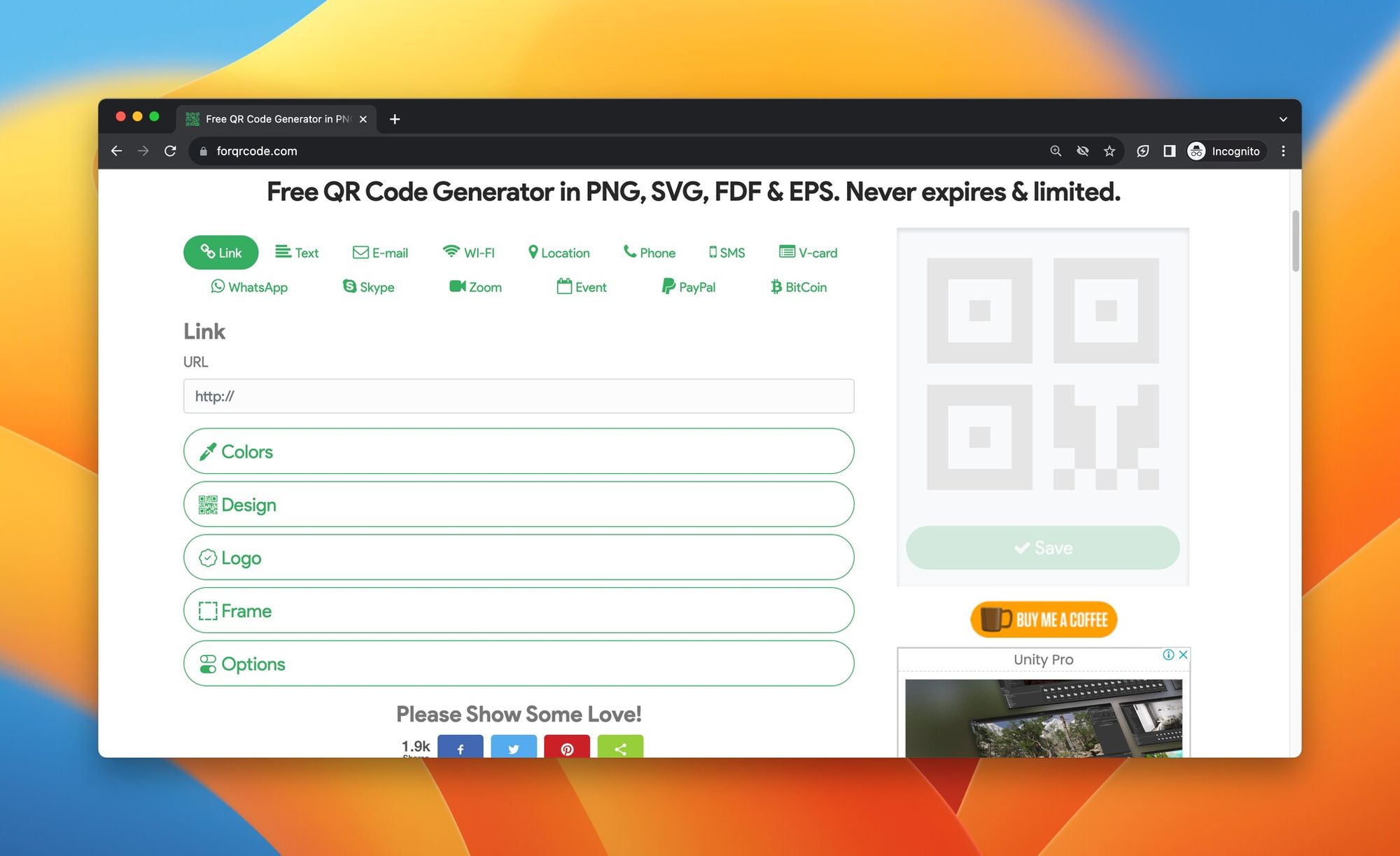 All about being speedy and effective, ForQRCode offers an easy platform to generate basic QR codes in an instant. It supports various content types such as URL, text, email, location, and contact information, thereby catering to a wide range of user requirements.
ForQRCode is an intuitive and cost-free QR code generator that lets users create Static and Dynamic QR codes effortlessly, requiring no advanced technical expertise.
The platform offers basic customization options and presents a user-friendly interface for a seamless experience.
13. GoQR.me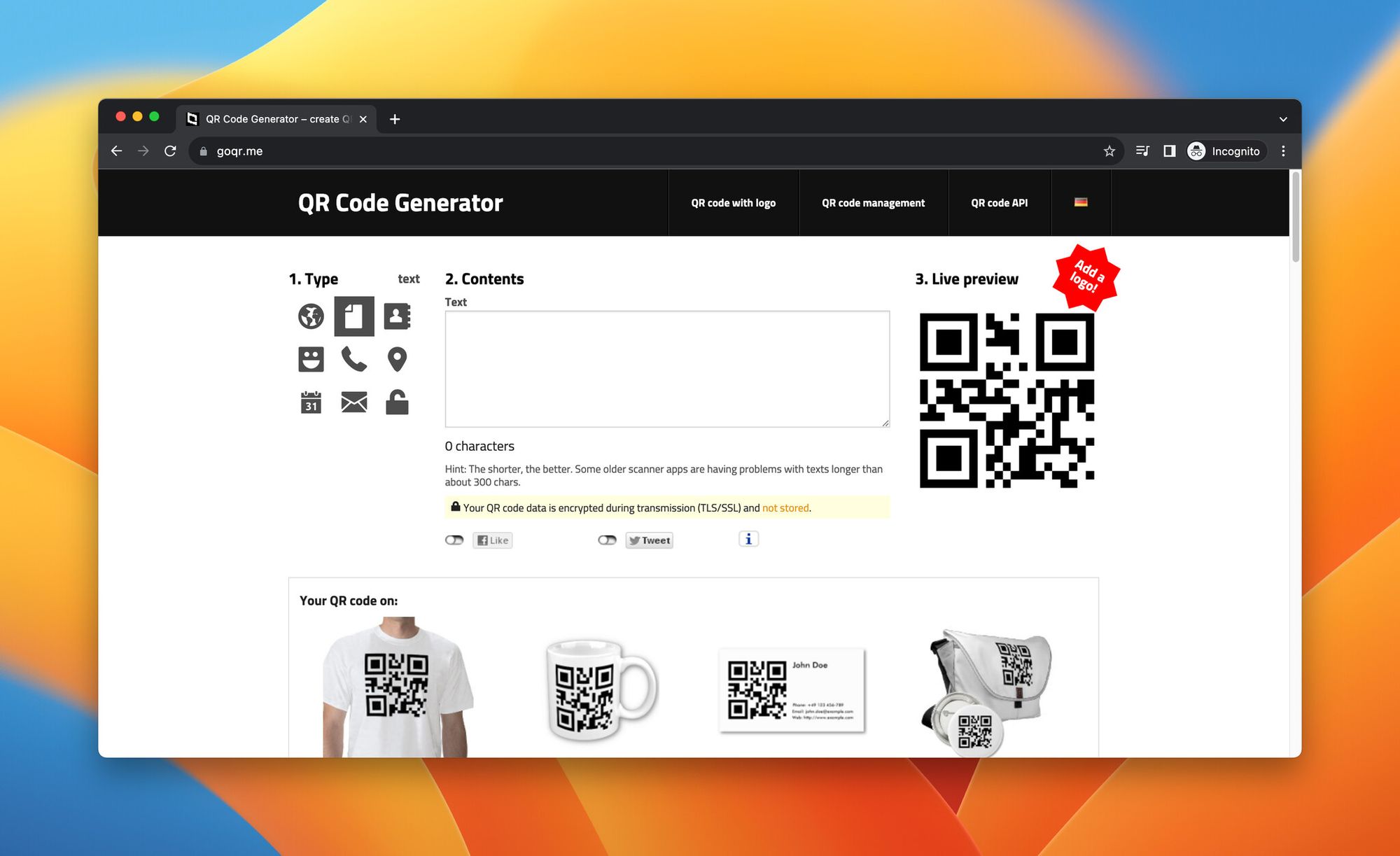 Here's another player that's captured attention with its user-friendly QR code generator. GoQR.me offers customizable QR codes, encoding various content types such as text, URL, call, SMS, and VCard in a matter of minutes. Plus, it doesn't cost you a dime!
GoQR is a standout free QR code generator, highly favored by marketing professionals and businesses for its extensive customization options and features.
Its advanced customization features allow users to modify color schemes, embed logos or images, and choose from various sizes for their QR codes.
With GoQR, users can generate QR codes for text, URLs, vCards, phone numbers, SMS, emails, and detailed locations on Google Maps. Notably, the platform does not add watermarks to the QR codes, ensuring they remain unbranded and clean.
14. The QR Code Generator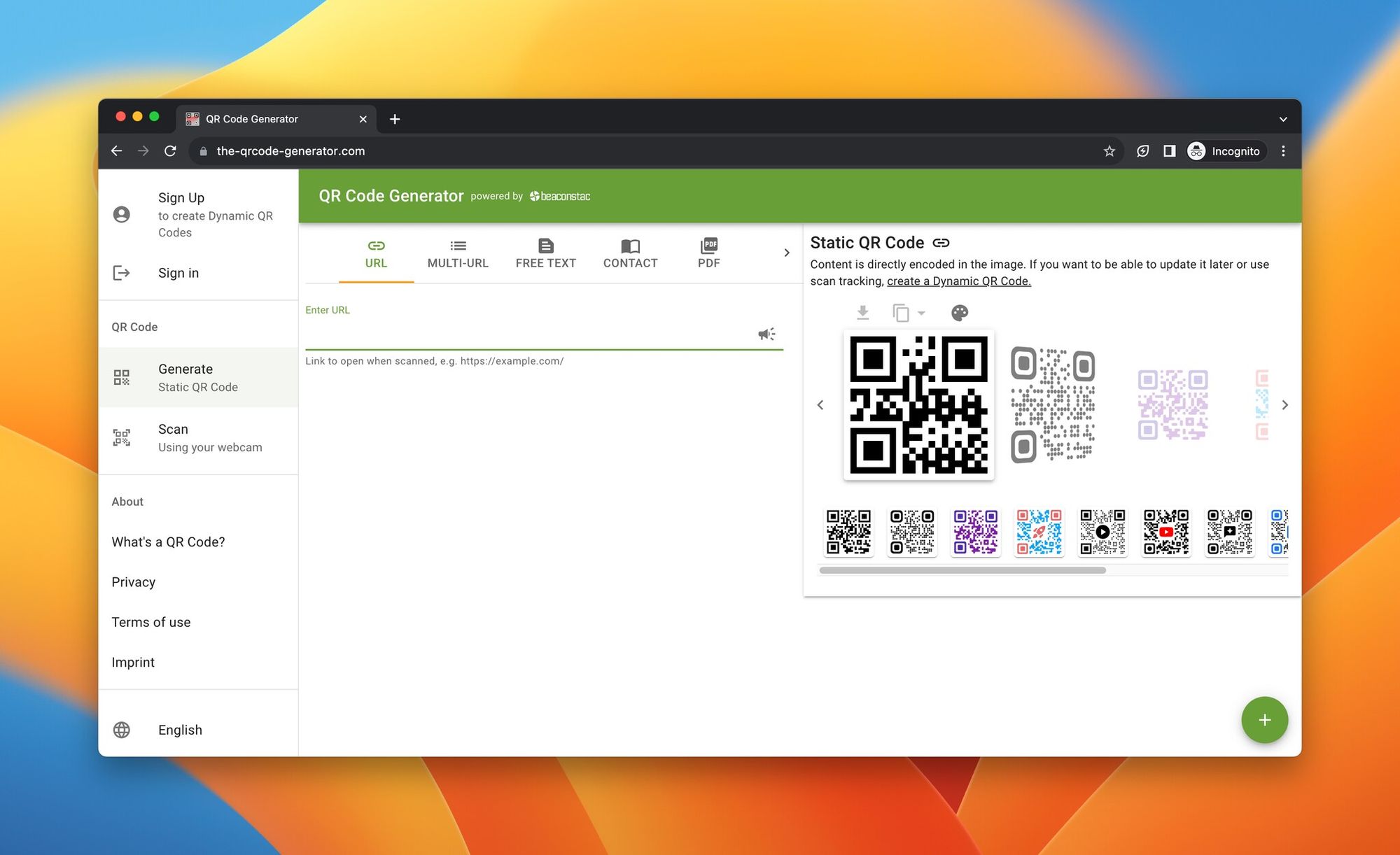 The QR Code Generator offers a straightforward and convenient method to create various QR codes, making it easy for users to generate codes for different purposes.
Its user-friendly interface and versatility in covering multiple QR code types are notable advantages.
With a mouthful of a name, this platform comes with all the functionalities required to create standard QR codes. The QR Code Generator allows you to generate and customize QR codes in different sizes and colors according to your needs.
15. QR Code Generator Pro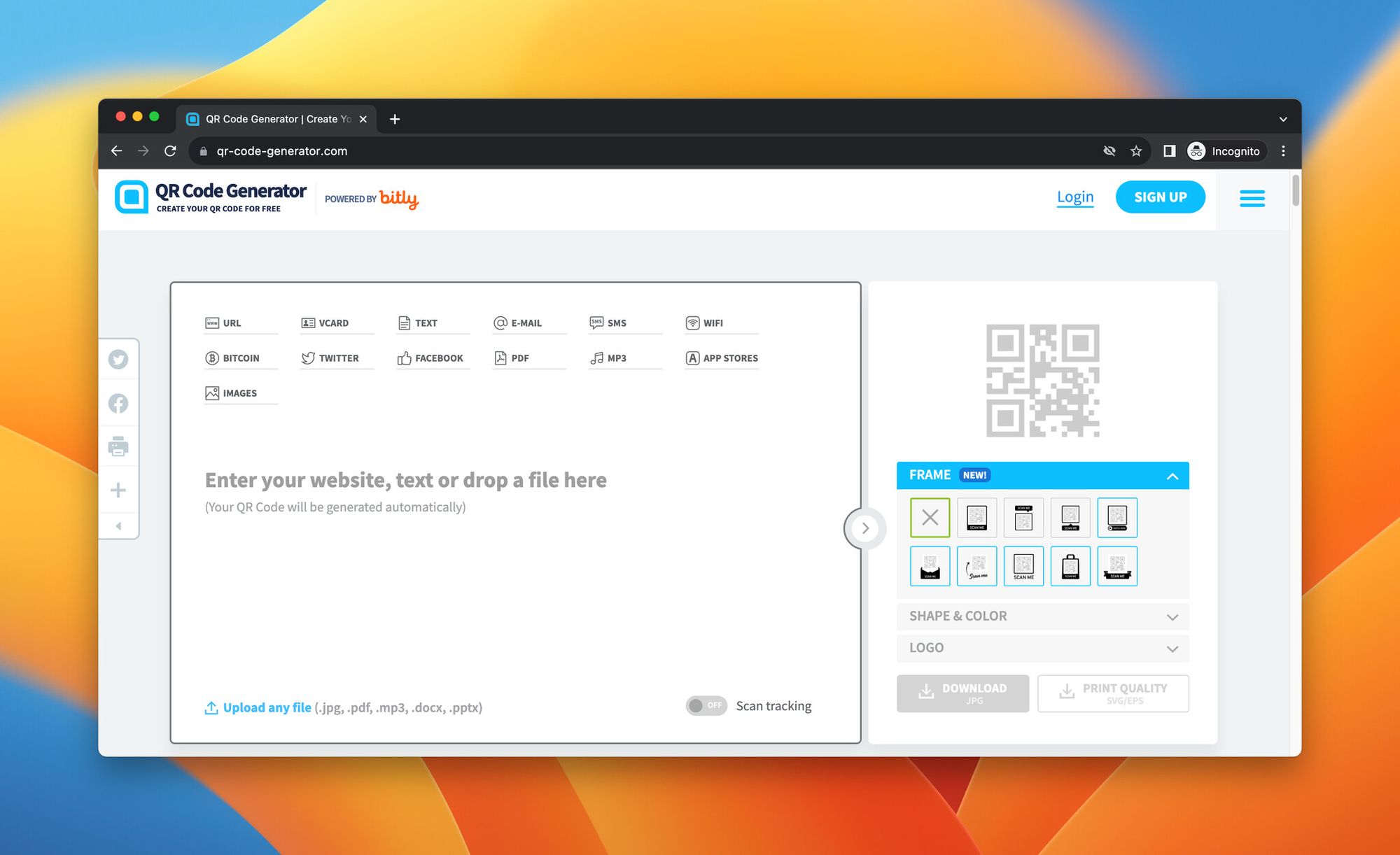 Last but certainly not least, in our QR Code Chimp alternatives list, QR Code Generator Pro provides diverse code formats, advanced tracking, and high-resolution QR code downloads. A paid solution, but do remember - quality often demands a price.
Offering a host of code formats and advanced tracking, this visionary QR code generator enables you to download your QR codes in high resolution. Yes, it comes with a cost, but its premium features make it well worth the investment.
In conclusion, understand your objectives, examine each of these top 15 QR Code Chimp alternatives, and choose the best fits your needs. They each bring a unique spin to the table and will undoubtedly enrich your QR code creation and application journey.
Detailed Look into Alternatives of QR Code Chimp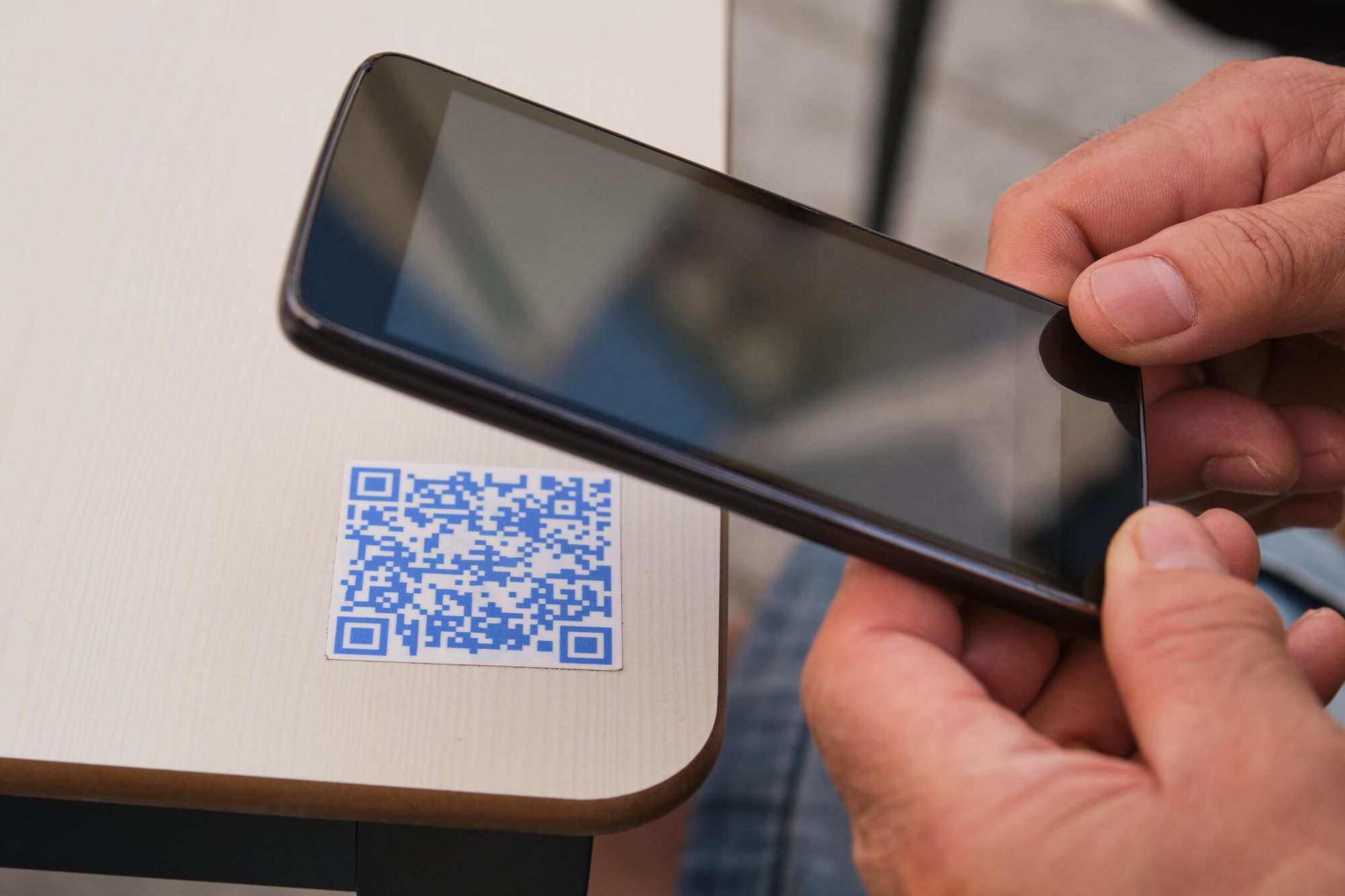 The digital arena is forever evolving, and so are its associated tools. Standing out is key, especially for marketers and SEO experts.
This brings us to the next point of our discussion – a detailed analysis of QR Code Chimp alternatives and what sets them apart.
So, without further ado, let's dive right in!
What Sets These QR Code Chimp Alternatives Apart
Understanding the differences among the QR Code Chimp competitors is just as essential as knowing their similarities. Here's what sets these alternatives apart:
Versatility: These alternatives offer a broad spectrum of features, from basic QR code generation and tracking to URL shortening, storage inventory management, and digital business cards.
User Customization: Some alternatives, like BL.INK, QR TIGER, and Flowcode emphasize customization, enabling users to create appealing and branded QR codes.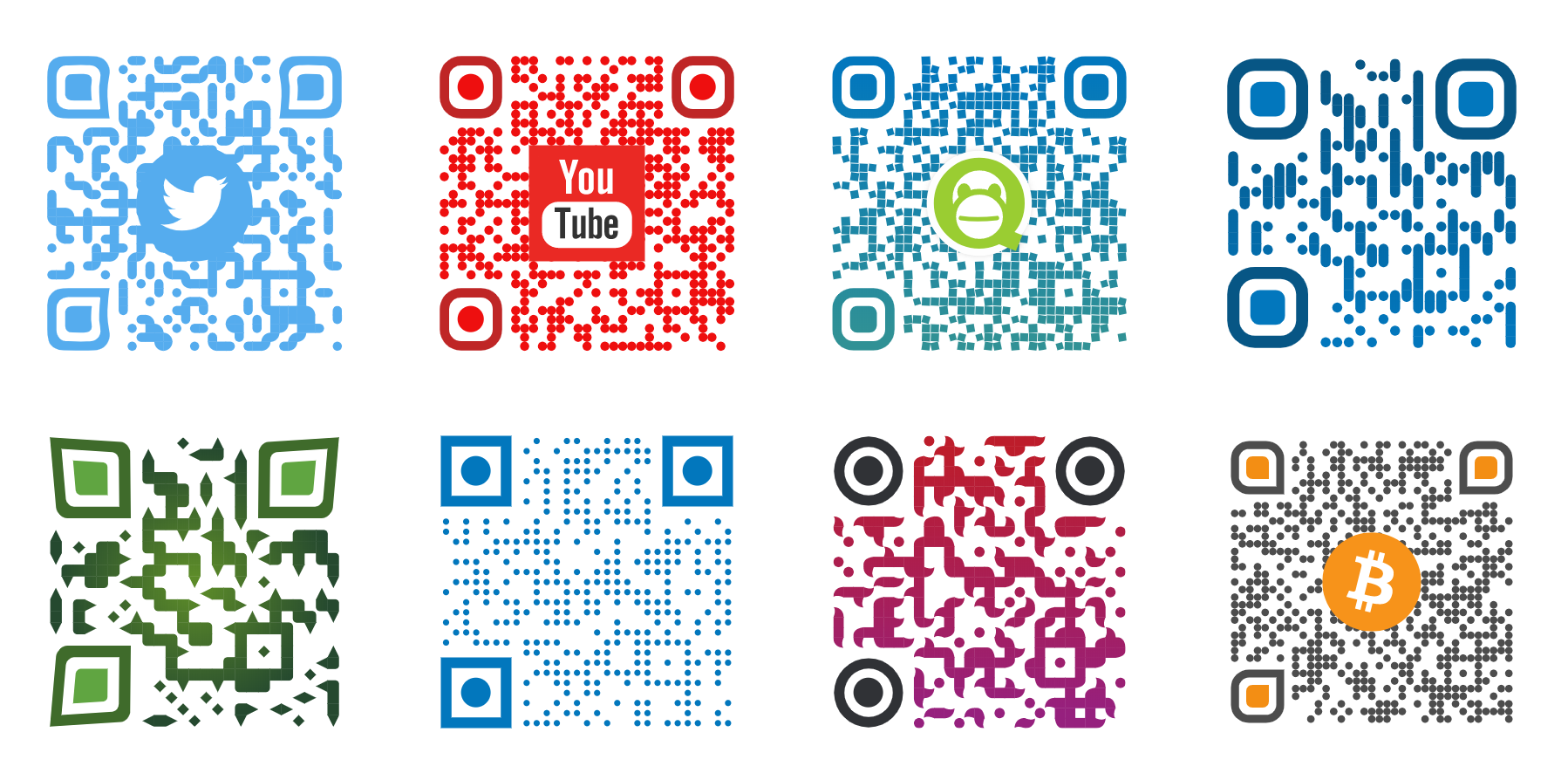 Analytics: Easy tracking and analytics are game-changers. Tools like Bitly and BL.INK provides robust statistical reports, making them ideal for marketers and SEO experts.
Pricing Options: Some alternatives offer freemium models with optional premium features, while others, such as QR Code Generator Pro, are paid solutions. So, depending on your budget and requirements, you have various choices.
Taking a detailed look into these alternatives gives us a broader perspective on the vast options available to explore.
Becoming familiar with each tool helps us to appreciate their unique qualities and how they can individually benefit our marketing strategies. Remember, it's not about finding a 'better' QR code generator; it's about finding the one that fits 'your' specific needs. Embrace the differences, and design your QR code journey as you want!
Recap of QRCode Chimp Alternative Options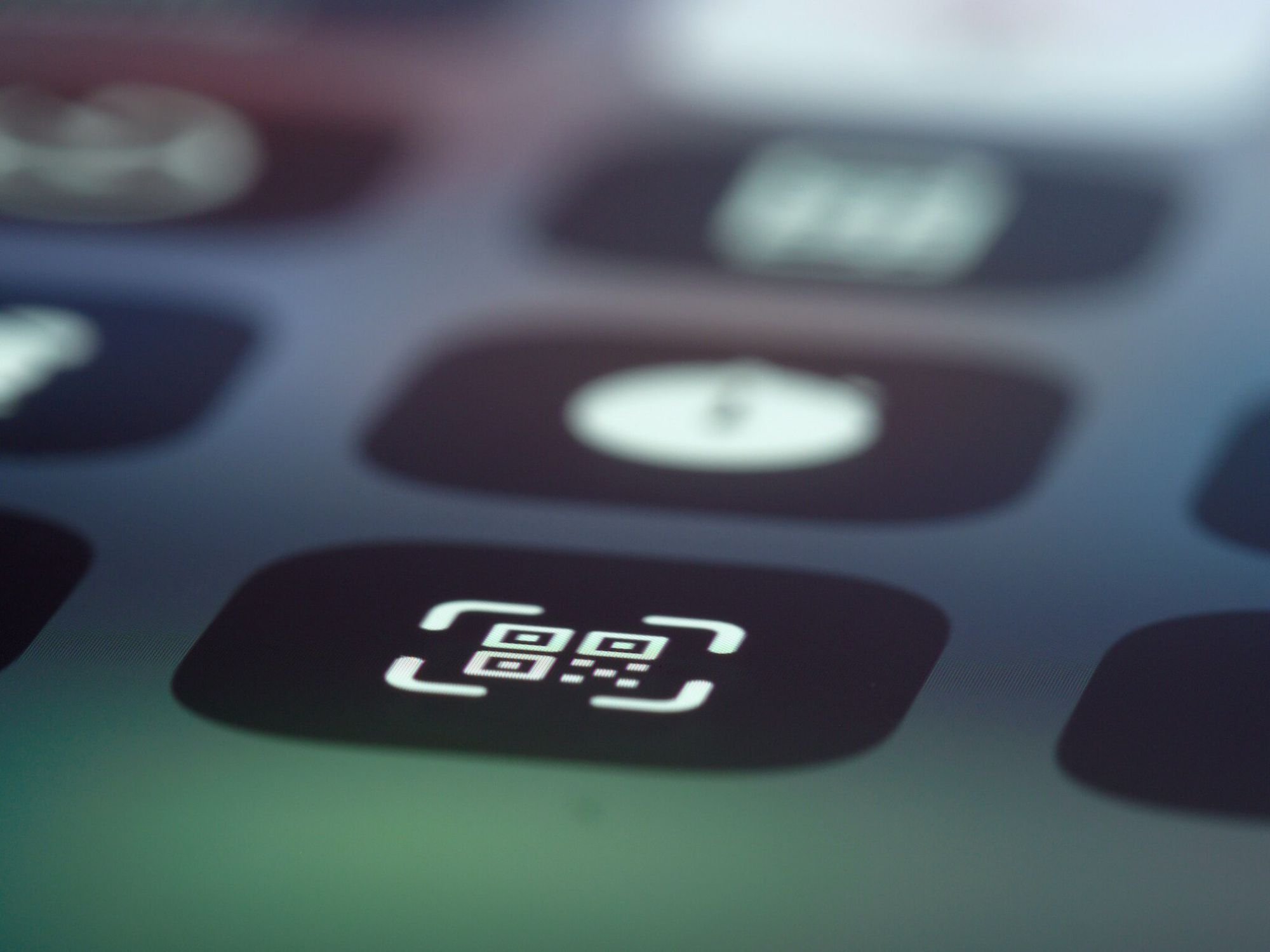 Throughout our exploratory voyage, we've encountered a range of QR Code Chimp alternatives - each exhibiting unique strengths and capabilities, expanding the repertoire of choices available for QR code creation.
Let's have a quick recap of this extensive list:
QRCodeDynamic: Dynamic QR code generator that offers static and dynamic QR codes, along with tracking and customization options.
QR.io: A QR code generator renowned for its easy-to-navigate interface and advanced tracking features.
Bitly: A handy tool for marketers valuing speed and simplicity paired with potent analytical capabilities.
Beaconstac QR Codes: Dynamic QR code generator boasting exceptional scanning compatibility.
BL.INK: A tool offering precision and detailed tracking and analytics.
QR TIGER: A high-performing tool presenting many unique QR code personalization options.
Flowcode: A specialist creating visually appealing, highly personalized QR codes.
QR Code Generator Pro: Provides many code formats and advanced tracking at a premium price.
The prime contenders in QR Code Chimp alternatives, QRCode Monkey and QR Code Dynamic, earned special mention with extensive customization options and dynamic QR code features, respectively.
Other noteworthy mentions like QRStuff, ForQR Code, GoQR.me, and The QR Code Generator proved that although underdogs, they deliver impressive functionality in generating QR codes.
Each platform, including QR Code Dynamic, provides unique offerings, enhancing the versatility of QR code generators. Now, it rests on you to analyze and explore, pick and probe, to stack the best-suited QR code generators for your needs in your arsenal.
📌
Choosing an alternative to QR Code Chimp comes down to your needs and priorities. Do you want something straightforward and simple? QRickit could be your choice. If tracking and analytics are your primary concern, QRStuff or uQR.me may be a better fit. Or, if you're all about customization, QRTiger, and QRCode Studio might be more up your alley.
So, in essence, every QR Code Chimp alternative has its charm and purpose, and it's for you to decide which one aligns more fittingly with your goals. Be unafraid to explore and experiment, to not just keep up with but also define the trends in the digital marketing realm. Your perfect QR code generator is out there, waiting for you to make the most of it!
So, don't limit yourself to what's popular or trending. Explore possibilities, assess capabilities, and, above all, don't shy away from experimentation! Only then can you hope to ride the wave of digital freedom, achieving feats that might seem daunting today?
Remember, QR code generators are not just tools; they're a gateway to a realm where technology and marketing come together to weave magic. Emerging businesses, established giants, eager startups, or lone creative geniuses — no matter who you are — the power to transform your ideas into scannable reality rests in your hands.
In Conclusion
What a journey it has been! As we navigate this vast ocean of digital revolution, QR code generators are indeed proven to be powerful ships carrying great potential for marketers and SEO experts.
Amid the fleet, the ship QR Code Chimp stands tall, and through our expedition, we've introduced you to several others sailing alongside. Now, let's anchor at our final destination, summarizing what we discovered and the insights we gained.
Reflecting on our journey, we conclude that finding the right QR code generator is not a singularly defined task. It depends largely on your specific needs – affordability, functionality, customization, tracking, or compatibility. Discovering what's best for your needs is the true quest!
🧐
Remember, though, in the end, it all comes down to our choices — the projects we handle, the promotions we drive, the interaction we encourage. And QR code generators play a vital role in shaping these choices fruitfully.
So to all of you immensely talented, creativity-brimming digital marketers, SEO experts, or even individuals planning grand things, I hope this guide helps you tap into the wonder that is QR codes efficiently.
Your ticket to easy, accelerated gain in visitor traffic, high engagement, and much more lies in choosing the right QR code generators, and this guide has aimed to make that choice slightly less daunting.