In our digital age, life moves quicker, transactions occur in the blink of an eye, and efficiency is key.
One concept that aids this rapid form of interaction is the Quick Response Code, better known as the QR code.
The realm of QR codes is diverse and expansive. There are various QR code generator tools out there, and Me QR Code Generator is one of them.
If you are looking for an alternative to Me QR Code Generator, you are at the right place!
This article will provide a deep dive into Me QR Code Generator alternatives with their features.
Let's begin!
Exploring Me QR Code Generator
Let's take a closer look at one of the commonly used QR code generators - Me QR Code Generator.
What sets Me QR Code Generator apart?
Well, it is its user-friendly interface, practical dynamics, and essential features that define its specialties and highlight its limitations.
Features of Me QR Code Generator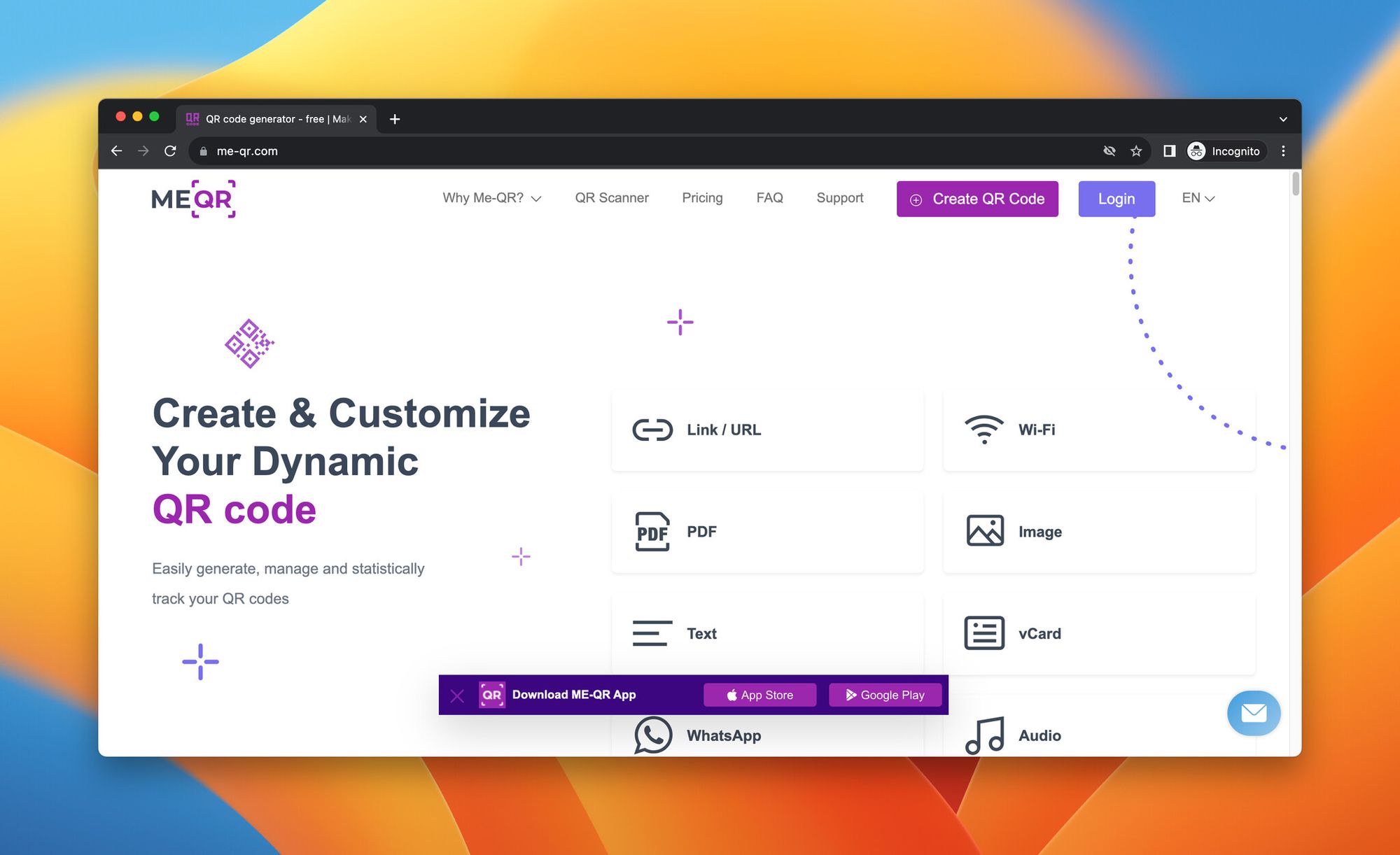 One of the major selling points of Me QR Code Generator is undoubtedly its features, each tailor-made to cater to various business requirements.
Here are some of the standout features this QR Code generator brings to the table:
User-Friendly Interface: Me QR Code Generator boasts an intuitive and easy-to-navigate interface, making the creation of QR codes straightforward, even for those less technically inclined.
Dynamic QR Codes: With the capacity to create Dynamic QR codes, Me QR Code Generator offers users the ability to alter the content behind their QR code post-creation, which is an advantageous feature for constantly changing business environments.
QR Code Tracking: The tracking feature allows you to monitor the scans of your QR code and analyze data like location, time, and device used to scan. This valuable information can be instrumental in enhancing business strategies.
Bulk QR Code Generation: You can create QR codes in bulk, a real-time-saver, for businesses looking to create codes for multiple products or services.
Customization Options: The power to customize your QR codes according to your brand's aesthetic is another helpful feature. Making your QR code align with your brand colors, logo, and style can increase its visibility and recognition.
Limitations of Me QR Code Generator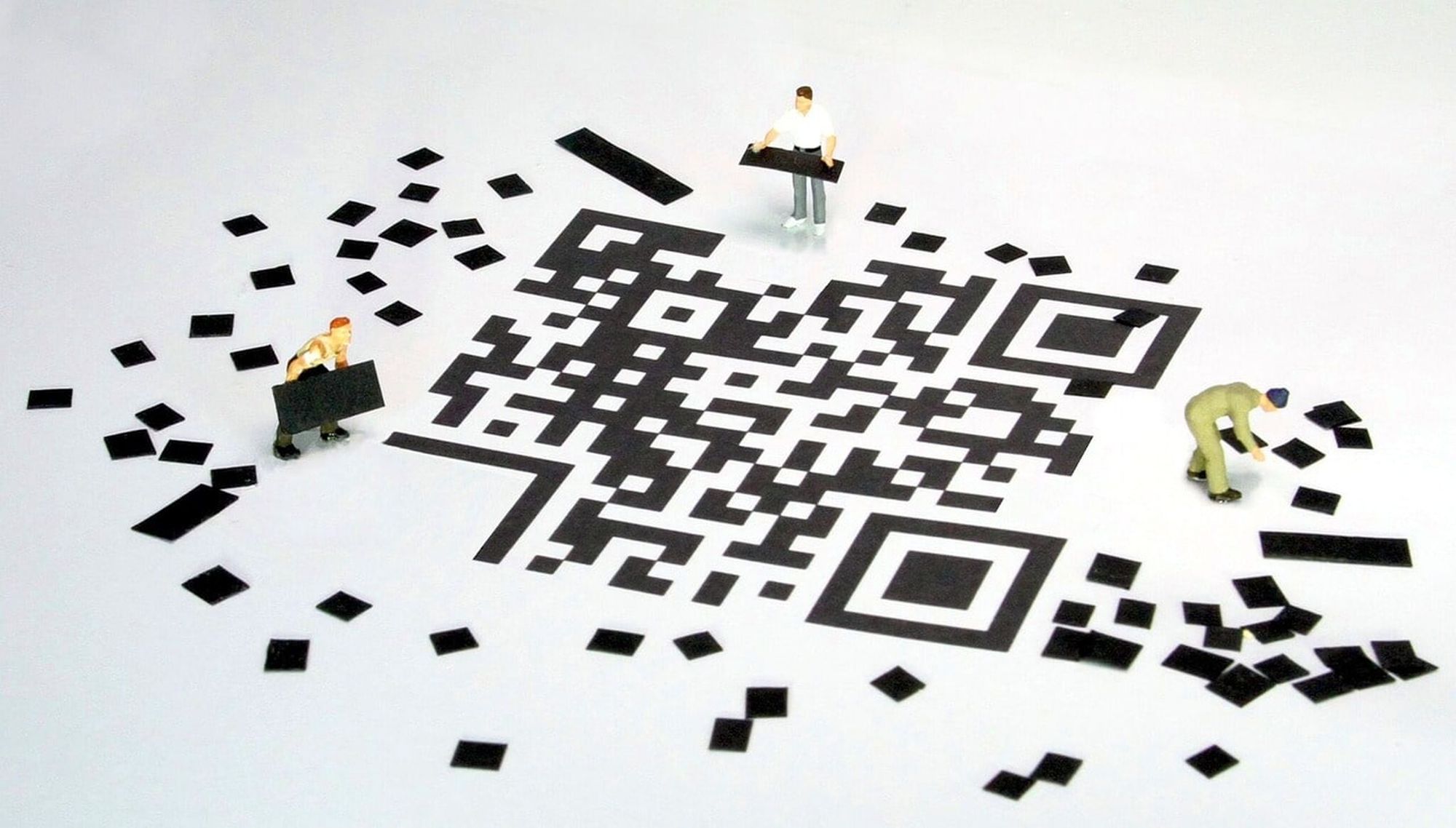 Despite its numerous advantages, the Me QR Code Generator has limitations. Understanding these shortcomings can ensure you decide whether this platform is the right fit for your business.
The limitations include:
Cost Factor: To access the full range of features, businesses must pay a subscription fee. While it does provide a free version, the functionality is considerably reduced.
Lack of API Integration: A major downside of Me QR Code Generator is the absence of API integrations. Being able to integrate with APIs can significantly enhance the functionality of a QR code, offering more engagement options, such as social media sharing or email subscriptions.
Free Version Limitations: The creators of 'Me QR Code Generator' offer a free version of their product. However, it lacks many features, including access to most customization options and detailed analytics, thus limiting its usefulness for businesses.
Less User-Friendly for Direct Printing: When it comes to printing, Me QR Code Generator does not offer a very user-friendly approach. Companies needing mass physical prints may find this a significant limitation.
In conclusion, while 'Me QR Code Generator' offers a solid starting point for QR Code creation and management, some limitations may make exploring other options necessary.
Throughout the rest of this article, we will delve into several 'Me QR Code Generator Alternatives' that might better suit your specific business needs. After all, the ultimate goal is to find a solution that adapts to your business rather than the other way around.
In-depth Comparison: 12 Top Alternatives to Me QR Code Generator
When it comes to dynamic QR code generators, there are several tools available in the market that offer unique features and capabilities. Here, we compare the top 12 alternatives you can choose from:
1. QRCodeDynamic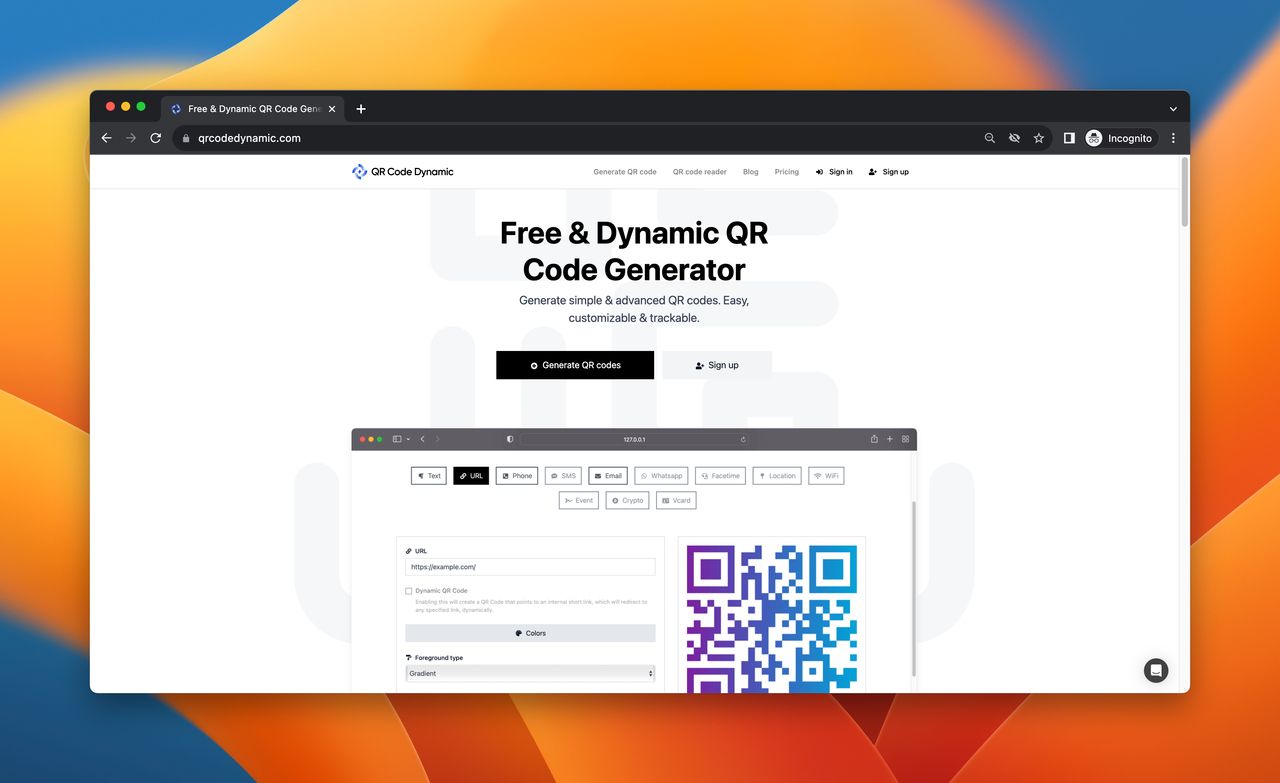 QRCodeDynamic provides the convenience of generating both dynamic and static QR codes. It supports the creation of 13 diverse QR code types, and users can effortlessly monitor their QR codes' performance.
Pros
Customization of QR codes with various colors, logo incorporation, and size optimization for personalized branding.
Option to swiftly create dynamic QR codes and easily modify the associated links.
Cons
Only three QR codes may be restrictive for free plan users.
2. QR TIGER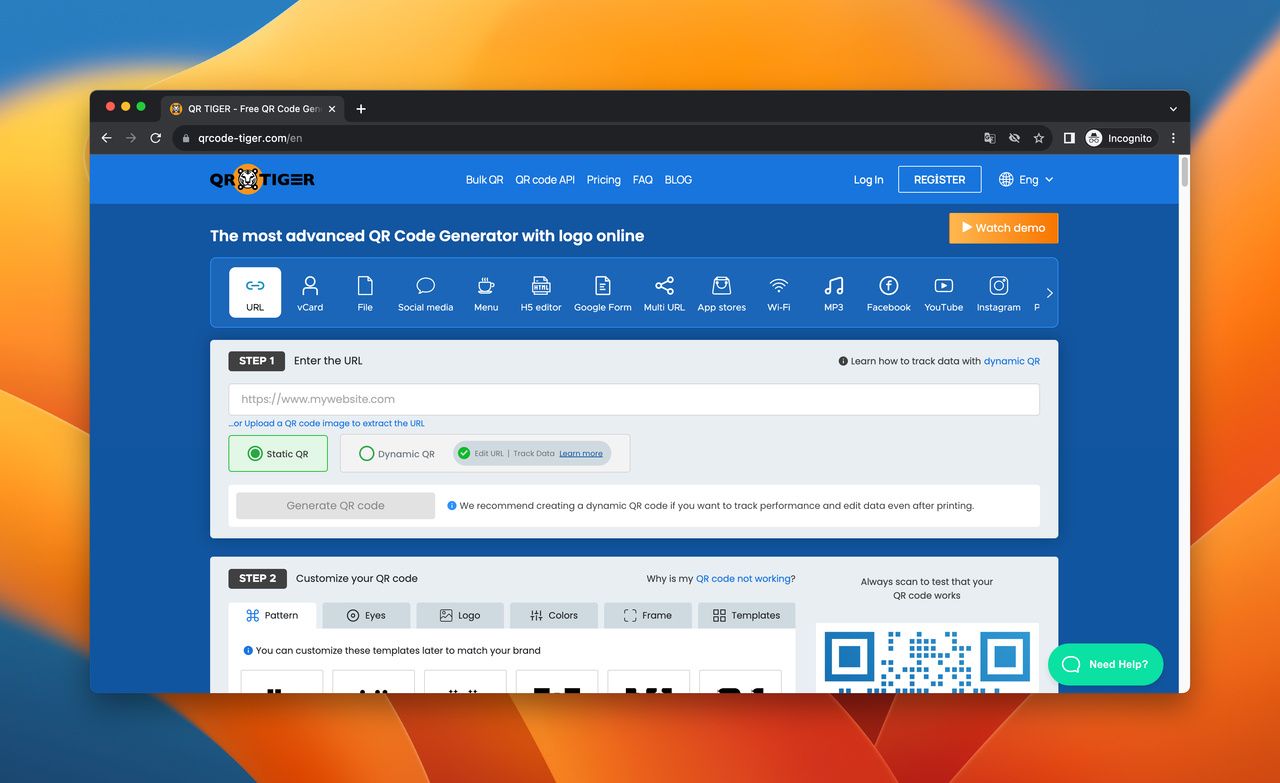 QR TIGER provides ease of use coupled with a wide array of high-quality features. This generator offers user-friendly graphics, a multi-URL QR feature, and plenty of design options.
Pros
Multiple URL feature.
Extensive design options.
Cons
The free version provides limited features, and price points for the premium version may not suit all budgets.
3. Flowcode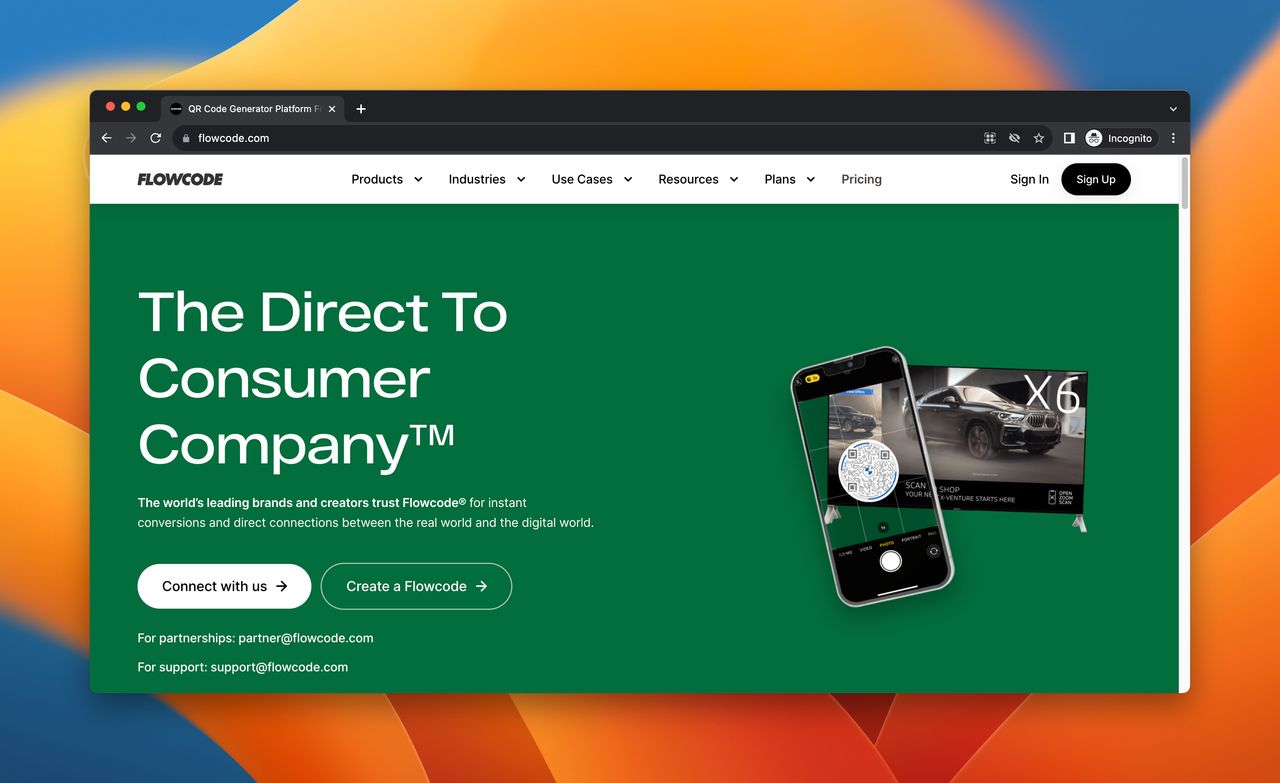 Flowcode stands out with its speed and efficiency in generating QR codes. It's designed for simplicity, which means you don't have to be technically advanced to use it. It offers dynamic, fully customizable codes with real-time analytics.
Pros
Quick and efficient.
Provides tracking and analytics.
Easy-to-use interface.
Cons
It's a bit more pricey compared to some of the other alternatives.
Editing is limited once the code is created.
4. QR Code Generator Pro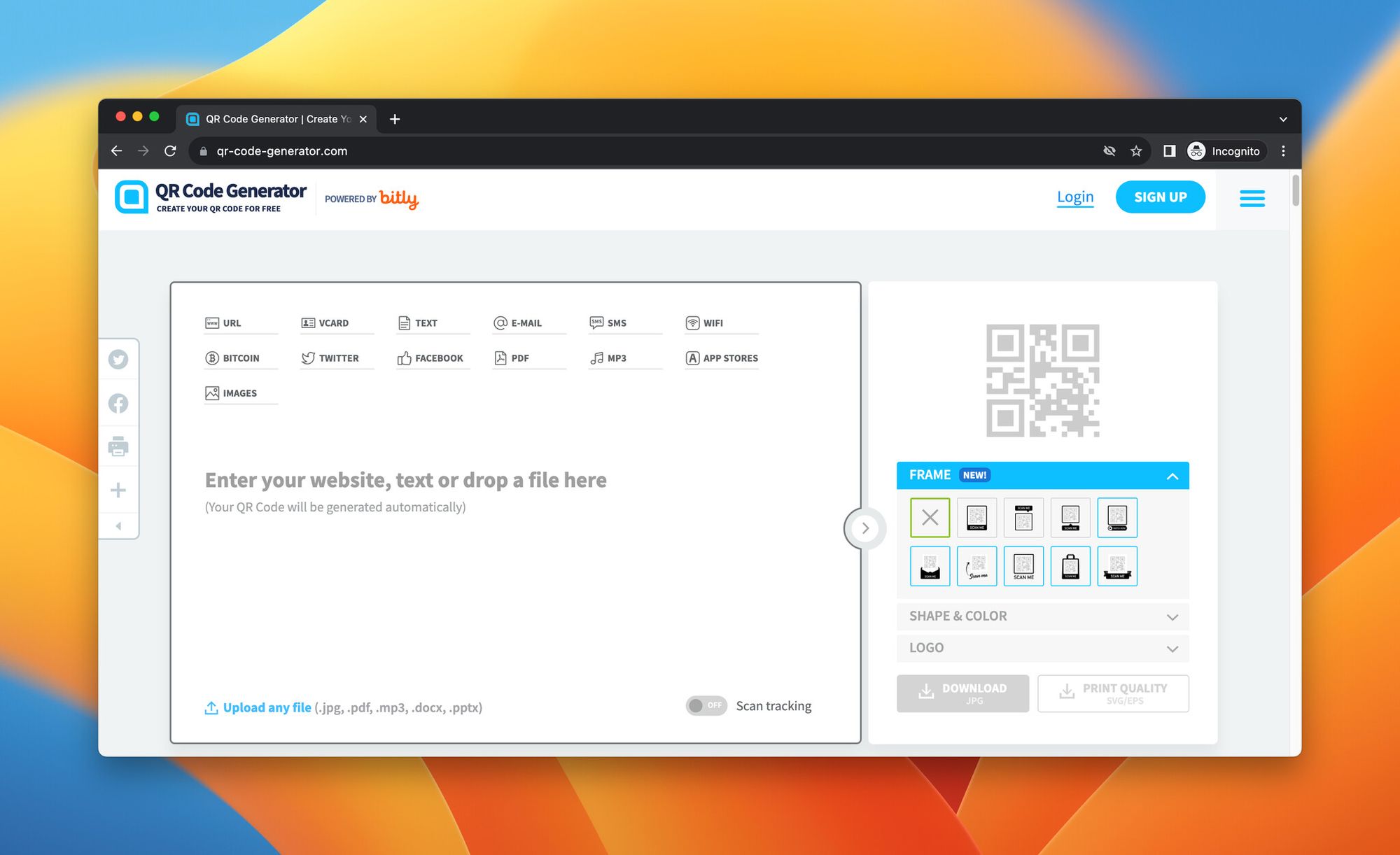 QR Code Generator Pro offers an all-in-one solution for businesses. This dynamic QR code generator is user-friendly, offering advanced tracking options, design customization, and data flexibility.
Pros
Comprehensive tracking and analytics.
Numerous QR code design options.
Cons
The free version of the tool offers limited functionalities.
It may take some time to get acquainted with the interface.
5. The QR Code Generator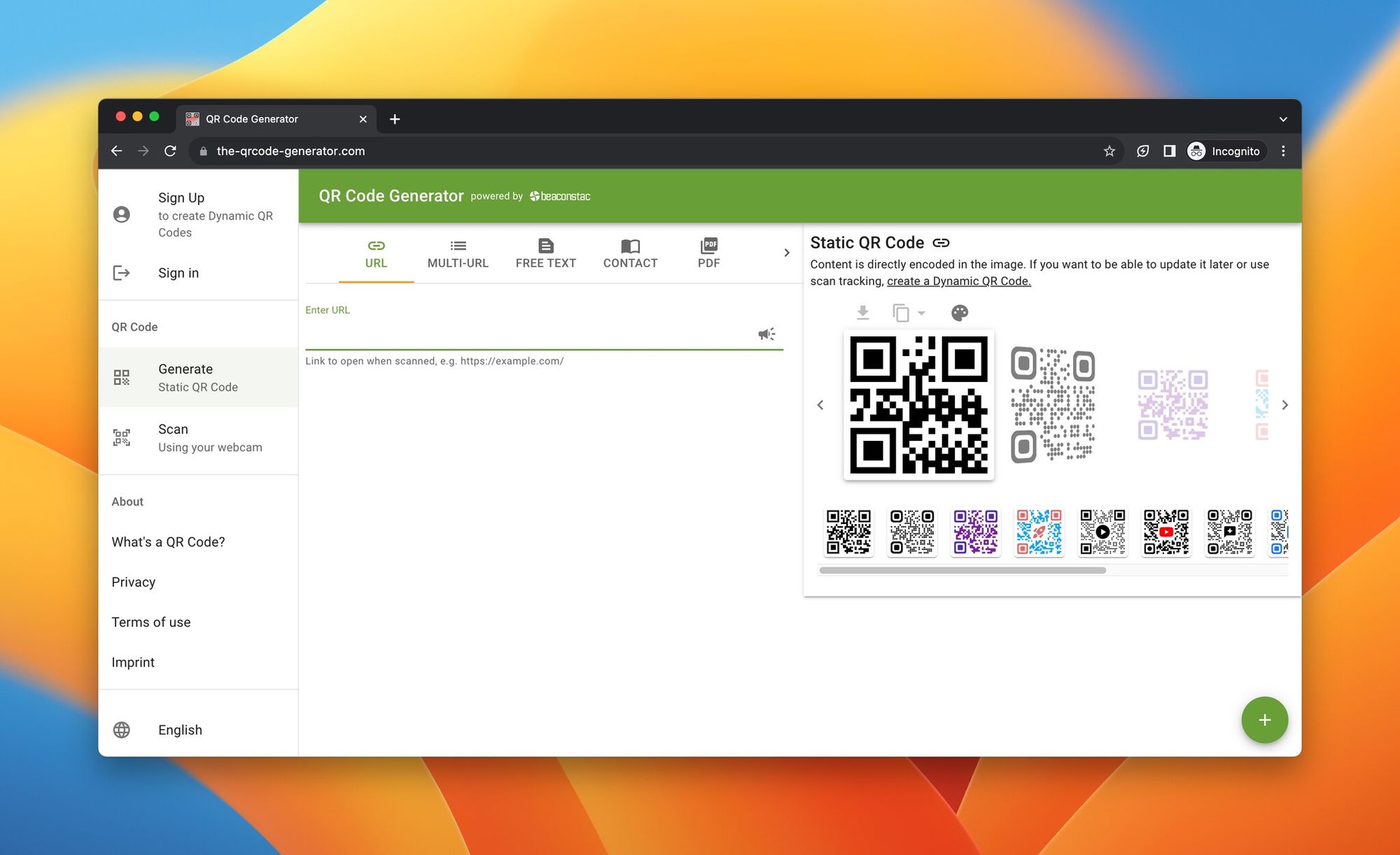 The QR Code Generator provides a direct, easy way to create a range of QR codes. With a few simple clicks, a QR code can be generated for a variety of purposes.
Pros
Easy to use.
Covers a range of QR code types.
Cons
There are limited customization options available.
Analytics features are not included.
6. QR.io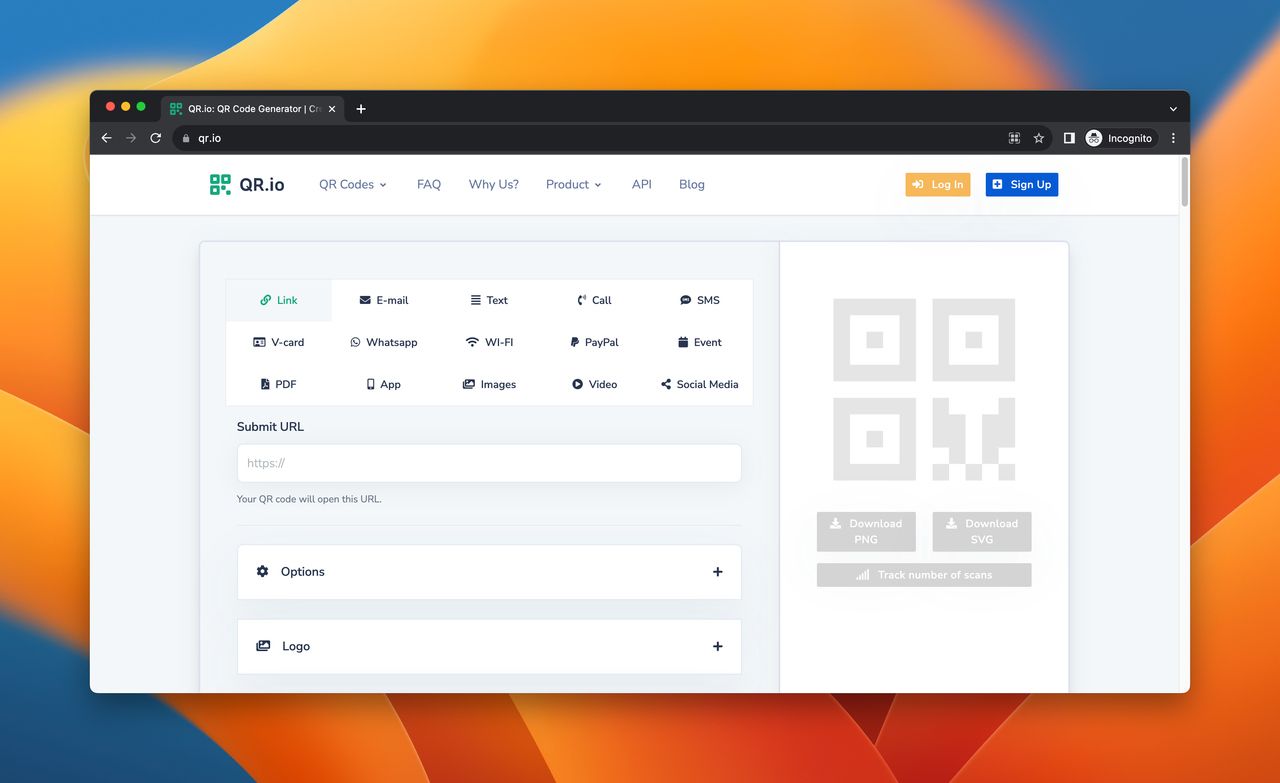 QR.io is a versatile QR code scanner and generator. It allows you to create static and dynamic QR codes, offers customization by embedding logos and changing colors, and gives you the ability to track scans.
Pros
Versatile and flexible.
Offers customization and analytics.
Cons
Limited free options.
You might experience slower loading times.
7. QRcode Monkey
QRCode Monkey is one of the free dynamic QR code generator favorites that offers rich customization options and high-quality QR codes.
Pros
Advanced design features.
High-resolution QR codes.
Cons
Analytics is not available.
You might face some limitations on QR code types.
8. QRStuff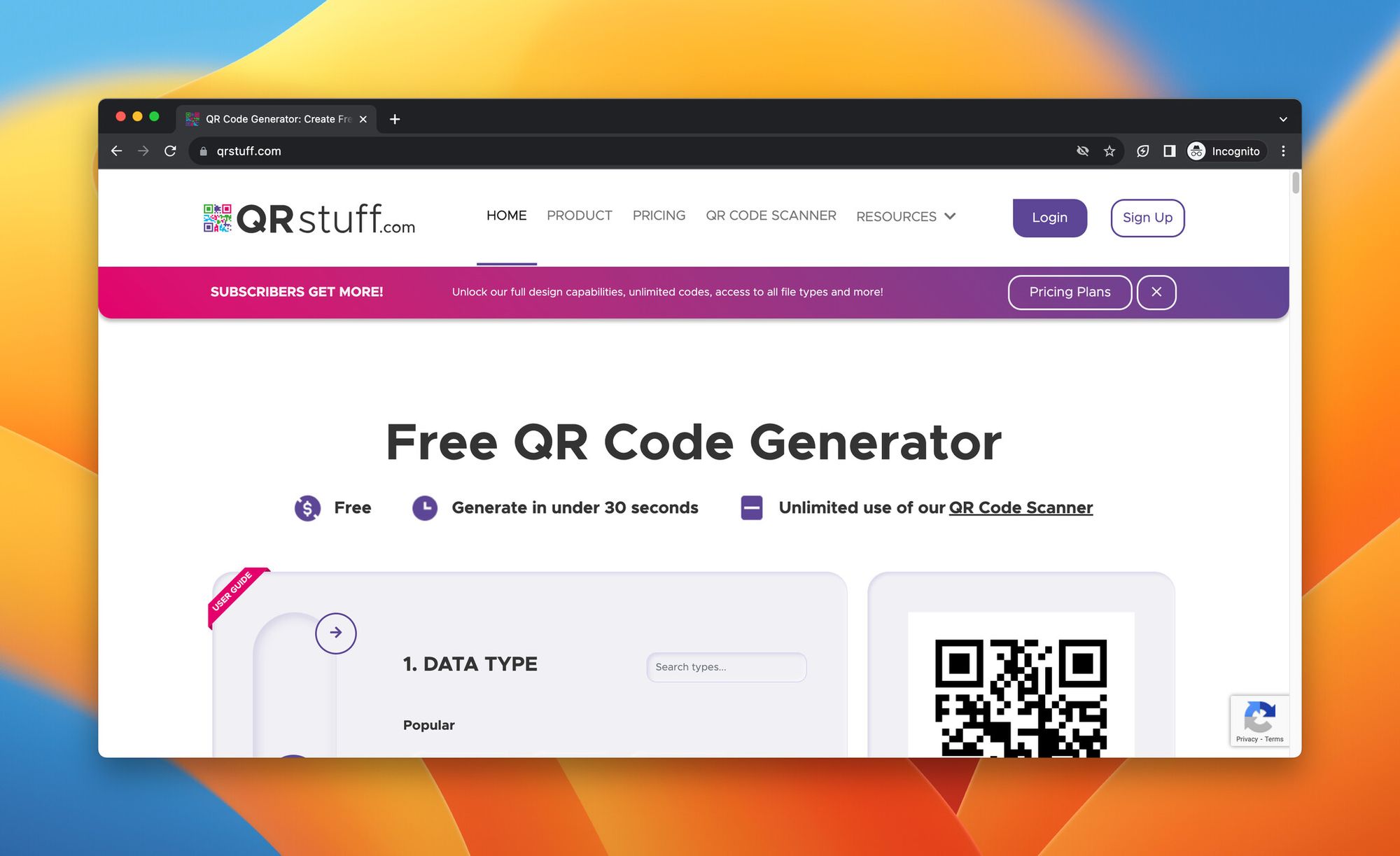 QRStuff is another dynamic QR code generator that puts forward a range of features. It's known for its high-quality output and impressive performance.
Pros
Generates high-quality QR codes.
Variety of features and options.
Cons
Has limited customization options in the free version.
Does not support analytics in its free service.
9. QR Code Generator by Unitag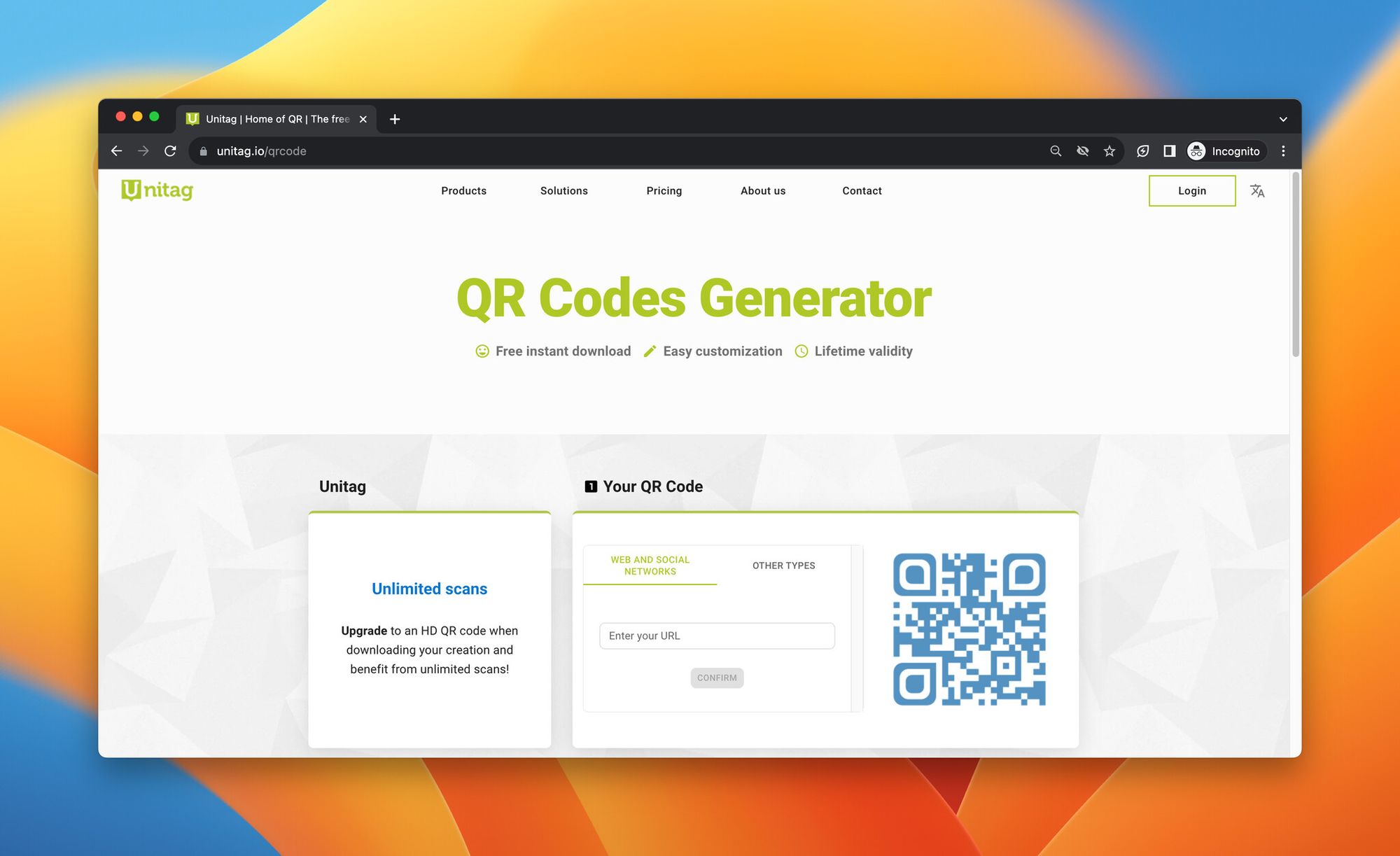 Unitag's QR Code Generator provides seamless integration, creating QR codes that are ideal for multilingual and international organizations.
Pros
Seamless integration.
Beneficial for multilingual and international organizations.
Cons
Limited free version.
Less intuitive than some alternatives.
10. Beaconstac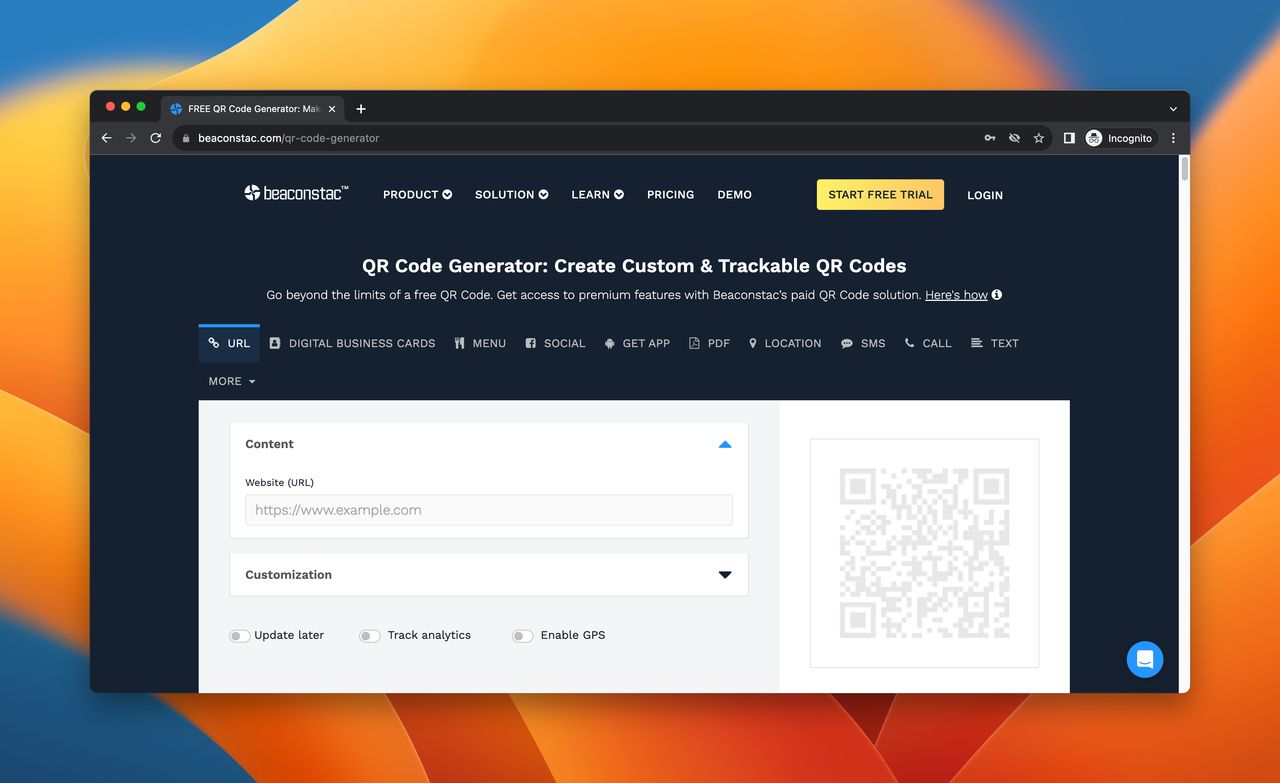 Beaconstac is a QR Code generator that offers an extensive range of features. You can create both static and dynamic QR codes, customize the design with brand identity, and access analytics.
Pros
QR Codes can be scheduled.
Extensive customization options.
Cons
The free-to-use version comes with limited features.
Some users might find it slightly complicated to use.
11. ForQRCode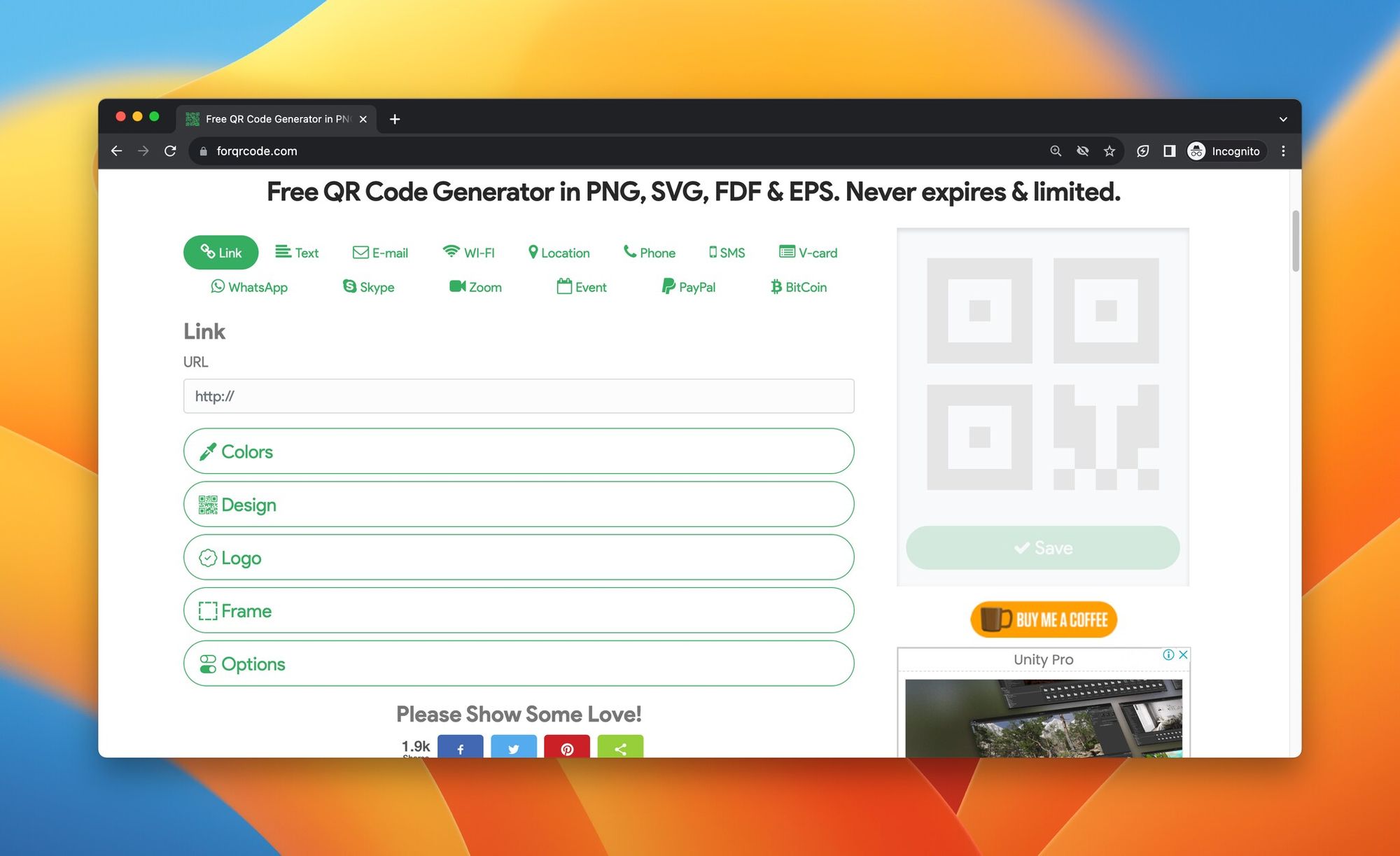 ForQRCode is a user-friendly and free QR code generator that allows you to create both Static and Dynamic QR codes without any cost. It's relatively easy to use and doesn't necessitate sophisticated technical skills.
Pros
Basic customization options are available.
Simple to use interface.
Cons
The tool does not offer advanced tracking or analytics.
12. Shopify's Free QR Code Generator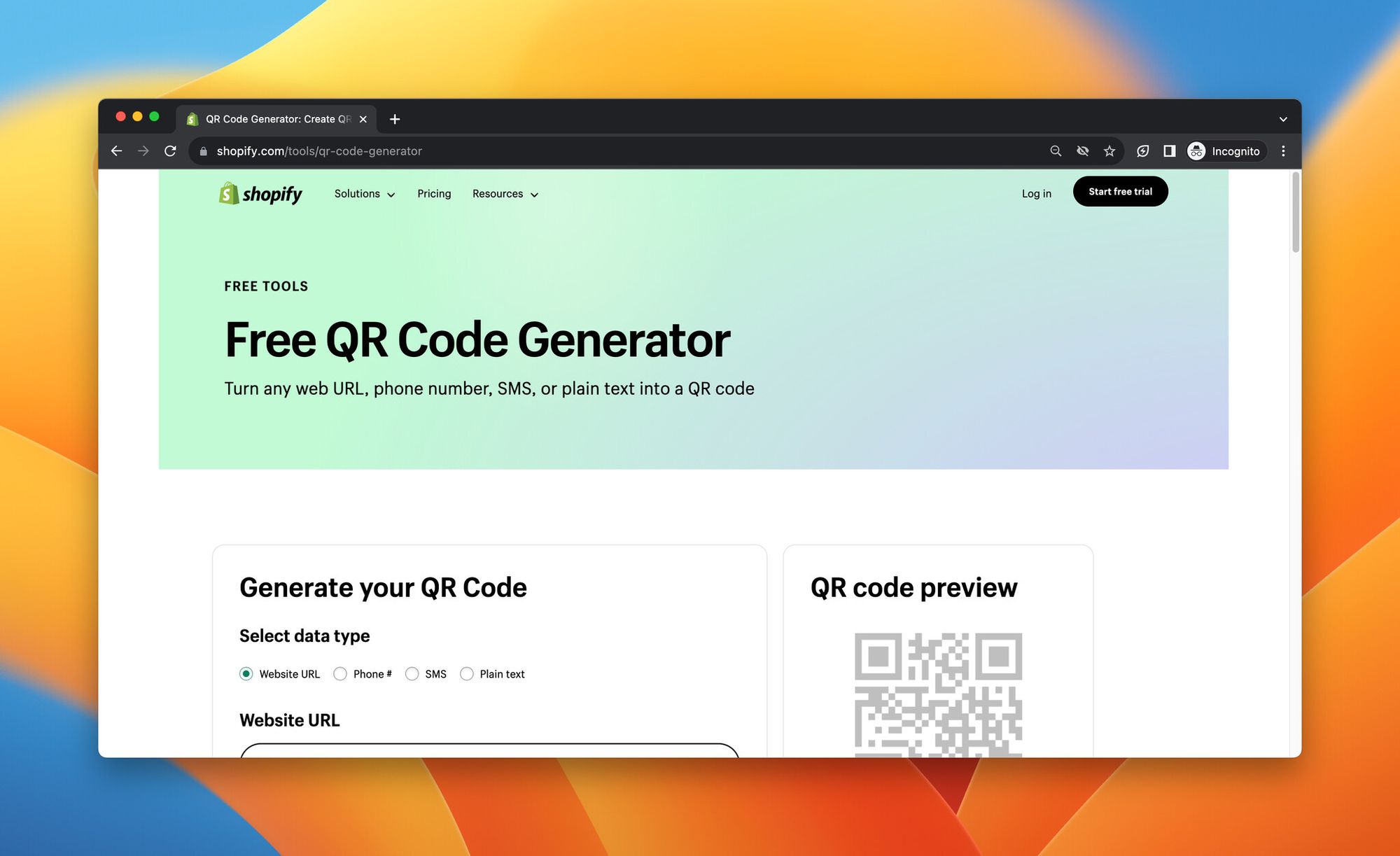 Shopify's Free QR Code Generator is a smart alternative for creating QR codes for smooth website navigation. This tool is ideal for businesses and could be a boon, particularly for e-commerce websites.
Pros
Easy to use.
Perfect for website navigational purposes.
Cons
Lacks advanced customization options.
It does not offer analytics or tracking.
That brings us to the end of the top dynamic QR code generators in the market. Selecting an alternative to Me QR Code Generator will depend on your needs and budget.
Keep in mind that each option has unique features and exclusions. Some offer free versions, while others are only available through paid subscriptions. Some focus on providing extensive customization and analytics, while the priority of others is simplicity and ease of use.
📌
Exploring alternative options for 'Me QR Code Generator' ensures you'll find the right fit, which will enhance your marketing strategies and service offerings. Be sure not to rush this decision - take your time to dig into details and find an option that truly matches your individual business needs.
When selecting a free QR code generator, it's important to identify what you need and expect from it. Do you prefer extensive and complex design and customization options, or are you looking for a quick and effortless code-generation process?
In choosing the best 'Me QR Code Generator' alternative, it's also advisable to consider your future needs. While a free tool may suffice for now, you may later require advanced features like analytics and tracking that are typically found in paid versions. When that time comes, you might need to reassess your choice.
However, if you're in the process of testing the waters and figuring out how QR codes can work for your business, getting started with a free QR code generator is a sensible decision. Once you see the potential and understand your exact needs, you can switch to a more advanced tool.
TL;DR: The Best 'Me QR Code Generator' Alternative
However, opting for a premium tool may be a better choice if you're looking for advanced features and functionality.
With in-depth analytics, customization abilities, multilingual support, and dynamic coding, these tools offer a comprehensive solution for businesses looking to deeply integrate QR codes into their strategies.
Tools like QRCodeDynamic, Beaconstac, QRTIGER, or Flowcode might just be the right fit for these businesses.
Therefore, if you're on the hunt for a QR code generator equipped with advanced capabilities and the flexibility of modifying your QR code links, consider QRCodeDynamic.
📌
But ultimately, remember what matters most is not the tool itself but how creatively and effectively you leverage your chosen tool to aid your marketing initiatives and day-to-day operations. Remember to keep your end user in mind as you embark (or continue) on your journey with QR codes. Strive to create a seamless interaction that adds value to their experience with your brand.
No worries if you don't get things perfect on your first attempt. Your QR code journey will be one of learning, experimenting, and constant evolution — and that's okay. Each step you take will bring you one step closer to mastering this technology and using it to escalate your business to new heights.
Keep on experimenting and learning. Rest assured, the efforts will pay off in bringing added ease and dynamism to your business operations, significantly enhancing how you connect with your clientele.
Remember, the end goal is an enhanced user experience that stimulates user engagement. So, let's power on and usher in a revolution with these intriguing, little marvelous modules of information — QR codes.
Final Thoughts & Recommendations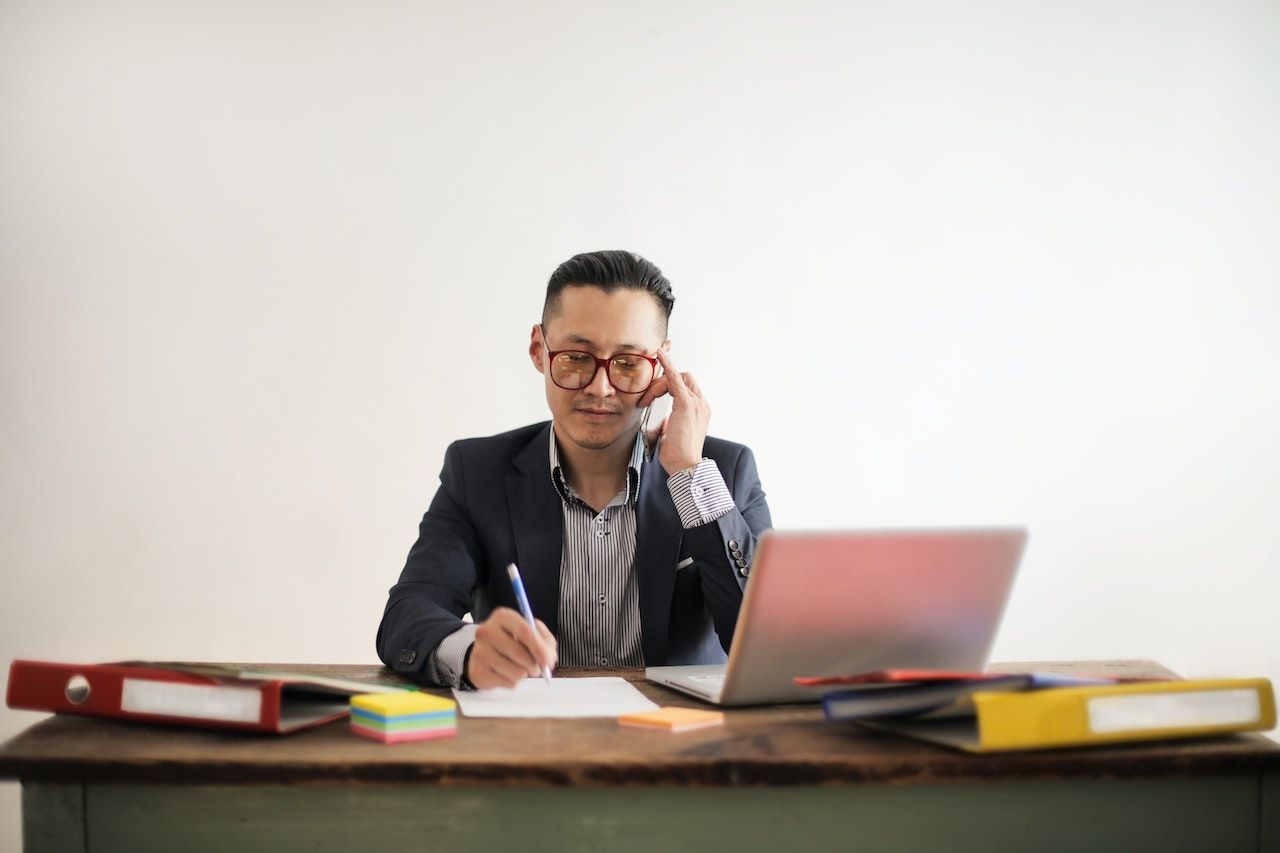 As we draw this guide to a close, you've now been equipped with a solid knowledge base regarding numerous Me QR Code Generator alternatives, both free and premium. Hopefully, you've gained a solid understanding of what QR codes are, how you can generate them, and, importantly, how they can revolutionize your business practices.
By now, the potential of implementing QR codes in your marketing strategies and daily operations must be evident.
📌
QR codes create an interactive platform for your customers to engage with your brand on a different level. They allow you to condense complex information into a small, scannable image making user interactions simpler, quicker, and more efficient.
Although we've unpacked 'Me QR Code Generator' and explored its myriad of features, we believe it's vital for you to understand that no single QR code generator can be a one-size-fits-all solution.
Choosing a QR Code Generator, whether it's Me QR Code Generator or an alternative, depends on your unique business goals, budgets, and technical capabilities. Where one excels, one may lack. It's all about finding the perfect alignment for your individual requirements and needs.
Whether it's designing, creating, monitoring, or managing your QR codes, the perfect tool for you is out there. As we mentioned earlier, some businesses might find their perfect tool within the array of free dynamic QR code generator options available — QRCodeDynamic, ForQRCode, QRCode Monkey, or maybe Shopify's Free QR Code Generator.
These free alternatives ensure that you can get started with your QR code journey without any financial constraints.