In today's tech-driven world, we have quickly transitioned from traditional pen-and-paper systems to digital platforms that offer greater efficiency and convenience. One such innovation is the QR code survey.
This technology has revolutionized how businesses collect data, making the process easier, faster, and more efficient. Surveys designed within QR codes provide a direct, accessible way for companies to obtain client feedback and enhance customer engagement.
But why are survey QR codes important, and how can you create a QR code survey? Let's dive deep to know their significance.
Importance of Survey QR Codes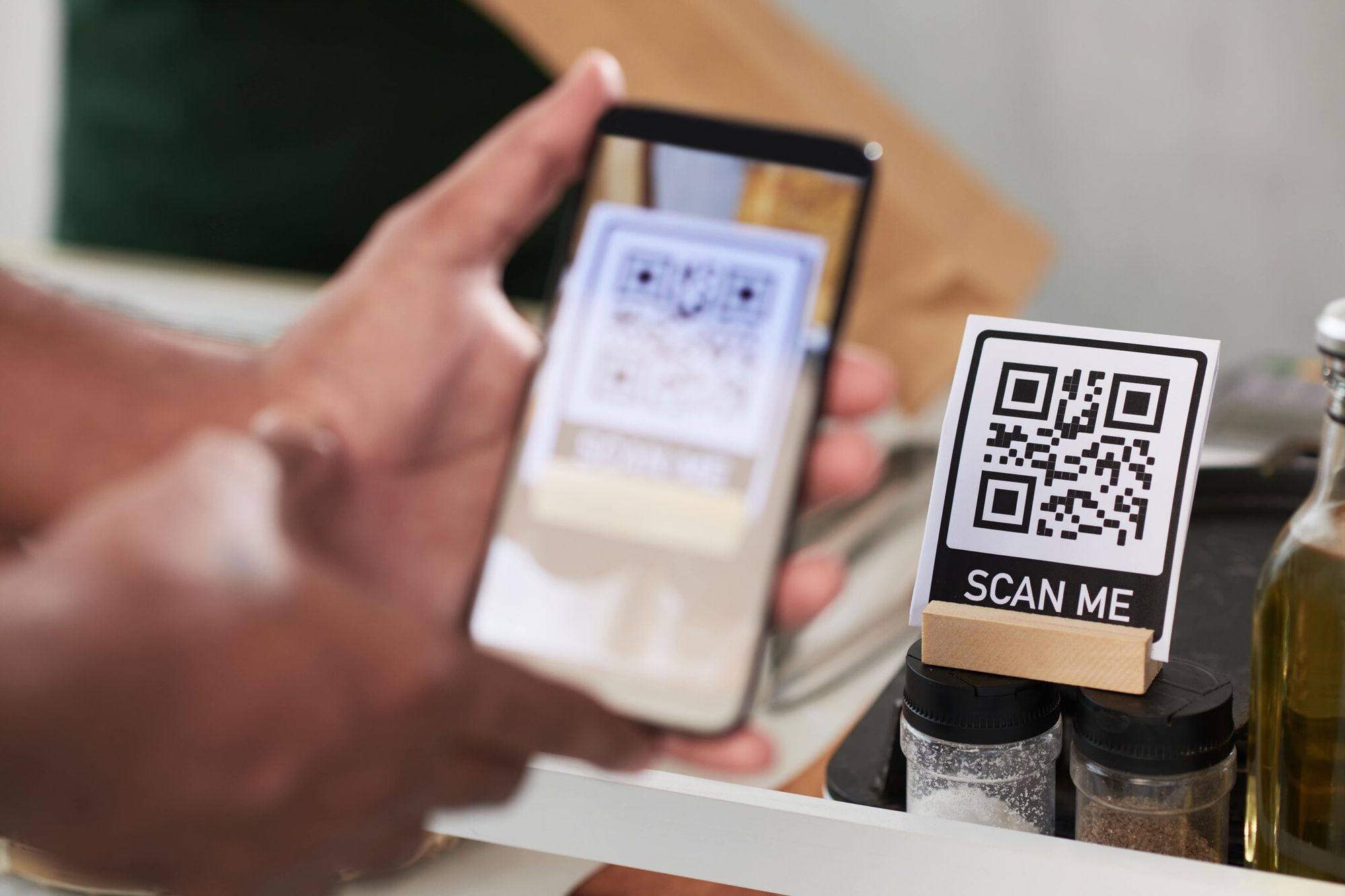 Survey QR codes have several pivotal roles that shape their importance in business and marketing strategies. Here are the key aspects that make the Survey QR code an asset for any business:
Immediate Access: QR codes provide immediate access to target audiences, making it easier for participants to play their part in the survey. Instead of navigating through multiple pages or portals, a quick scan is all that's required.
Improved Response Rates: QR codes promote simplicity. This, in turn, motivates higher survey response rates. Since customers can respond quickly and efficiently at their convenience from any smartphone, response rates tend to be significantly higher with QR code surveys.
Versatile Utility: As a versatile marketing tool, QR code surveys are suitable for various contexts, both in physical and digital forms. For instance, they can be used alongside print ads, billboards, and digital platforms, which further broadens the customer reach.
Valuable Insights: With immediate responses and data analytics capabilities, businesses can quickly understand their customers' views, preferences, and grievances. Thereby, they can develop data-driven marketing strategies and improve their services or products accordingly.
Eco-friendly: Last but certainly not least, QR codes eliminate the need for paper questionnaires, thereby affirming their role in environmental conservation.
Clearly, the importance of survey QR codes in market research and feedback collection is multifold. As businesses adapt to dynamic customer behavior, the inclusion of QR code surveys seems to be an inevitable part of the future—and the future is already here.
Steps to Create a QR Code Survey
Creating a QR code survey is not as daunting as it may seem. With a few simple steps, you should be able to set up your survey with ease. In this section, we will walk you through the process of creating a QR code survey.
Design your Online Survey
The first step to creating your QR code survey is designing the survey itself. This involves deciding what questions you want your users to answer and how they should be answered.
Here are a few steps you can follow:
Platform Selection: Choose an online survey platform that suits your needs. Numerous tools are available today, including Google Forms, Jotform, Survey Monkey, and Typeform, among others.
Objective Determination: Be clear on what you want to gather from your survey. This will help you form the right questions and keep your survey concise and on point.
Question Formation: Formulate your questions in a clear and concise manner. Typically, QR code surveys work best with multiple-choice questions or scale-based questions as these generate measurable data. Doing this will give you quantitative data that can be analyzed with precision.
Survey Testing: Once your questions are ready, test your survey to ensure everything works smoothly. This is also a good time to check for any spelling errors or logical glitches in your questions.
💡
Remember, the aim is to create a user-friendly survey that provides you with substantial and necessary data. So, choosing the right questions and not overloading your audience with too many inquiries are crucial steps.
Generate a Shareable Link
Once you've designed your survey, the next step is to generate a shareable link. This is a link that will take your potential respondents directly to your survey. Depending on the platform you used to create your survey, the steps to do this may vary slightly, but they generally involve:
Navigate to the 'Share' or 'Send' section of your survey tool.
Choose the 'Link' option to create a link for your survey.
Copy the link.
Once you have your shareable link, avoid altering it, as it could obstruct the connection to your survey.
Create a URL QR Code & Customize
After obtaining your shareable link, the next step is to create your website QR code.
Choose a QR code generator. There are numerous QR code generators available online. You can use QRCodeDynamic to create dynamic QR codes for your surveys.
Opt for the 'URL' option on QRCodeDynamic.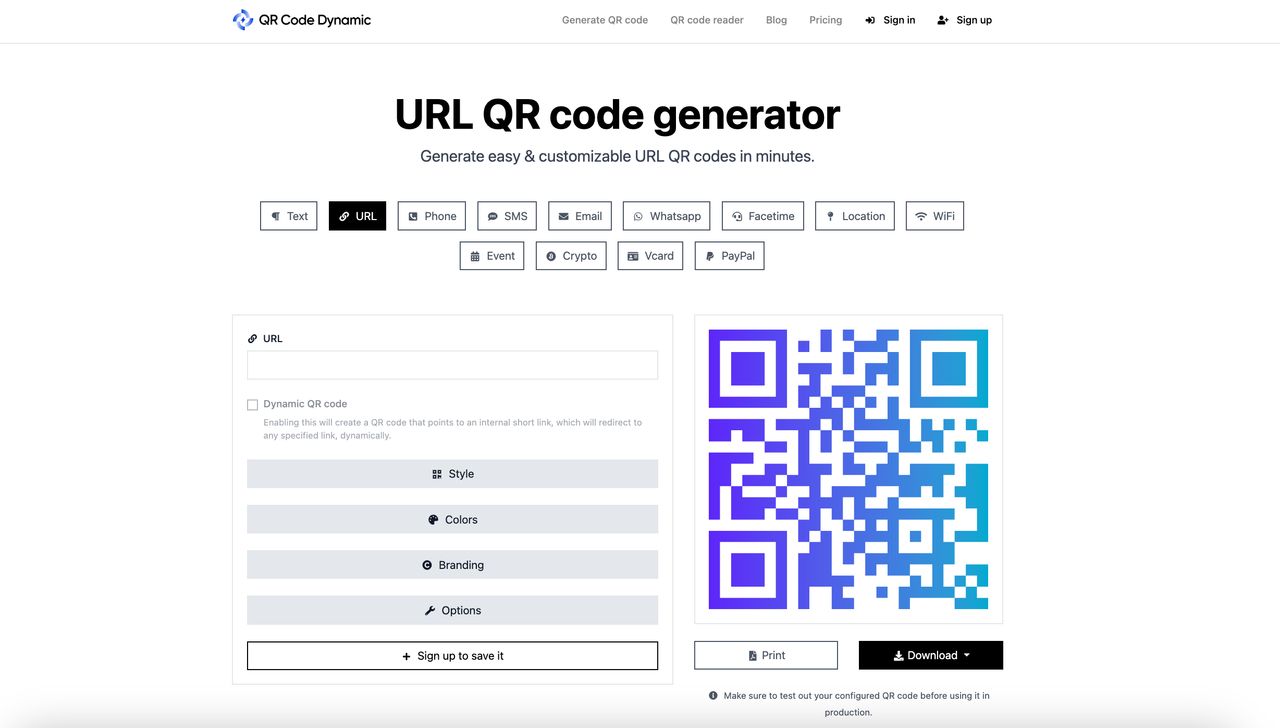 Paste the URL (shareable link) you previously copied into the field provided.
Hit the 'Create' button.
In just a matter of seconds, your QR code will be ready. However, one factor that distinguishes a QR code is its customizable aspect.
QRCodeDynamic offers customization options where you can alter the QR code's color, add a logo, or even play with the shapes and design to make it align more with your brand identity.
Remember, a bespoke QR code is another opportunity to showcase your brand's uniqueness.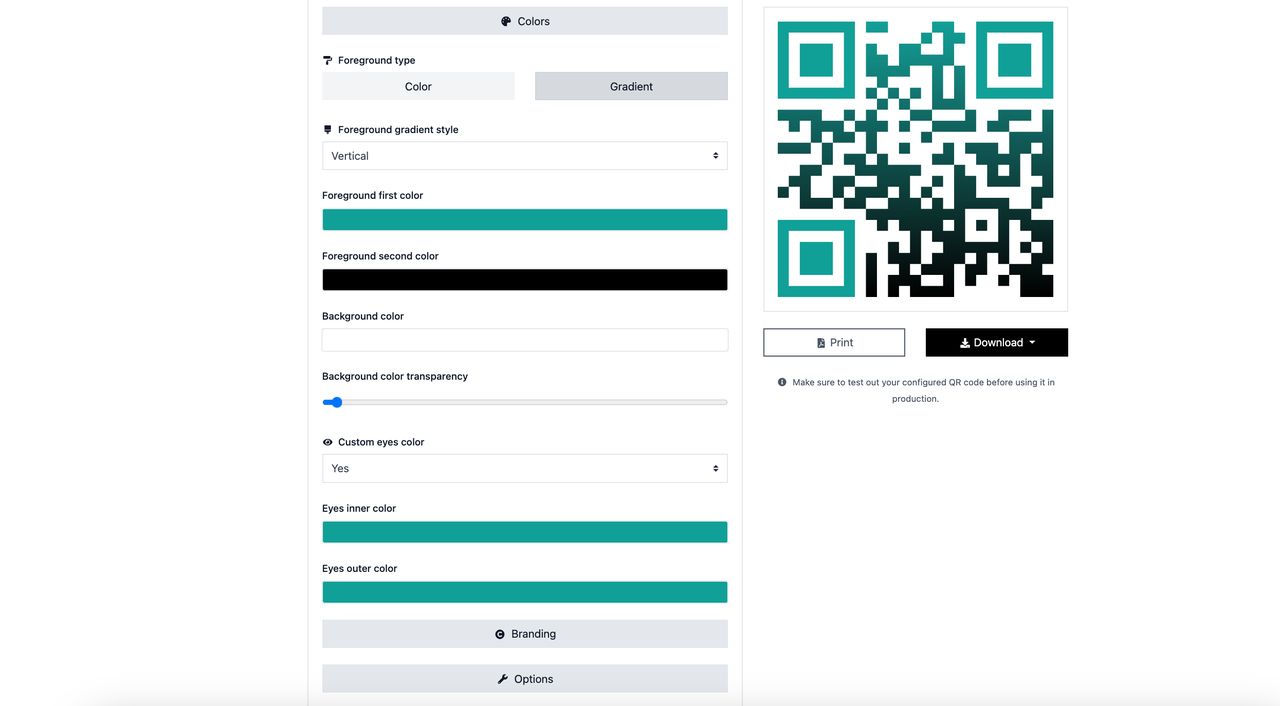 QRCodeDynamic also enables dynamic QR codes. This means you can edit your survey's link without changing the QR code itself. This feature comes in handy when conducting multiple successive surveys.
Also, you can create QR codes with custom domains to make your links suitable for your brand.
There you have it—a step-by-step guide to creating a QR code survey! Now that you've created your QR code survey, the next task is to decide where and how to deploy it to get the most out of it.
How to Make a QR Code for a Google Form
Google Forms is an intuitive tool for creating surveys, and pairing it with a convenient QR Code can streamline your feedback collection process tremendously.
Here, we'll walk you through the whole process, ensuring you make a QR code for your Google Form smoothly and swiftly. Remember, getting it right the first time is the goal, but don't worry, we're here to help you out step-by-step. Ready to roll? Let's get started!
Step 1: Create your Google Form
Before anything else, you need to have your Google Form ready if you've already created your Google Form, great work! However, if you're new to Google Forms, here's a quick guide to help you create one: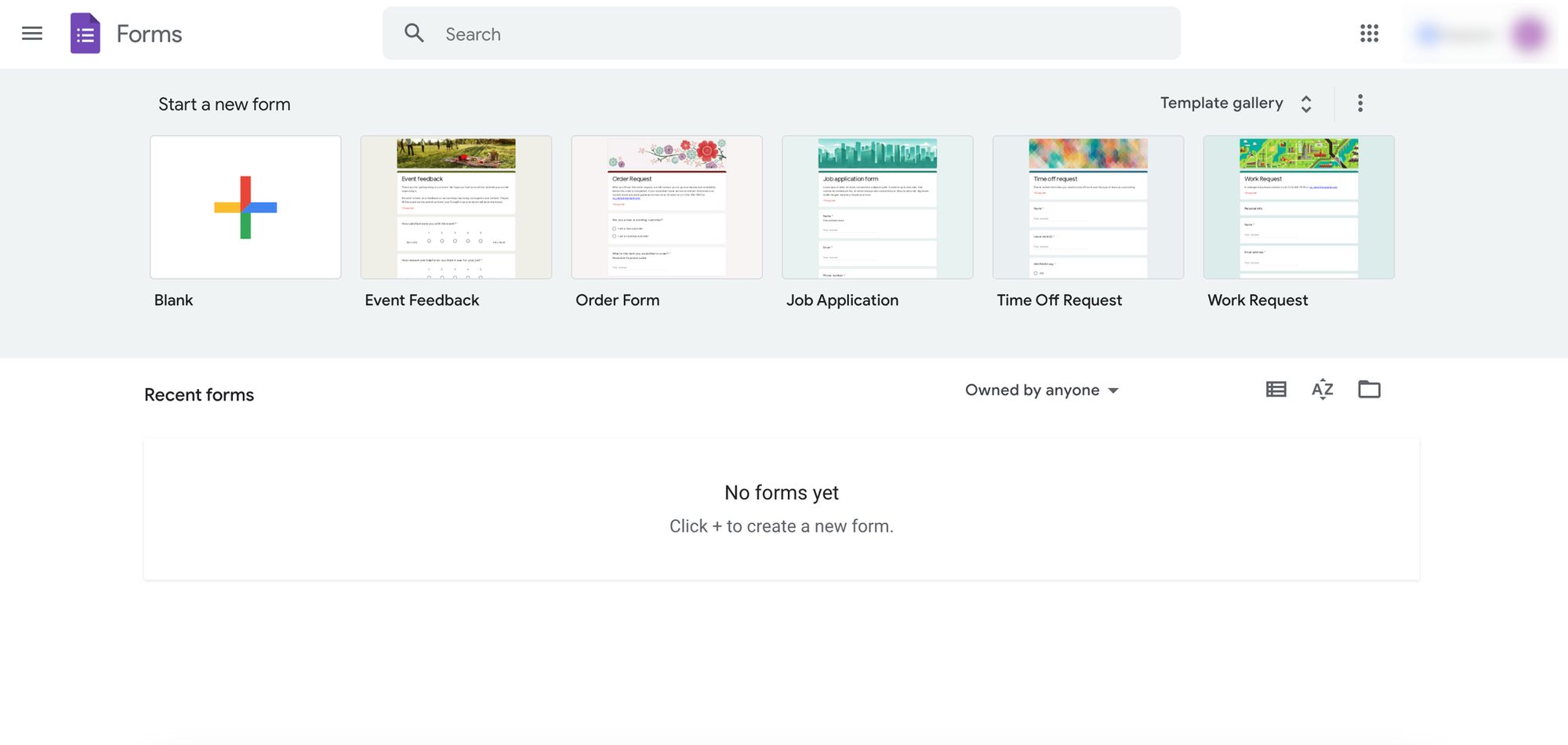 1️⃣
Head over to Google Forms.
2️⃣
Click on the 'Blank' to start a new form, or choose from one of the templates.
3️⃣
Articulate your questions in the form. You can use multiple choice, short answer, paragraph, checkboxes—you name it. Remember our best practices: keep your questions simple, clear, and logical.
4️⃣
Customize the look of your form. Add a touch of your brand personality.
5️⃣
Always preview and test your form before moving on to the next step.
Step 2: Generate your Shareable Link
Once your Google Form is ready, you need to get its shareable link. This is the link that respondents will access once they scan the QR code.
Here's how to do it:
1️⃣
Click on the 'Send' button located in the top right corner of your Google Form.
2️⃣
In the pop-up window, switch to the 'Link' tab.
3️⃣
You'll see a link under the 'Send via' section. This is your shareable link. You can shorten it using the 'Shorten URL' option.
4️⃣
Copy the link and keep it handy for the next step.
Step 3: Create your QR Code
With your shareable link ready, it's time to transform it into an accessible QR code. There are several free QR code generators available online that you can use.
Here's a quick step-by-step guide:
2️⃣
Select the 'URL' option.
3️⃣
Paste the shareable link of your Google Form that you copied in the previous step.
4️⃣
Click on the 'Create.'
And voila! Your QR code for your Google Form is ready.
Step 4: Customize your QR Code
We cannot stress the importance of recognizable branding enough. Customizing your QR code with your branding not only makes it appealing but also fosters trust in your respondents.
QRCodeDynamic allows users to customize their QR codes. Here's what you can typically do:
1️⃣
Change the color to align it with your brand palette.
2️⃣
Add a logo in the middle of the QR code for easy brand recognition.
3️⃣
Adjust the shape and patterns to make it truly unique.
Ensure that your customizations don't hamper the scanning functionality of your QR code. Again, preview and test your QR code before proceeding.
Step 5: Download your QR Code
After customizing your QR code, the final step is to download it. Choose a high-resolution format like PNG or SVG to ensure that it scans even when printed. Now you're ready to share your QR code on various platforms, from printed materials to online channels, to start collecting responses!
This five-step guide to creating a QR code for your Google Form represents the simplicity and ease with which you can propel your data collection process into the 21st century. But remember, practicing makes perfect. So don't hesitate and get started on this journey.
Question Tips for QR Code Surveys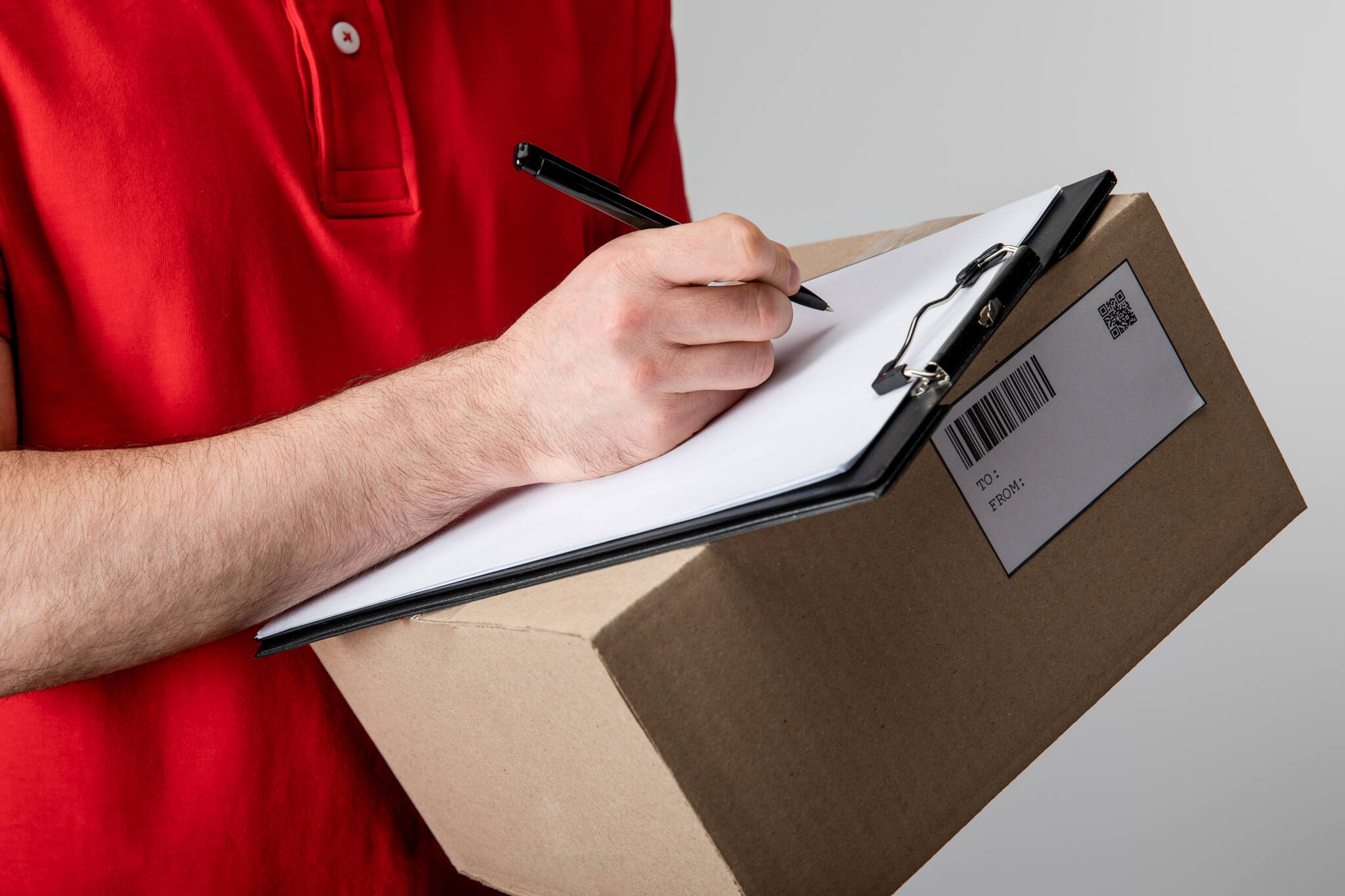 Creating a QR Code survey from scratch might seem like a daunting task sometimes. However, a helpful starting point can be a template designed explicitly for QR Code surveys.
A template gives you a basic structure that you can adjust and modify to fit your needs, considerably reducing the creation time and effort.
Here's a simple guide on how you can build your own QR Code survey template:
Demographic Questions: Start with basic demographic questions such as age, gender, location, etc. This allows you to know more about your respondents and can help fine-tune your data analysis.
Multiple Choice Questions: Include multiple choice questions in the survey. They not only allow for clearer answers but also make the survey easier and quicker for respondents to complete.
Scale-based Questions: Implement scale-based questions (for example, "On a scale of 1 to 5 where one is 'would not recommend' and five is 'would highly recommend' how likely are you to...?). These help you quantify attendee satisfaction and remove ambiguity from the responses.
Open-ended Questions: Finish your survey with open-ended questions. These provide respondents with a chance to voice their concerns, request, or praise in their own words.
Remember, simplicity is the key when it comes to QR Code surveys. Nobody wants to compete in a marathon when they're only there to do the sprint.
Use Cases for a QR Code Survey
The application of QR code surveys is incredibly versatile, with value across multiple sectors. Let's briefly delve into how different industries can adopt these versatile tools.
QR Code Surveys for Restaurants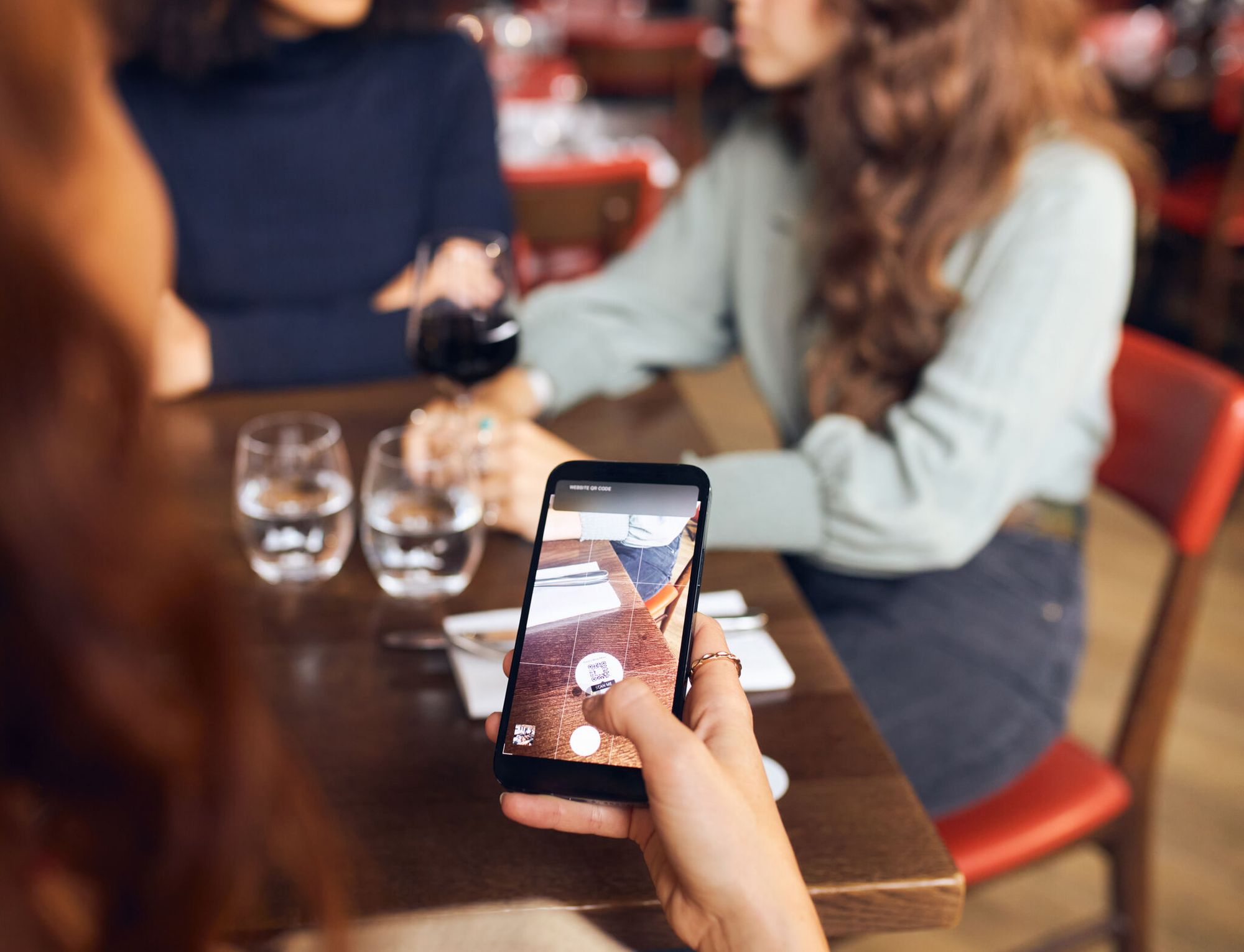 Restaurants often struggle with gathering honest feedback from customers. Providing QR code surveys can streamline this process and influence substantial improvements. Consider this scenario:
On the dining table, there's a small stand with a QR code. The waiter encourages the customers to scan the code and take part in the survey before leaving. The survey is simple and concise, asking about their meal, service quality, and overall dining experience. By the time customers finish their desserts, they can complete the survey.
For restaurants, QR code surveys can help in many ways:
Instant Feedback: With QR code surveys, you receive feedback immediately, allowing you to rectify any issues before the customers leave.
Hygiene-friendly: In a post-COVID world, QR code surveys eliminate the need for physical menus or feedback forms, reducing the spread of germs.
Tailored Experience: Feedback obtained from these surveys can provide insights into customer preferences, facilitating tailored experiences that boost loyalty.
QR Code Surveys for Events
Event management is all about attendee satisfaction. If you want to know how well your event is doing, survey QR codes are just the ticket! Here's how:
Implement QR code surveys at various locations during an event. Encourage attendees to scan them to rate different aspects of the event, like venue, speakers, activities, food, and so on.
QR code surveys for events can be used for:
Real-time Feedback: Instant feedback can help you address issues on the spot and continuously improve the experience for attendees.
Better Planning: The data obtained can be beneficial for future event planning, helping you understand what your audience enjoys the most.
Increased Engagement: With QR Code surveys, you offer attendees a compelling way to engage with you, enhancing the event experience.
QR Code Surveys for Social Media and Email Marketing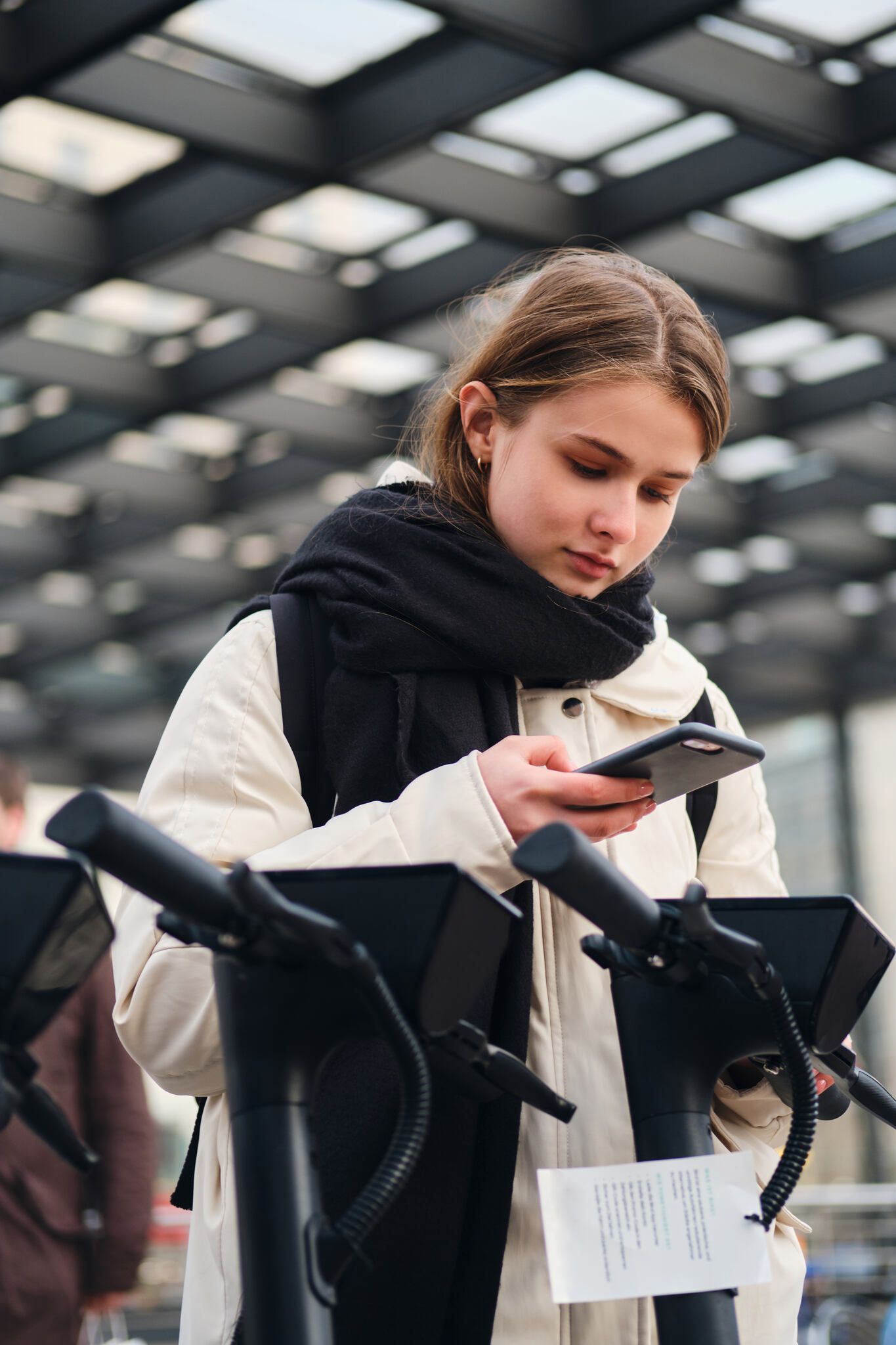 QR code surveys can be effectively integrated into your digital marketing strategies too:
For instance, incorporating QR code surveys in your email newsletters can gauge the effectiveness of your content.
Similarly, placing QR code surveys on your social media bio, posts, or ads can measure the impact of your promotional strategies, from increased follower engagement to gained leads.
Their contribution to your digital strategies:
Improved Engagement: Surveys packaged within QR codes can improve your brand's online engagement, lending a meaningful way to interact with your audience.
Optimized Marketing: By drawing insights from these surveys, you can optimize your email and social media content to better resonate with your followers.
Increased Conversion: By facilitating a user-friendly and quick response option, QR code surveys can increase conversion rates for promotional campaigns.
The utility and flexibility of a QR code survey can be a game-changer for multiple sectors. Whether you're in the food industry, event management, retail, or digital marketing, every business can master these tools to drive better customer interactions, increased satisfaction, and high-value insights.
Best Practices for QR Code Surveys
Now that we've understood the way to create a QR code survey and observed its use-case versatility, it's crucial to also understand and implement the key best practices in your QR code surveys.
Conceptualizing a QR code survey can be simple, but making it effective requires nuanced planning and execution. Here, we uncover the key practices that will guide you to create an impactful QR code survey.
Stick to Simplicity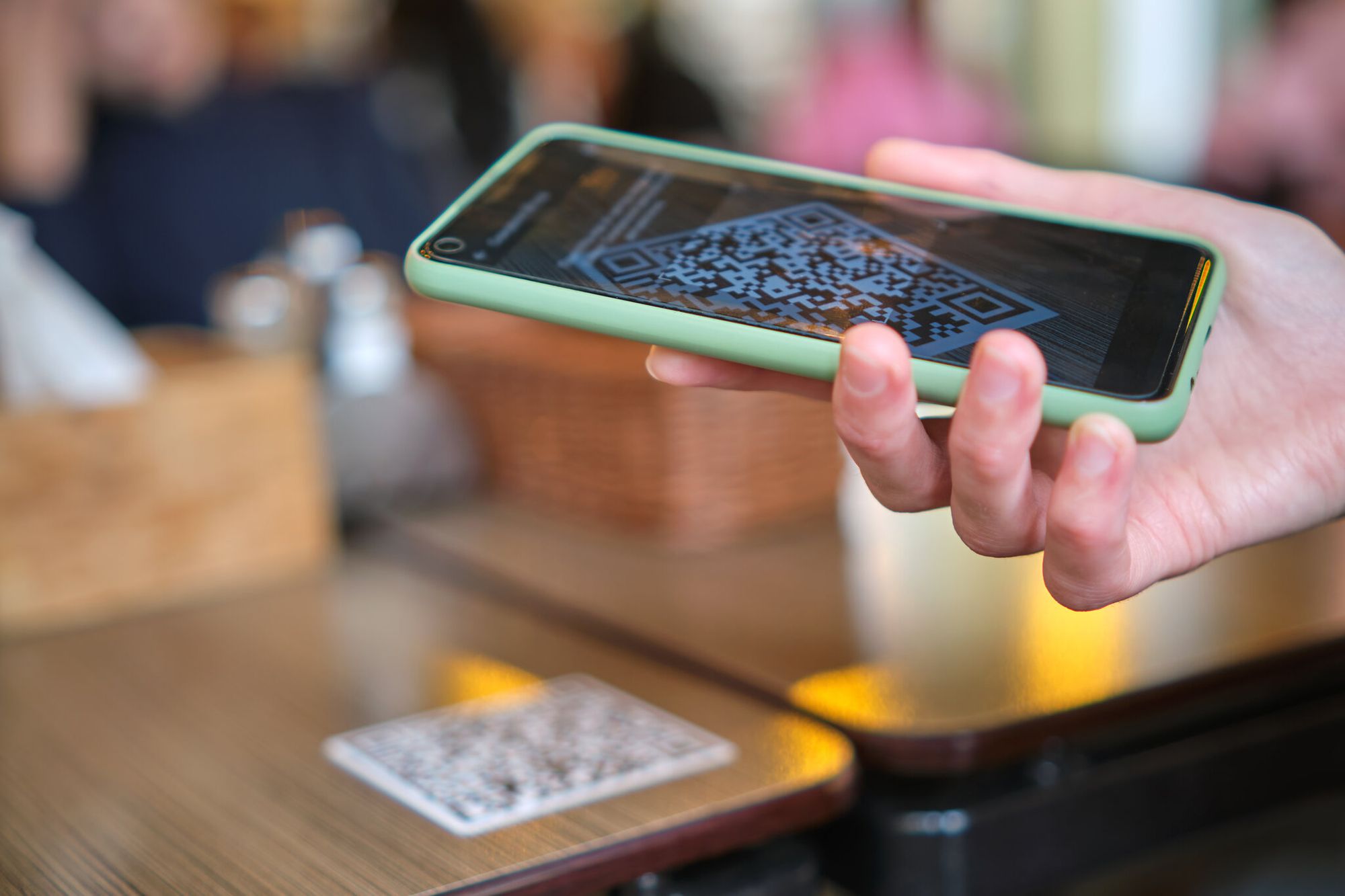 The very nature of the QR code survey is aimed at simplicity and convenience. Therefore, it's essential to keep your survey as simple and concise as possible. A long-winded and convoluted questionnaire might discourage respondents, eventually leading to incomplete surveys and ineffective results.
Here are a few recommendations for maintaining simplicity:
Keep it Short: Limit your survey to the bare minimum number of questions that can provide you with the required insights. A survey taking more than 5-7 minutes might lose its respondents midway.
Easy and Clear Questions: Formulate your questions in a clear and comprehensible way. Avoid jargon or complex sentences. Choose multiple-choice questions or scaling questions that can be answered swiftly.
Logical Order: Structure your questions logically. Start from the general questions and progressively move into particular ones.
Seek to Involve
To get valuable insights from your QR code survey, you need substantial participation from the respondents. Here are tips for soliciting better commitment:
Incentivize: Encouraging your respondents with some incentives can increase participation. The incentive can be a discount coupon, a freebie, or an entry into a lucky draw.
Make it Fun: Gamify your survey through engaging and fun questions that can make the survey experience enjoyable.
Communicate Worth: Ensure your respondents know the value of their replies. Let them know that their feedback can help you deliver better services or products.
Assure Anonymity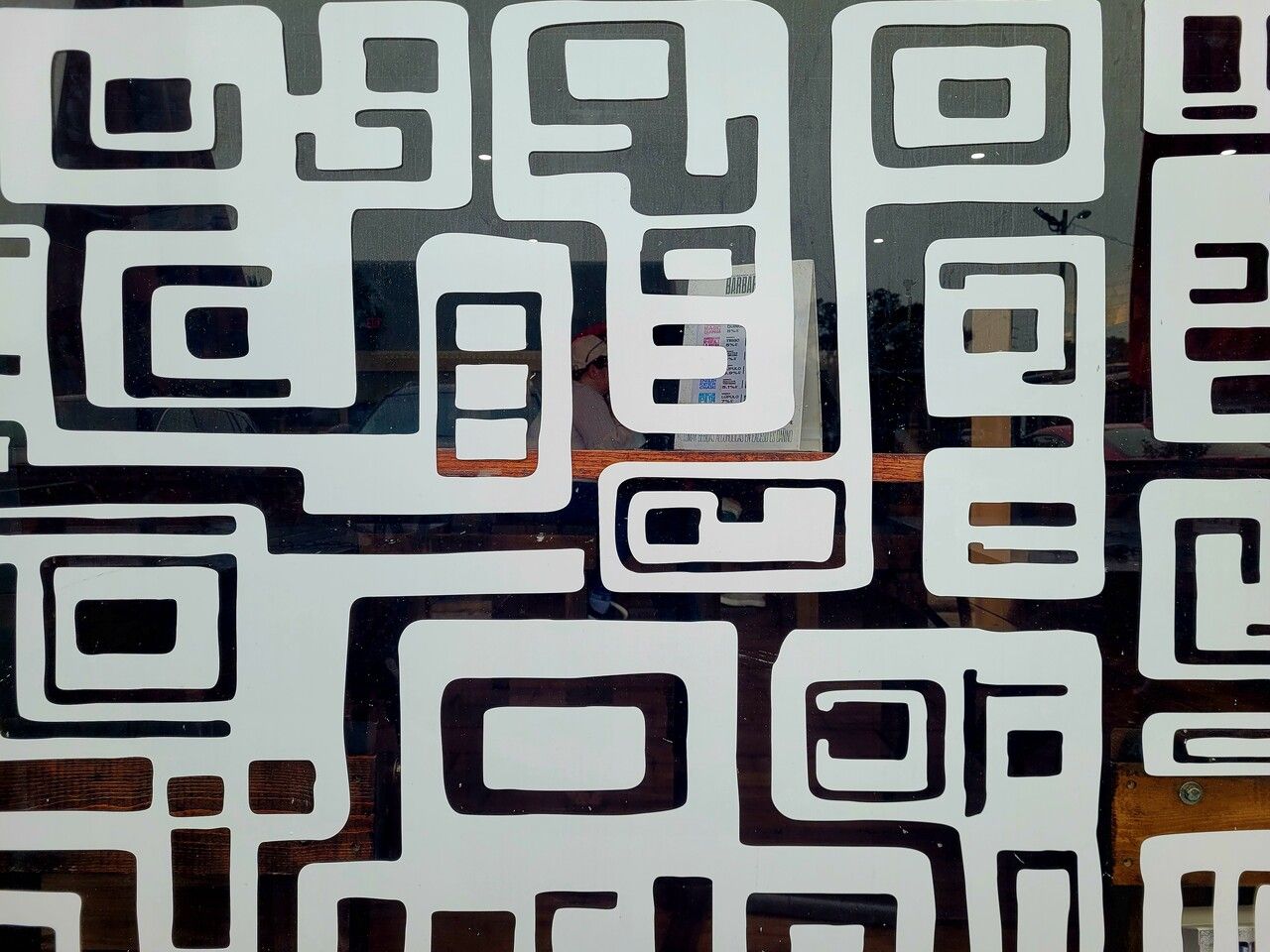 Often people hesitate to provide feedback due to fear of reprisal or data privacy. Assuring respondents of their anonymity and data safety can help overcome this barrier:
Anonymous Feedback: If possible, enable anonymous feedback to let respondents share without fear of being traced back.
Data Safety: Display a clear data safety policy, ensuring the respondent data will not be shared with third parties.
No Mandatory Fields: Avoid making all fields mandatory. Let respondents skip questions they don't wish to answer.
Showcase Survey Results
Keep your respondents in the loop about the survey results and subsequent changes.
Share Results: If appropriate, share the survey results with the respondents. It could be a percentage view or a ranking of the popular choices.
Share Impact: Inform respondents about the changes made based on the survey's results. Telling them about their contribution to decision-making can encourage them for future participation.
Optimize QR Code Design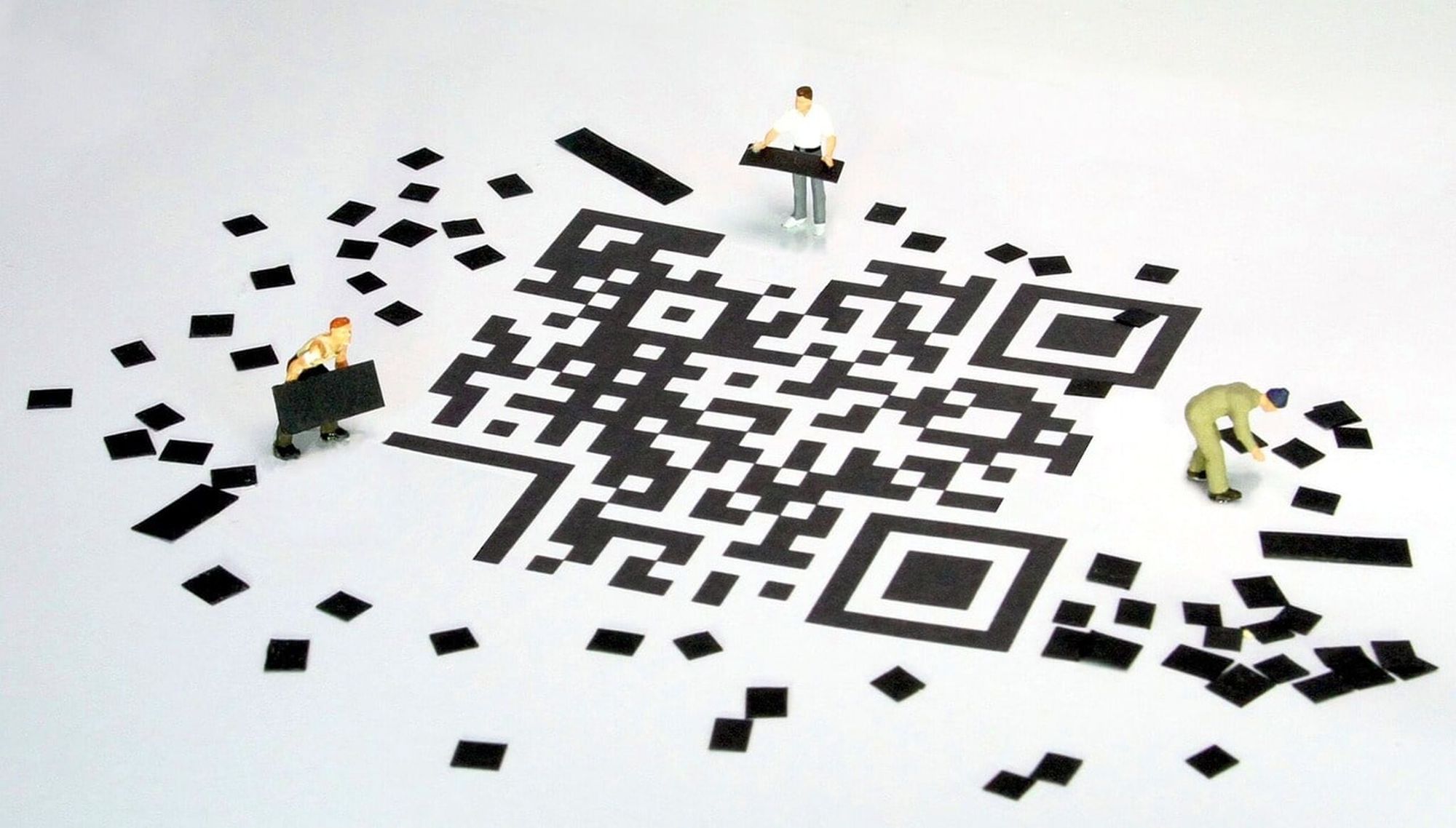 The design of your QR code can also have a significant impact on the response rate:
Brand-aligned Design: Customize your code design to align it with your brand. You can modify the color, shape, and design pattern of your QR code. You can also add your logo in the center.
Scannable Size: Ensure your QR code size is ample enough to be scanned easily. Too small codes might be difficult to scan and lead to survey drop-outs.
Strategic Placements
Placing your QR code survey can gain better visibility and increase participation.
High-traffic Areas: Place your QR code posters in high-traffic areas of your venue. It could be the entrance, the billing counter, or the waiting lounge.
Prominent Position in Digital Media: For digital marketing, place your QR code prominently. It could be right at the top of your email, in the center of your social media post, or a pop-up on your website.
Test, Test, Test
No QR code survey should go out in public without being tested first. Test for:
Functionality: Make sure that the QR code works correctly, leading respondents to the right survey page.
Clarity of Questions: Ensure all questions are clear, logical, and free of any grammar or spelling errors.
Complete Journey: Go through the entire process as a respondent. Check the ease and smoothness of the participation journey.
Mastering the best practices for QR code surveys can take your survey from good to excellent. It elevates the survey experience for your respondents, ensuring their ease and enjoyment while providing you with insightful data to make better business decisions. So dive into these practices, and make your QR code survey a game-changer amongst your customer feedback tools.
Why Create a Survey with a QR Code?
As we near the end of our comprehensive guide, it's crucial to recap why creating a survey with a QR code could potentially be a transformative decision for your feedback collection process.
Hold right there as we tell you why QR code surveys are worth your time and effort:
Enhanced Accessibility: One of the strongest advantages of QR code surveys is their high accessibility. Being scannable with just a smartphone camera, they make the survey process simpler for respondents.
Instant Data Collection: QR code surveys allow you to collect data instantly, enabling real-time insights, faster decision-making, and on-the-spot improvements.
Efficient and Eco-friendly: They eliminate the need for paper-based surveys, thus reducing effort, cost, and, most importantly, environmental impact.
Versatile Application: From paper receipts and event tickets to digital marketing emails and social media posts—they can be employed almost anywhere.
Enhanced Data Accuracy: Users are usually more honest and open when providing digital feedback, leading to more accurate data for better decisions.
As we have seen throughout this article, QR code surveys can revolutionize the way you collect and utilize feedback. They can be your game-changer in today's highly competitive business environments.
With all these resources and knowledge under your belt, you're now ready to go out and confidently create your first QR code survey. Remember, every great venture starts with a small step. So begin with small, targeted surveys. Slowly and surely, you'll master the art of collecting and analyzing respondent feedback through QR code surveys.
The Power of Instant Feedback
In the fast-paced digital world, immediate and precise feedback is key to understanding and addressing any weaknesses in your product or service. Surveying customers can often be a pain point for many companies, as customers might avoid filling out lengthy, complex surveys. This is where QR code surveys shine.
The beauty of a QR code survey is that it's a fast, easy, and user-friendly means of gathering feedback. Customers simply scan the QR code with their smartphone, and instantly, they're on your survey page. This immediacy encourages more customers to participate, improving response rates and ultimately helping you gain reliable insights quickly.
Consider a restaurant setting, for example: rather than waiting for a feedback form and filling it out manually, customers can give feedback right from their phones while enjoying their meals. The same goes for any industry: retail, hospitality, and event management can all reap the benefits of instant feedback through QR code surveys.
Enhanced User Experience
QR Codes are not complicated to understand or use. Even the most tech-averse consumer should find them quite straightforward—all it takes is a scan and a tap, and they're into your survey. You can leverage this simplicity to enhance the overall user experience.
Designing an online survey for ease of use makes users more likely to complete it. You could have only a few questions or incentivize participation with a prize draw. The flexibility offered by QR code surveys allows you to customize the experience for maximum user engagement.
Also, customers appreciate when their opinions are valued, and considering their feedback for your strategies further enhances the user experience, helping you build long-lasting relationships with your customers.
Leveraging Modern Technology
It's no secret that we live in a mobile-first world. Whether online shopping, meal ordering, ticket booking, or any other daily activity, we've moved nearly everything to our smartphones. QR code surveys fit right into this lifestyle. They're mobile-friendly, need no extra apps or gadgets, and quickly become a standard platform feature.
Moreover, they eliminate paper wastage, reducing your ecological footprint. From an environmental sustainability perspective, this is a significant step forward. In short, QR code surveys, as a modern data collection tool, can position your brand as tech-savvy and forward-thinking.
Rich Insight Generation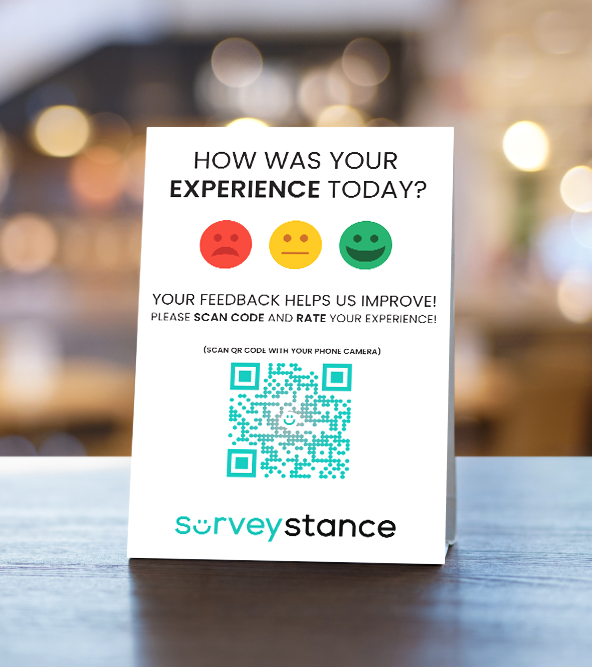 The data collected from QR Code surveys can provide rich insights into your customers' perspectives.
Each response can help you better understand your audience and open new avenues for improvement. It offers an open window into the minds of your customers, showcasing what they love and highlighting areas where you could do better.
These insights can prove invaluable if you're surveying customer satisfaction post-purchase, event attendee sentiment, employee satisfaction in the workplace, or even public opinion on civic issues.
They help you to gauge public sentiment quickly and accurately, influencing your business strategies and driving growth.
Seamless Integration
Lastly, one of the other key perks of QR code surveys is their versatility and ease of integration across numerous platforms. You can feature your QR code surveys on social media posts, email marketing newsletters, invoices, posters, flyers, or any physical or digital promotional materials you have in place.
This flexibility in placement allows you to capitalize on different opportunities and touchpoints with customers.
Whether it's post-purchase, at an event, on a business card, or even on the packaging, each point of interaction can become a point of feedback. In other words, you can collect data from different channels without overwhelming customers with intrusive or unwelcome approaches.
Conclusion
Whew! That was quite the journey. We've crossed the vast landscapes of QR code surveys, diving deep into their depths and scaling their heights together.
We started our journey by learning the steps to create a QR code survey, traveling through the intricacies of survey designing, link generation, and creating a website QR code.
Armed with knowledge, we ventured into the world of QR code templates, learning to harness their potential to simplify and streamline our survey creation process.
Eager to master QR code surveys, we strived to learn the best practices - our guidepost to creating effective and engaging QR surveys. We realized the importance of simplicity, user engagement, and respondent anonymity.
We explored ways to showcase survey results and the significance of QR code design and strategic placements, all while validating our learning through rigorous testing.
With newfound confidence, we took a practical step in our journey by learning how to create a QR code for Google Forms. This hands-on exercise bolstered our understanding and empowered us to produce efficient QR code surveys seamlessly.
We hope you liked reading about this topic and found this article useful. Now you can create your own QR codes for surveys and achieve your goals effortlessly!
---
Explore these blog posts before you go: